Alternative grape varieties used in Australia
These grape varieties are used in Australia either in blends or, more commonly, to make varietal wines. The list is a little forward looking, some of these varieites may not yet be commercially available.
This site is based on information in a database that I have developed which contains information from about 1600 Australian wineries who have stepped out of the comfort zone of classic varieties .

I have excluded Cabernet Sauvignon, Chardonnay, Merlot, Pinot noir, Riesling, Sauvignon blanc, Semillon and Shiraz from discussion Vinodiversity. If you want information about wines made from these then you'll have to look elsewhere. Covering the hundred plus listed is more than enough for me...and think of all the tasting I have to do.
The decision about which to include, and which to exclude is necessarily subjective. It reflects the bias and experience of the selector, but I have included a few varieties which are rapidly becoming mainstream in Australia.
My aim is to stimulate your interest in new varieties, rather than provide a complete encyclopedia.
I have based my definition of alternative variety initially on that used by the Australian Alternative Varieties Wine Show, but with some modification. A few inclusions warrant a mention:
Grenache is commonly used, especially in South Australia but it is used less commonly elsewhere, and it is not often made as a varietal wine.
Verdelho is a fairly standard variety especially in NSW, but is less well known in Victoria and other states.
Chenin blanc is on the decline nearly everywhere in Australia, a victim of reputation as a high yielding producer of ordinary wine. In the right hands it makes wonderful wines so I've included it.
Malbec seemed destined for obscurity after its role as a blending partner with Cabernet suvignon was largely supplanted by Merlot. It is making a comeback as a varietal wine
Cabernet franc is also a controversial inclusion. I have included it to draw attention to Cab francs role as a varietal, rather than as a minor blending partner which is its usual fate in Australia.
Several newer varieties to Australia are becoming well known.
You could certainly argue that Pinot gris/grigio is no longer an alternative variety as more than 300 Australian wineries are using it and you can find some on the shelves of any supermarket. But I have included it as it is relatively new.
Sangiovese and Tempranillo are two red varieties that are rapidly becoming mainstream, but it would be fair to say that many Australian winelovers still don't know much about them.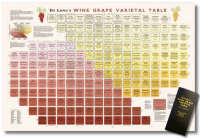 Want to learn more about these wines?
De Long's Wine grape varietal table can help you learn about the most important grape varieties.
Keep in touch with Vinodiversity
Just enter your details below and you will receive an occasional newsletter letting you know all about the alternative varietal wine scene in Australia and beyond.