Roussanne White Wine Variety
Roussanne wines are often described as more elegant than those of its better known cousin Marsanne.
However in the vineyard the variety is less popular because of its lack of hardiness and susceptibility to powdery mildew.
Oz Clarke Grapes and Vines. Tap image for details
In his book Grapes & Wines Oz Clarke likens the aromas of Roussanne to those of herbal tea and pears.
With age the floral notes in the aroma are replaced with more complex characters. Like its sister variety Marsanne this variety ages very well, if you give it five or even ten years bottle age.
In Australia this variety is made into varietal wines, but it is more often blended with Marsanne, or occasionally in a three way blend with Viognier.

The historic Yerringberg in the Yarra Valley makes outstanding varietal wine from Roussanne. It needs extended bottle age.

In the Northern Rhone the variety is used in blends with Marsanne to make white Hermitage wines, it is also used as a component of the red wines of Chateauneuf du Pape.

Roussanne is becoming increasingly popular in several other regions of Southern France including Provence and the Languedoc and Roussillon wine regions.

It is also a favourite variety among the 'Rhone Rangers' of California, and there are some plantings in Northern Italy.

Buy some Roussanne at Vinodiversity's wine merchant partner
*I receive a small commission if you buy via this link
Roussanne In Australia
These wineries use the Roussanne variety. Some make a varietal Roussanne, others blend it with the other Rhone white varieties Marsanne and/or Viognier
prize winning Roussannes
At the Australian Alternative Varieties Wine Show (AAVWS) in 2019 these wines won medals 
2017 Indigo VineyardSecret Village  - Silver

2015 Box Grove - Bronze

2017 Yangara Estate Roux Beaute- Bronze

2018 Yangara Estate Roux Beaute- Bronze
Alkimi Wines Yarra Valley
All Saints Estate Rutherglen
Ansted & Co Bendigo
Badgers Brook Yarra Valley Yarra Valley
Ben Haines Wiens Yarra Valley
Bent Road Granite Belt
Box Grove Vineyard Nagambie Lakes
Brokenwood Wines Hunter Valley
Brown Brothers King Valley
Brown Brothers King Valley
Calabria Family Wines Riverina
Campbells Wines Rutherglen
Cape Mentelle Margaret River
Cassegrain Hastings River
Castagna Vineyard Beechworth
Chambers Rosewood Rutherglen
Chapel Hill McLaren Vale
Chateau Tanunda Barossa Valley
Clonakilla Canberra
Collector Wines Canberra
Currency Creek Currency Creek
D'Arenberg McLaren Vale
Djinta Djinta Gippsland
Domenica Beechworth
Elderton Barossa Valley
Frederick Stevenson Barossa Valley
Giaconda Beechworth
Gilligan McLaren Vale
Glenlofty Pyrenees
Goona Warra Vineyard Sunbury
Hand Crafted by Geoff Hardy McLaren Vale
Indigo Wine Company Beechworth
Jester Hill Wines Granite Belt
John Duval Wines Barossa Valley
Jones Winery and Vineyard Rutherglen
Kabminye Wines Barossa Valley
Keith Tulloch Wine Hunter Valley
Langmeil Barossa Valley
Lark Hill Winery Canberra
Lillian Pemberton
Lino Ramble McLaren Vale
Lobethal Road Wines Adelaide Hills
Lome Bendigo
Lowe Family Wines Mudgee
Massena Wines Barossa Valley
McHenry Hohnen Margaret River
McIvor Estate Heathcote
Merkel King Valley
Michael Hall Wines Barossa Valley
Mitchelton Nagambie Lakes
Oxenbury Beechworth
Pankhurst Wines Canberra
Pirate Cru Barossa Valley
Quarry Hill Wines Canberra
Ravensworth Wines Canberra
Richard Hamilton Wines McLaren Vale
Smallfry Wines Barossa Valley
Spinifex Barossa Valley
St Huberts Yarra Valley
Surveyor's Hill Winery Canberra
Syrahmi Heathcote
Tahbilk Nagambie Lakes
Tallarook Winery Upper Goulburn
Tarrawarra Estate Yarra Valley
The Story Wines Grampians
Torbreck Vintners Barossa Valley
Turkey Flat Vineyards Barossa Valley
Valhalla Rutherglen
Vinelea Beechworth
Wanted Man Heathcote
Waterwheel Wines Bendigo
Wood Park King Valley
Yangarra Estate McLaren Vale
Yelland and Papps Barossa Valley
Yeringberg Yarra Valley
Zonte's Footstep Langhorne Creek
Updated 13 April 2020
---
See the full list of varieties described on this site
Learn More about Grape Varieties
Get your copy of
De Long's Wine Grape Varietal Table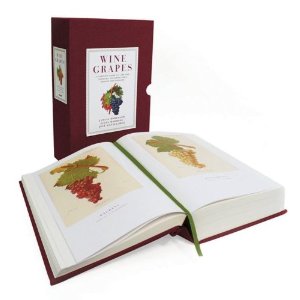 Wine Grapes by Jancis Robinson, Julia Harding and José Vouillamoz
Roussanne and food
Roussanne wines are typically moderate to full bodied so can be enjoyed with richer seafood dishes such as crab, lobster and scallops. 
You can also try these wines with roast chicken or turkey, just as you would pair a Chardonnay. 
An aged Roussanne would be enhanced with a cheese board with some hard cheese, an aromatic soft cheese and a generous dab of quince paste.
You can find many more suggestions for food pairing with Roussanne in Evan Goldstein's Daring Pairings book.
An Offer from our online Wine Shop Partner
Tempranillo tantalisers
This dozen contains 2 bottles from each of six different producers in several regions. It gives you a broad overview of the styles of Australian Tempranillo.
---
Was this info what you wanted?  

Use the search box below to find more.
Before you go
Please subscribe to my newsletter...

I promise not to abuse your inbox. You will receive no more than three emails per month, most often just one, and you can unsubscribe at any time.