Need an ideal stocking filler for a winelover friend?  Consider buying the What Varietal is That? book!
Marsanne wine variety in Australia
Marsanne is a white wine variety gaining popularity in Australia. 
For many years the best known example of wine made from this variety was from Chateau Tahbilk in the Nagambie Lakes region of Central Victoria. The 'Chateau' has disappeared from the winery name but the Marsanne wine just goes on improving.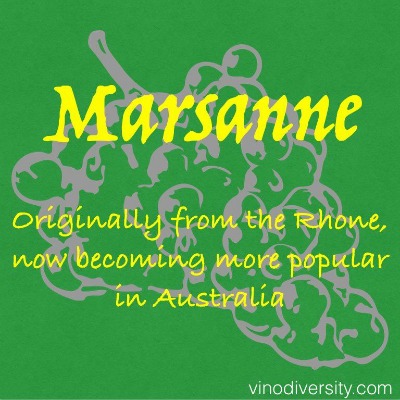 Marsanne wine grape variety
This variety is a native to the Hermitage area in the Rhone Valley where it is often blended with other Rhone white varieties, and Roussanne and Viognier. It is one of eight grape varieties permitted in the Cotes de Rhone appellation.
Wines made with this variety improve markedly with bottle age. It is less common for white wines to improve with bottle age, but wines made from this variety are exceptions.

With age Marsanne wine develops a beautiful golden colour and the flavour rounds out to something resembling baked apples. For this reason Tahbilk, the most prominent producer of this wine in Australia, have two releases of the wine. At the time of writing you can get the 2017 vintage or wines from most vintages back to 2008.

The older wines are showing the early effects of ageing but will keep much longer given good cellaring conditions. So put aside a bottle of this fine wine for ten years or so and see what happens. It is worthwhile joining the Tahbilk wine club to keep your stocks of Marsanne up.
What some Wine Writers say about Marsanne
Flavourful and potentially very high-quality light-skinned Rhone variety with notable outposts in Australia and the US.
Jancis Robinson
With age ... a rich palate of honeysuckle and jasmine, acacia honey and perhaps a touch of apricot and quince.
Oz Clarke
Well made Marsanne is a real treat and can be wonderful with food 

Evan Goldstein

Daring Pairings
Australian WIneries using Marsanne
Alkimi Wines Yarra Valley
All Saints Estate Rutherglen
Angullong Wines Orange
Ansted & Co Bendigo
Armstead Estate Heathcote
Badgers Brook Yarra Valley Yarra Valley
Barwon Ridge Wines Geelong
Beechtree Wines McLaren Vale
Ben Haines Wine Co Yarra Valley
Bent Road Granite Belt
Bianchet Yarra Valley
Bird On A Wine Yarra Valley
Brumfield Yarra Valley
Bullers Calliope Rutherglen
Campbells Wines Rutherglen
Cape Horn Vineyard Goulburn Valley
Cape Jaffa Mount Benson
Cape Mentelle Margaret River
Chateau Tanunda Barossa Valley
Churchview Estate Margaret River
Cofield Wines Rutherglen
Collector Wines Canberra
Connor Park Bendigo
Coombe Farm Vineyard Yarra Valley
D'Arenberg McLaren Vale
Dalfarras Nagambie Lakes
Del Rios Geelong
Djinta Djinta Gippsland
Dogrock Winery Pyrenees
Domenica Beechworth
Elderton Barossa Valley
Frederick Stevenson Barosssa Valley
Gilligan McLaren Vale
Glenlofty Pyrenees
Goulburn Terrace Nagambie Lakes
Happs Margaret River
Heathcote Winery Heathcote
Heritage Estate Granite Belt
Hidden Creek Granite Belt
Honey Moon Vineyard Adelaide Hills
Humis Heathcote
Jinks Creek Winery Gippsland
John Duval Wines Barossa Valley
Jones Winery and Vineyard Rutherglen
Keith Tulloch Wine Hunter Valley
Lark Hill Winery Canberra
Lillian Pemberton
Lindenton Wines Heathcote
Lino Ramble McLaren Vale
Little River Wines Swan Valley
Lome Bendigo
McHenry Hohnen Margaret River
McIvor Estate Heathcote
McPherson Wines Nagambie Lakes
Meera Park Hunter Valley
Mitchelton Nagambie Lakes
Monument Vineyard Central Ranges Zone
Mount Burrumboot Estate Heathcote
Mount Mary Yarra Valley
Mr Barval Fine Wines Margaret River
Munari Heathcote
Murray Street Vineyard Barossa Valley
Oxenbury Beechworth
Pankhurst Wines Canberra
Petersons Glenesk Estate Mudgee
Pfeiffer Wines Rutherglen
Piggs Peake Winery Hunter Valley
Pimpernel Vineyards Yarra Valley
Poachers Ridge Vineyards Mount Barker
Ravensworth Wines Canberra
Richard Hamilton Wines McLaren Vale
Rutherglen Estates Rutherglen
See Saw Wines Orange
Silent Way Macedon Ranges
Smallfry Wines Barossa Valley
Spinifex Barossa Valley
Steinborner Family Vineyards Barossa Valley
Summit Estate Granite Belt
Surveyor's Hill Winery Canberra
Tahbilk Nagambie Lakes
Tamburlaine Hunter Valley
Tarrawarra Estate Yarra Valley
Tawonga Vineyard Alpine Valleys
Tellurian Heathcote
Tempus Two Hunter Valley
The Story Wines Grampians
Torbreck Vintners Barossa Valley
Trifon Estate Goulburn valley
Turkey Flat Vineyards Barossa Valley
Ulithorne McLaren Vale
Valhalla Wines Rutherglen
Vinlea Beechworth
Wanted Man Heathcote
Warrabilla Wines Rutherglen
Warramunda Estate Yarra Valley
Witches Falls Winery Granite Belt
Wrattonbully Vineyards Wrattonbully
Yalumba Wine Company Eden Valley
Yarra Glen Yarra Valley
Yeringberg Yarra Valley
Sponsor this page
If you make wine from this variety you might like Sponsor this Page. It is more economical than you think. Contact Darby for details.
Marsanne and food
Marsanne is quite versatile in food pairing.  Lighter styles and younger wines are great on their own on a warm afternoon.
More robust and aged styles are best with food. They are suitable with richer seafood dishes, creamy based pasta sauces and chicken or veal dishes. Aged Marsanne could be used in any food pairing situation where the recommended wine is Chardonnay.
Evan Goldstein in Daring Pairings has plenty of recommendations and advice for food pairing with Marsanne including a recipe for veal chops served with Aligot - a side dish prepared from mashed potato, Cantal cheese and white wine - Marsanne of course.

See the full list of varieties described on this site
Learn More about Grape Varieties
Get your copy of
De Long's Wine Grape Varietal Table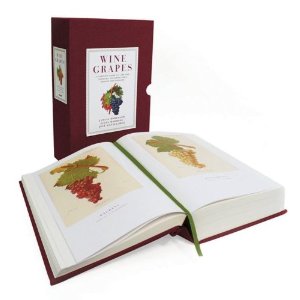 Wine Grapes by Jancis Robinson, Julia Harding and José Vouillamoz
Was this info what you wanted?  

Use the search box below to find more.
Before you go
Please subscribe to my newsletter...

I promise not to abuse your inbox. You will receive no more than three emails per month, most often just one, and you can unsubscribe at any time.