Wine maps and varietal table will not be available between 13 September and 21 October.  Order via this page.
Chenin Blanc White Wine Variety
Chenin blanc is a highly revered white variety from the central regions of the Loire Valley where it is used to make sweet, semi-sweet and dry white wines and also sparkling wine.
Unfortunately it is not so well loved elsewhere.
Chenin in France
The famous Loire Valley wines of Vouvray are made from Chenin blanc. The variety is also used for making wines under the appellations of Montlois, Savennieres and Saumur, to name just a few.
It is also grown in the Languedoc region where it is a component of the sparkling Cremant de Limoux.
...and elsewhere
This variety is very popular in South Africa where its ability to yield well and hold its acidity in warm climates is seen as an asset.  Quality is not always so good but many winemakers who realise the value of it are intent on making fine wines.
It is grown in California and other parts of the USA and to a limited extent in South America.
Chenin was once very popular for making cheap bland wine in New Zealand but is now in rapid decline.
Chenin In Australia
Most Australian plantings are in Western Australia, but Chenin is present in most Australian regions. It is probable that the WA propensity for using the variety is a result of importation of vines from South Africa in the 19th Century.
Around Perth and the Swan Valley the variety has historically played a role similar to that it plays in South Africa, producing wines of no great character. The variety is reasonably popular in Margaret River where growers and winemakers have more of an eye for quality.
In the past Chenin was a major component of blended wines under the general heading of "Classic Dry White" which is popular in Western Australia. Houghtons White Burgundy was the most famous of these.  Nowadays Chenin appears much less frequently in these blends.
Elsewhere in Australia the variety plays a minor role in a number of regions, but it is fair to say the Australia has yet to produce a great Chenin blanc. The possible exception being a one-off late harvest wine produced by St Leonards in the late 1970s. I recently tried a dry Chenin from the same maker and found it excellent. 

Learn More about Grape Varieties
Get your copy of
De Long's Wine Grape Varietal Table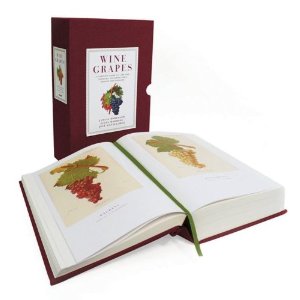 Wine Grapes by Jancis Robinson, Julia Harding and José Vouillamoz
Australian Producers
All Saints Estate Rutherglen
Anderson Winery Rutherglen
Aravina Margaret River
Bacchus Hill Sunbury
Ballandeen Estate Granite Belt
Barton Jones Estate Geographe
Bella Ridge Estate Swan District
Blackwood Wines Blackwood Valley
Bremerton Langhorne Creek
Broken River Vineyards Goulburn Valley
Brookwood Estate Margaret River
Brown Brothers King Valley
Cape Bouvard Peel
Cape Grace Wines Margaret River
Capel Vale Geographe
Carlaminda Estate Geographe
Carosa Perth Hills
Chapman Valley Wines Central Western Australian Zone
Chidlows Well Central Western Australian Zone
Churchview Estate Margaret River
Cofield Wines Rutherglen
Coriole McLaren Vale
Cushendell Southern Highlands
Darling Estate King Valley
Darlington Estate Perth Hills
Dormilona Margaret River
Dowie Doole McLaren Vale
Fermoy Estate Margaret River
Flying Fish Cove Margaret River
Garbin Estate Swan Valley
Goundrey Mount Barker
Green Valley Vineyard Margaret River
Gwynnyth Vineyards Pyrenees
Happs Margaret River
Harris Organic Wines Swan Valley
Heafod Glen Winery Swan Valley
Hotham Ridge Winery Peel
Jane Brook Estate Swan Valley
Jarrah Ridge Winery Perth Hills
John Gehrig Wines King Valley
John Kosovich Wines Swan Valley
Jylland Vineyard Central Western Australian Zone
Kalleske Wines Barossa Valley
Kevin Sobels Wines Hunter Valley
Kneedeep Margaret River
Kyotmunga Estate Perth Hills
Lamonts Swan Valley
Lancaster Wines Swan Valley
Las Vino Margaret River
Marri Wood Park Margaret River
Matilda's Estate Denmark
Murray Estate Big Rivers Zone
Myalup Wines Geographe
Oakover Estate Swan Valley
Olive Farm Swan District
Pandemonium Estate Swan Valley
Paul Conti Wines Greater Perth Zone
Peel Estate Peel
Peel Ridge Peel
Peter Lehmann Barossa Valley
Pikes Clare Valley
Pinelli Swan Valley
Pirramimma McLaren Vale
Redgate Margaret River
Romavilla Queensland Zone
Rusden Wines Barossa Valley
Scarpantoni Estate McLaren Vale
Schwarz Wine Company Barossa Valley
Settlers Ridge Margaret River
Sevenhill Wines Clare Valley
Sittella Swan Valley
St Leonards Rutherglen
Stakehill Estate Peel
Talijancich Swan Valley
Tassell Park Wines Margaret River
Temple Bruer Langhorne Creek
Tuart Ridge Peel
Upper Reach Vineyard Swan Valley
Vineyard 28 Geographe
Willoughby Park Denmark
Willow Bridge Estate Geographe
Windy Creek Estate Swan Valley
Woody Nook Margaret River
Updated 02/02/2018
Try this six pack from our wine merchant partner
Six bottles of beautiful Malbec.
 Just over $17 per bottle from Vinodiversity's online wine partner.
Even cheaper if you order a dozen!
Was this info what you wanted?  

Use the search box below to find more.
Before you go
Please subscribe to my newsletter...

I promise not to abuse your inbox. You will receive no more than three emails per month, most often just one, and you can unsubscribe at any time.