---
Gruner Veltliner in Australia
Gruner Veltliner is the most common white wine grape variety in Austria, where it makes up about 30% of the national vineyard area. It is also grown in neighbouring countries of Central Europe and in Italy. See this Wine Map of Austria and Hungary.
Many of the wines made from this variety in Austria are quite undistinguished fresh and crisp wines made for consumption when young.  It is also is used for base wines to make the local sparkling wine Sekt.
However at the top end this variety can make some rich well structured wines, and it is these that are driving its popularity.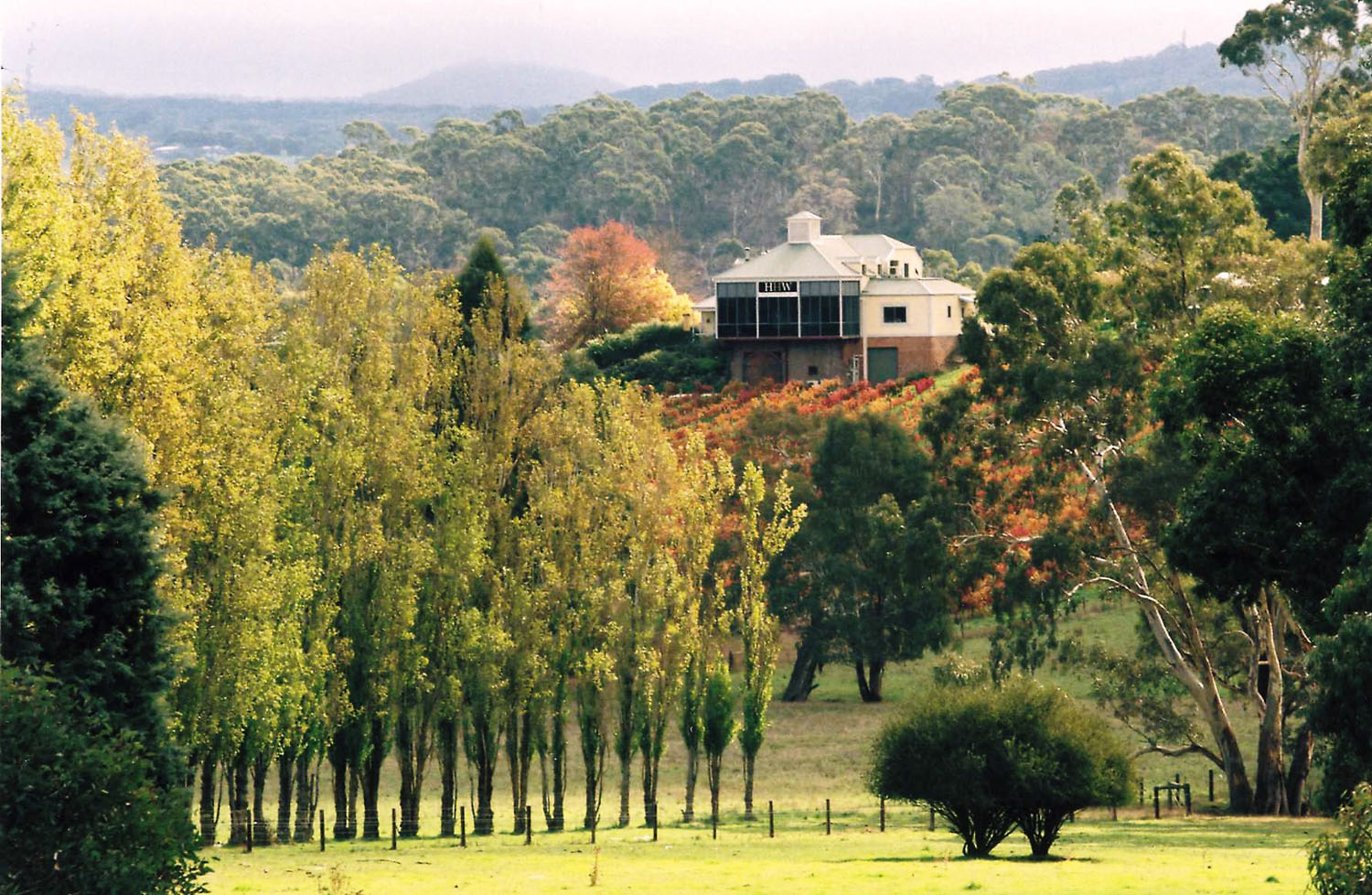 Hahndorf Hills Winery in Adelaide - the epicentre of Australian Gruner Veltliner
---
Gruner Veltliner in Australia
Until a few years ago this variety was very rare in Australia.  Lark Hill in the Canberra District were the first to produce wine from the variety in Australia in 2009.  Hahndorf Hill in the Adelaide Hills Region (2010) and Stoney Rise (2011) were quick to follow.
But the real impetus has come from Hahndorf Hill Winery in the Adelaide Hills.  They imported some new clones for Australia and have been the trail blazers of the variety.  They have made propagating material available to other vineyards and wineries throughout their region.  
Hahndorf Hill also a established a Gruner Veltliner project known as the Gruner Growers Group (GGG) to push the agenda of making the Adlaide Hills the premier Gruner region in Australia.
There are two measures of the success of these efforts.  
Since 2013 Gruner Veltliner now has its own class at the Australian Alternative Varieties Wine Show.  The variety was no longer judged in the grab bag "other white varieties" class.
The second measure of success is the number of Australian wineries now producing Gruner Veltliner - over 50 at the end of 2020.  A quick scan of this list shows just how the Adelaide Hills is dominating the scene, but growers and winemakers in other regions are catching on.
It will be interesting to see if any other cool wine regions take up this variety.
The list below is of wineries using the variety.  In some cases the wineries are located in neighbouring regions outside the Adelaide Hills but in many of these cases the grapes are sourced from the Hills.
Aramis Vineyards Adelaide Hills
Artis Adelaide Hills
Artwine Adelaide Hills
Atwills Wine Adelaide Hills
Berrigan Wines Adelaide Hills
Billy Button Alpine Valleys
Bird in Hand Adelaide Hills
BK Wines Adelaide Hills
Boat O'Craigo Yarra Valley
Boydell's Hunter Valley
Briar Ridge Vineyard Hunter Valley
Bright Eyes Adelaide Hills
By Jingo Adelaide Hills
Cape Barren Wines McLaren Vale
Castle Rock Estate Porongurup
Catlin Wines Adelaide Hills
Chain of Ponds Adelaide Hills
Chalk Hill Winery McLaren Vale
Cloudbreak Wines Adelaide Hills
Collector Wines Canberra
Comyns and Co Hunter Valley
Courabyra Wines Tumbarumba
CRFT Adelaide Hills
Crowe Canberra
Delatite Winery Upper Goulburn
Deviation Road Adelaide Hills
Eden Hall Eden Valley
Frankland Estate Frankland River
Granite Hills Macedon Ranges
Guthrie Wines Adelaide Hills
Hahndorf Hill Adelaide Hills
Henschke Eden Valley
Howard Vineyard Adelaide Hills
K1 by Geoff Hardy Adelaide Hills
Ladbroke Grove Coonawarra
Landhaus Estate Adelaide Hills
Lark Hill Winery Canberra
Linear Adelaide Hills
Longleat Wines Goulburn Valley
Longview Vineyard Adelaide Hills
Loom McLaren Vale
Lowboi Mount Barker
Main and Cherry Adelaide Hills
Mitchell Clare Valley
Monkey Business Adelaide Hills
Moppity Vineyards (and Cato) Hilltops
Mordrelle Adelaide Hills
Mt Bera Adelaide Hills
Nepenthe Adelaide Hills
New Era Adelaide Hills
Nick Spencer Wines Tumbarumba
Nomads Garden Alpine Valleys
Nova Vita Wines Adelaide Hills
O'Leary Walker Clare Valley
Ossa Southern Tasmania
Paracombe Wines Adelaide Hills
Petrichor Wines Southern Tasmania
Pike and Joyce Adelaide Hills
Precious Little Wines Adelaide Hills
Ravensworth Wines Canberra
Redheads Barossa Valley
Sam Miranda Wines King Valley
Samuels Gorge McLaren Vale
Seppelt Grampians
Shining Rock Vineyard Adelaide Hills
Sinapius Northern Tasmania
Smidge Wines Langhorne Creek
St Ignatius Vineyard Pyrenees
Stage Door Eden Valley
Stefano Lubiano Southern Tasmania
Stockman's Ridge Orange
Stoney Rise Northern Tasmania
The Pawn Wine Company Adelaide Hills
Tomich Adelaide Hills
Wangolina Mount Benson
Word of Mouth Wines Orange
Wren Estate Hunter Valley
Updated 24 Oct 2023
Some award wining Gruner Veltliner
At the 2021 Australian Alternative Varietal Wine Show (AAVWS) twenty Gruner Veltliner wines were judged.  Three gold, three silver and twelve bronze medals were awarded.  Longview Vineyard, The Prawn Wine Company and Chain of Ponds were the gold medal winners.  The Prawn wine Company's Austrian Attack 2021 won the trophy for "The Best of the Rest" at the show.
You can buy some Gruner Veltliner at Vinodiversity's wine merchant partner
Gruner Veltliner and food
This variety is quite versatile in the number of different styles of wine it can make, from lean and crisp through to full and rich.  They can be drunk young and fresh or like Rieslings they can be aged.
The underlying structure of the wine makes for successful pairing with a number of food styles.
Try Gruner Veltliner with
All manner of Asian cuisine  from Chinese sweet and sour pork, to Vietnamese spring rolls to a delicate Japanese tempura.
With salads including those with the otherwise difficult to pair villains asparagus and artichokes.
With salty charcuterie - Bratwust, Wiesswurt, sausages and smoked or cured meats of all kinds.
Mild to medium curries or dishes flavoured with North African spices.
Bean or lentil based stews.
For more suggestions see Evan Goldstein's Daring Pairings book
Abuzz with Alternatives
dozen Offer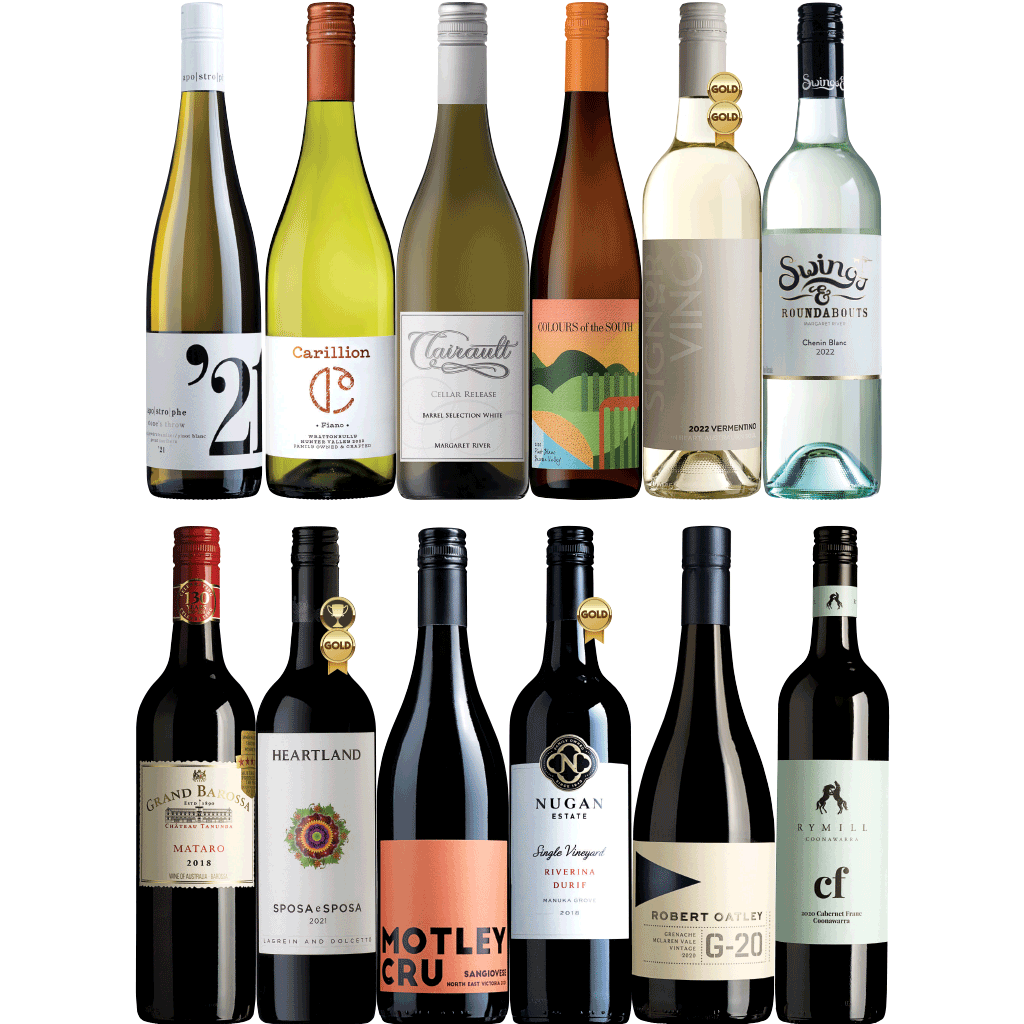 Twelve different alternative varieties and blends.
Also available as all red or all whites.
And at an affordable price.
---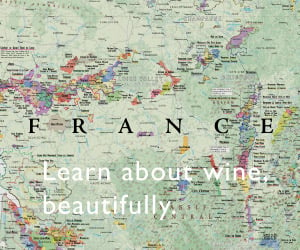 ---
Was this info what you wanted?  

Use the search box below to find more.