What varietal is That?
Kindle version is now available
Lost in the world of grape varieties?  Here is a book to help you.
If you are a beginning wine lover it seems daunting.  Where to start?
Maybe you have been enjoying wine for a few years and want to take your knowledge to a new level.  You have a few favourite varietals but which others should you try?
You love exploring new styles and varieties - exploring is part of the fun, but a guidebook can help you find some of the lesser-known but more exciting wines.
Published January 2019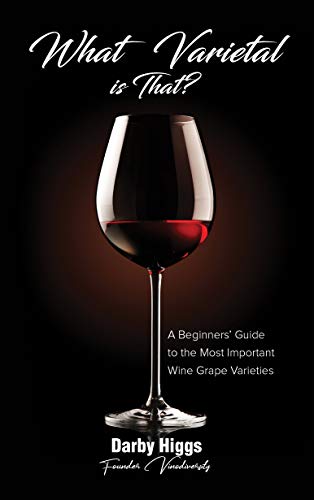 Click on image for more information
hundreds of varieties
Well thousands actually.  One major reference lists 1368 wine grape varieties that are used commercially throughout the world.  There are certainly more to be discovered.  
Each year plant breeders are releasing new varieties.  Old varieties which have been nurtured in remote vineyards in forgotten villages are finding their way to the wider world of wine.
what is in the book
The book will contain descriptions of about 80 of the most important wine grape varieties used throughout the world. 
For each variety there will be information about its origin, its ranking in terms of the area planted, its current distribution, the wine styles made from it, and some food pairing suggestions.

Separate chapters of the book will discuss topics such as the importance of varieties and clones to grape growers and winemakers as well as wine lovers, an explainer about wine varieties and styles.

Who is this book For
What Varietal is That is aimed at the winelover who wants to go a little beyond the handful of well known varieties.  
Setting off down the path of discovering the wide world of grape varieties can be daunting so this guide can help you get started.
When will the Book be published?
Hopefully before the end of January 2019.
The Kindle version is already available.
The book will be published in print and digital editions.
I will be offering early bird pricing to those on my Vinodiversity wine newsletter list.  
It's easy, just pop your best email address into the box below.  I can promise you I have a no spam policy and your email inbox will be respected.
Register for early bird Pricing
Was this info what you wanted?  

Use the search box below to find more.
Before you go
Please subscribe to my newsletter...

I promise not to abuse your inbox. You will receive no more than three emails per month, most often just one, and you can unsubscribe at any time.