---
Digital WIne Maps
De Long wine maps are now available in handy PDF versions that can be viewed on your laptop, desktop, tablet or phone.

This digital set includes all 12 digital wine maps including France, Italy, Spain & Portugal, Germany, Austria & Hungary, Greece, California, The Pacific Northwest, South America, Australia, New Zealand, and South Africa.

Top Quality Mapping
De Long wine maps in printed and now in digital format have always been a superior product, in terms of their detail, accuracy and their aesthetic appeal. 
You can see how the maps stack up against one of the competitors by checking out this article.
But don't just take my word for it. Download this free sample digital wine map of Sicily.
---
The box set contains all twelve of the maps below.  You can also buy individual digital maps.
Click the image for more details.
This digital wine map of Australia covers all Geographic Indications (GIs) including all States/Zones, Regions and Subregions; with detail map of regions around Adelaide (i.e., Barossa Valley, Clare Valley, McLaren Vale, etc.)

---
This is the digital edition of our popular Wine Map of Italy and is perfect for all Italian wine enthusiasts.
Covers all DOC (Denominazione di Origine Controllata), DOCG (Denominazione di Origine Controllata e Garantita) and IGP (Indicazione Geografica Protetta) regions, with detail maps of Piedmont DOCs, Piedmont DOCGs and Chianti subregions.
---
The digital edition of De Long's popular Wine Map of South America.
South America is the world's second-largest wine-producing continent after Europe. Argentina is the fifth-largest, and Chile is the seventh-largest wine-producing nation in the world.
Covers all wine regions in Argentina, Chile, Uruguay, and Brazil; with detail map of Mendoza
Wine map of Spain And Portugal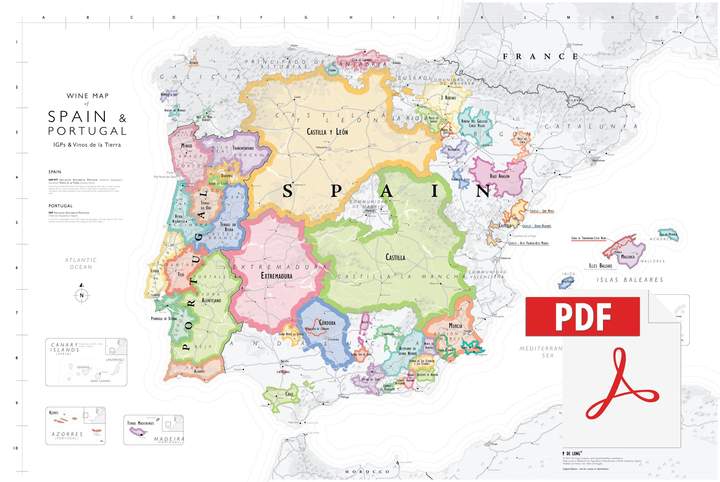 Spain and Portugal form the Iberian Peninsula and would rival France and Italy for the world's largest wine producer. This is De Long's first-ever map and has been updated seven times since 2008.
Includes: all DOP (DOCa, DO, VP and VC) regions of Spain; All DOP and IGP regions of Portugal; detail maps of Priorat and Rioja; adjacent regions of France, Morocco, and Algeria.
More details and ordering information
Digital Wine Map of France
Incredibly detailed map. Covers all AOP (Appellation d' origine protegée, formerly known as Appellation d' origine contrôlée) and IGP (Indication géographique protégée, formerly known as Vin de Pays) regions; with detail maps of Bordeaux, Beaujolais, and the Côte-d'Or; also shows adjacent regions in Spain, Italy, Switzerland, Germany, and Luxembourg.

You can also get these Maps in foldable format
You can also get these maps as
frameable poster sized prints.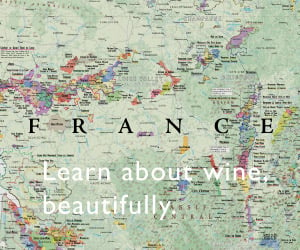 ---
Was this info what you wanted?  

Use the search box below to find more.