Wine maps and varietal table will not be available between 13 September and 21 October.  Order via this page.
Trebbiano White wine Variety
There is a certain glamour to many Italian wine varieties in Australia these days, but not much of that glamour has rubbed off on Trebbiano.
Even Jancis Robinson in the Oxford Companion to Wine attaches the label "undistinguished" to this variety.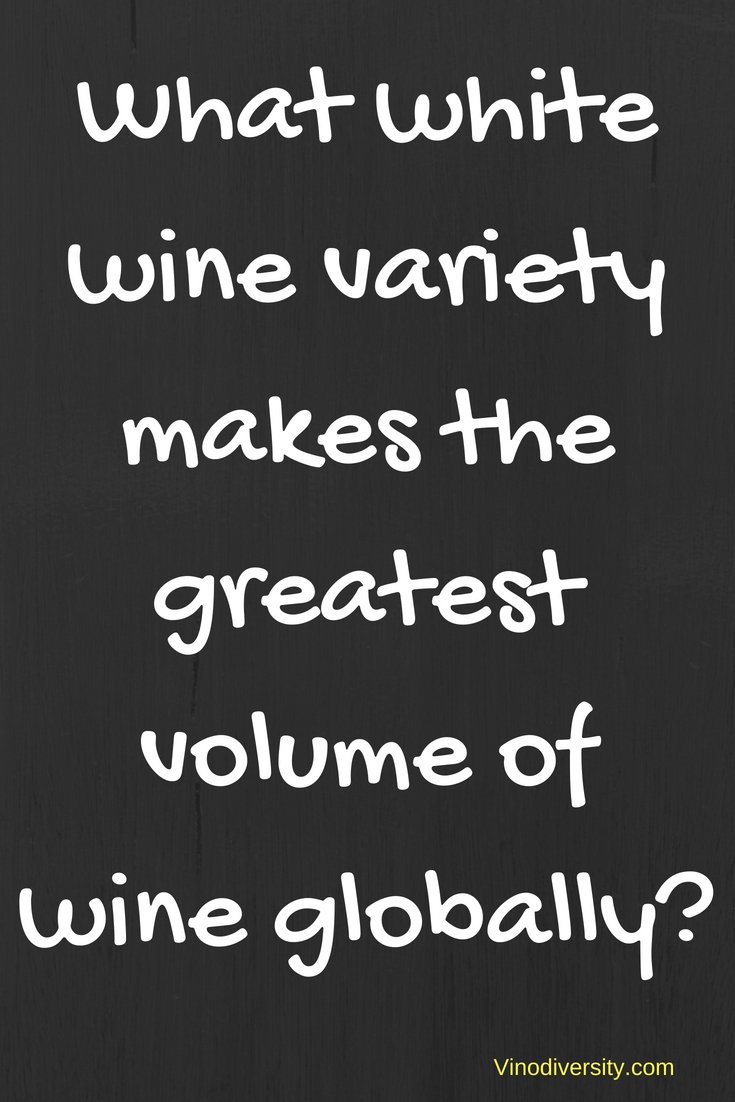 Many winelovers have never heard of Trebbiano but it produces more white wine than any other variety in the world. 
Which Trebbiano?

Trebbiano is really a group of vaguely similar white wine varieties which are probably not genetically related. 
In Wine Grapes by Jancis Robinson six distinct varieties are listed

Trebbiano d'Abruzzo
- - - -  - - - Giallo
- - - -  - - - Modenese
- - - -  - - - Romanolo
- - - -  - - - Spoletino
- - - -  - - - Toscana
In addition the variety Verdicchio Bianco has several synonyms which include the word Trebbiano
Trebbiano Toscano
By far the most planted Trebbiano variety is Trebbiano Toscano and that is what most people mean when they say Trebbiano. No prizes for guessing that it originated in Tuscany.
Trebbiano is planted all over Italy and it is the most commonly used white variety in that country. Trebbiano is high yielding, hence its popularity, and it gives acidity in blends.

In France it goes under the name Ugni Blanc. Other synonyms include Spoletino, Perugino, Rusciolo, Bobiolo, Muscadet Aigre, St-Emilion, White Shiraz and White Hermitage.
Large areas of Trebbiano are grown in France the name Ugni Blanc where it is used for distillation into Cognac as well as producing bulk white wines.

The variety was popular in Australia, where along with Colombard, it is used to make bulk wines. If you've had a 'Dry White' from a cask made in "South East Australia" then you've almost certainly drunk Trebbiano.

But with care in the vineyard and careful winemaking some wineries have coaxed some quite good crisp dry white wines from the variety. The aromas are neutral, ethereal, or maybe just nonexistent.  Just the thing to go with your fish and chips on Friday night.

Arneis
|
Bianco d'Alessano
|
Cortese
|
Fiano
|
Garganega
|
Greco
|
Grillo
|
Malvasia
|
Prosecco
|
Trebbiano
|
Verduzzo
|
Vermentino
Try this six pack from our wine merchant partner
Six bottles of beautiful Malbec.
 Just over $17 per bottle from Vinodiversity's online wine partner.
Even cheaper if you order a dozen!
See the full list of varieties described on this site
Was this info what you wanted?  

Use the search box below to find more.
Before you go
Please subscribe to my newsletter...

I promise not to abuse your inbox. You will receive no more than three emails per month, most often just one, and you can unsubscribe at any time.