Garganega White Wine Variety
Garganega originates in the Veneto region of North West Italy. It is well known as a vigorous high yielding variety and needs careful management in the vineyard.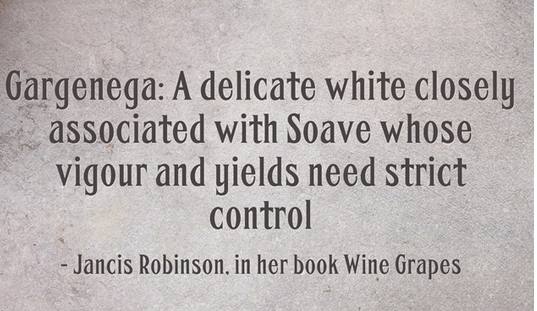 Garganega is important not only for producing the popular Italian white wine Soave, but also as a parent for many other important Italian wine grape varieties.
Soave is a dry white wine from several DOCG regions in Veneto that must contain at least 70% Garganega. Trebbiano or Malvasia are common blending partners with Garganega in Soave.
Recent DNA profiling has revealed that Garganega is genetically identical to the Sicilian variety Grecanico Dorato. Under this name it is used alone and in blends to make quality dry white wines.
Wineries in Australia using Garganega
Domain Day
Barossa Valley
|
Longleat Wines
Goulburn Valley
|
Morrisons of Glenrowan
Glenrowan
|
Politini
*
King Valley
|
Redbank Victoria
King Valley
|
Romavilla
Roma
|
Stefano di Pieri
Murray Darling
*Politini use Garganega under its Sicilian name of Grecanico.
While there is some interest in the variety in Australia it is true to say that Garganega has not yet sparked a great deal of excitement here.
Keep in touch with Vinodiversity
Just enter your details below and you will receive an occasional newsletter letting you know all about the alternative varietal wine scene in Australia and beyond.