Rare Ozzies Book describes 120 Rare Australian Wine varieties details here.
fiano WHite Wine Variety
Is Fiano the most outstanding of all of the new white wine varieties in Australia?
The other contenders are Arneis, Gruner Veltliner, Petit Manseng, Savagnin and Vermentino.
As at June 2108 I reckon Fiano is ahead.  But it is a tight race.
Fiano in Italy
Fiano is a strongly flavoured white grape variety which is used to make the highly regarded Fiano di Avellino in Campania in Southern Italy. Avellino is a wine region in the hills inland from Naples.
Fiano is also grown in other southern Italian regions such as Basilicata and the Salentine Peninsula in Puglia.

Here's what the Unknown WInecaster says about Fiano
Source:
Fix.com Blog
Fiano IN Australia
There is a small but steadily growing number of producers of Fiano in Australia. This is likely to continue over the next few years as more and more grape growers and wineries react to the problems of climate change by using Southern Italian grape varieties.
The time of vintage has been much earlier than usual in many recent years. Later maturing varieites are more suited to warmer areas as the grapes are able to ripen with a better balance of sugar, acid and flavouring compounds in cooler times.
It seems that South Australian winemakers are especially keen on the variety, taking the lead from Coriole who pioneered the Fiano in Australia.
Fiano has had its own class at the Australian Alternative Varieties Wine Show (AAVWS) since 2009.  In the most recent show, just seven years later in 2016, there were 44 wines judged.  

Australian Producers of Fiano
Some award winning Wines
At the 2017 AAVWS 46 Fiano Wines were judged.
Two gold medals, six silvers and twenty-five bronze medals were awarded.
The winners of gold medals were
Alejandro Riverland
Amato Vino Margaret River
Angoves Winery Riverland
Artwine Clare Valley
Ballandeen Estate Granite Belt
Banrock Station Riverland
Bassham Riverland
Beach Road McLaren Vale
Berton Vineyards Riverina
Big Easy Radio McLaren Vale
Bike and Barrel Alpine Valleys
Billy Button Alpine Valleys
Bimbadgen Hunter Valley
Blue Poles Vineyard Margaret River
Bondar Wines McLaren Vale
Bremerton Langhorne Creek
Cantina Abbiatiello Riverland
Carillion Wines Orange
Chalk Hill Winery McLaren Vale
Chalmers Heathcote
Chrismont King Valley
Cirami Estate Riverland
Collins and Co Wines McLaren Vale
Comyns and Co Hunter Valley
Coriole McLaren Vale
Cradle of Hills McLaren Vale
Cragg Cru McLaren Vale
Dal Zotto Estate King Valley
Dell'uva Wines  Barossa Valley
Drakesbrook Wines Peel
Dryridge Estate Central Ranges Zone
Feathertop Alpine Valleys
First Ridge Mudgee
Flame Hill Queensland Zone
Foster e Rocco Heathcote
Fox Gordon Barossa Valley
Galli Estate Heathcote
Gapsted Alpine Valleys
Gibson Barossa
Grand Casino Riverland
Greeenway Wines Hunter Valley
Green Door Wines Geographe
Hand Crafted by Geoff Hardy McLaren Vale
Hart and Hunter Hunter Valley
Haselgrove McLaren Vale
Heritage Estate Granite Belt
Higher Plane Margaret River
Hungerford Hill Hunter Valley
Il Modo Murray Darling
Jacobs Creek Barossa Valley
Jericho Adelaide hills
Jones Winery and Vineyard Rutherglen
Journey Wines Yarra Valley
Juniper Estate Margaret River
K1 by Geoff Hardy Adelaide Hills
Kangarilla Road McLaren Vale
Kirrihill Estates Clare Valley
L'Enologa Murray Darling
La Fattoria Perth Hills
Larry Cherubino Margaret River
Lethbridge Wines Geelong
Lino Ramble McLaren Vale
Main and Cherry Adelaide Hills
Mansfield Wines Mudgee
Marq Margaret River
Monkey Business Adelaide Hills
Montevecchio Heathcote
Morrisons of Glenrowan Glenrowan
Mount Eyre Vineyards Hunter Valley
Nomads Garden Alpine Valleys
Oak Valley Estate Murray Darling
Oatley Wines Mudgee
Olivers Taranga McLaren Vale
Out of Step Yarra Valley
Parish Hill Wines Adelaide Hills
Parous Estate Adelaide Hills
Pete's Pure Murray Darling
Pikes Clare Valley
Redbank Victoria King Valley
Rewine McLaren Vale
Ricca Terra Riverland
Riverbank Estate Swan Valley
Rutherglen Estates Rutherglen
Salena Estate Riverland
Saltram Barossa Valley
SAMU Riverland
Santa & d'Sas King Valley
Sassafras Canberra
Savina Lane Granite Belt
SC Pannell McLaren Vale
Scott and La Prova Adelaide Hills
Seaview McLaren Vale
Section 45 Adelaide Hills
Serafino Wines McLaren Vale
Sherrah McLaren Vale
Signor Vino Riverina
Stefano di Pieri Murray Darling
Stomp Hunter Valley
Summit Estate Granite Belt
Susuro Adelaide Hills
Sutton Grange Winery Bendigo
Symphony Hill Wines Granite Belt
Taylors Clare Valley
Tellurian Heathcote
Tonon Vineyard and Winery Perth Hills
Travertine Estate Hunter Valley
Tumbalong Hills Gundagai
Unico Zelo Adelaide Hills
Vigna Bottin McLaren Vale
Wise Wine Margaret River
Witches Falls Winery Granite Belt
Zerella (la Gita) McLaren Vale
Last update 28 Feb 2019
What does Fiano Taste like?
De Long's Wine Grape Varietal Table lists the variety as having the potential to produce light weight wines of moderate to high acidity.
The flavour profile is described as
Nutty, herbal, aromatic, with smoky spicy notes and hazelnuts

In her latest book Vine Grapes Jancis Robinson describes the variety as
Rich waxy, strongly flavoured fashionable...
Fiano and Food
These crisp dry white wines can be paired with a range of foods. Try them with seafood, pasta dishes or other Italian style cuisine.
Try Fiano with pan fried King George whiting and chips.
Brian St Pierre in this book suggests that Fiano is one white wine variety that goes well with dishes normally associated with red wines such as stuffed eggplant, or rolled veal birds.

Learn More about Grape Varieties
Get your copy of
De Long's Wine Grape Varietal Table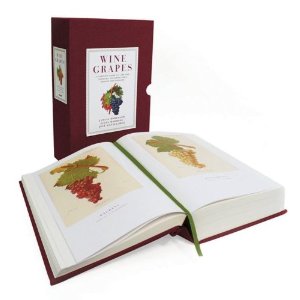 Wine Grapes by Jancis Robinson, Julia Harding and José Vouillamoz
An offer from our online shop partner
2 bottles each of some stunning alternative reds.
Sangiovese, Barbera, Touriga and more. 
Was this info what you wanted?  

Use the search box below to find more.
Before you go
Please subscribe to my newsletter...

I promise not to abuse your inbox. You will receive no more than three emails per month, most often just one, and you can unsubscribe at any time.