Verdejo White Wine Variety
Verdejo is a high quality Spanish white wine variety now used in Australia.

Verdejo and Verdelho: What's the difference?
Verdejo is not related to the Portuguese wine variety Verdelho, which is much more commonly grown in Australia.
Verdelho is best known for the production of aromatic dry white wines in the Rueda Wine Region north west of Madrid. Small amounts are grown on other regions of Spain, but very little elsewhere.
As Spain moves more towards production of quality wines the area of Verdejo is growing at the expense of lesser quality varieties.

The Verdejo variety is a newcomer to the varietal wine scene in Australia. Just a handful of winemakers have released wine. It is thus a 'Rare Ozzies' wine and is included in the book Rare Ozzies.  You can find more of these varieties by searching for the the term #rareozzies either in your favourite social media platform or search engine.

Australian WIneries using Verdejo
Angelicus Geographe
Bassham Riverland
Cirami Riverland
Dell'uva Wines Barossa Valley
Feathertop Alpine Valleys
Millbrook Estate Perth Hills
Ricca Terra Riverland
Trentham Estate Murray Darling
Vanguardist Clare Valley
Wise Wines Margaret River
Yalumba Wine Company Eden Valley
Updated 19 Oct 2020
---
An Offer from our online Wine Shop Partner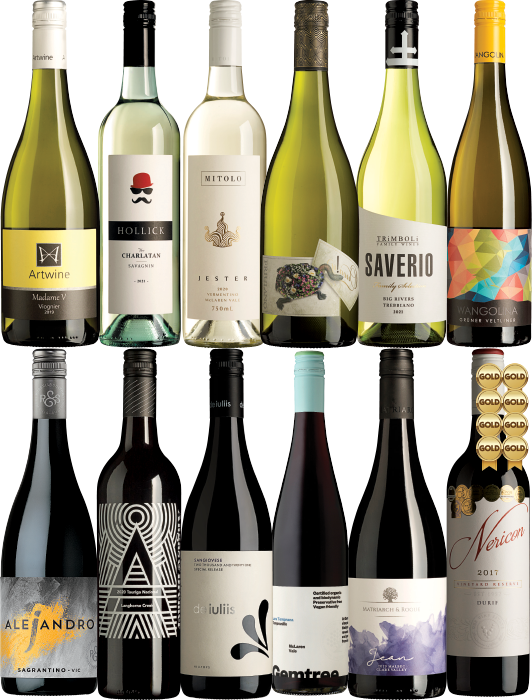 Six whites - Viognier, Savagnin, Gruner Veltliner, Vermentino, Friulano, Trebbiano .
Six reds - Sagrantino, Sangiovese, Malbec, Durif, Tempranillo, Touriga. 
Together they  make up a fine survey of the major alternative wine varieties made in Australia today by some of our best winemakers across Australian regions. 
Also available as all reds and all whites dozens.
And at a great price..
---
Was this info what you wanted?  

Use the search box below to find more.
Before you go
Please subscribe to my newsletter...

I promise not to abuse your inbox. You will receive no more than three emails per month, most often just one, and you can unsubscribe at any time.