Nagambie Lakes Wine Region in Central Victoria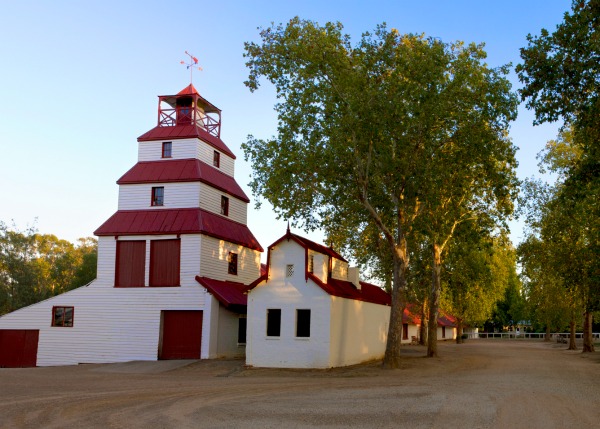 Tahbilk Winery: one of the most beautiful old buildings in Australia is located on the banks of the Goulburn River
Technically the Nagambie Lakes Wine Region is a subregion of the Goulburn Valley Wine Region. It is centred around the lakes and billabongs of the Goulburn River around the township of Nagambie and Lake Nagambie. 

The CEntral victorian zone
This area is on the slopes and plains on the inland side of the Great Dividing Range.
There are five regions and a subregion:
The centrepiece of the region is the historic Tahbilk Winery, until a few years ago it was styled as Chateau Tahbilk. This winery has been in operation since 1860, and for many years was the only winery in the region.

The establishment of Mitchelton in 1969 heralded the renaissance of the wine industry in this region and in Australia generally.

The terroir of this sub-region is well suited for viticulture. Its inland location ensures a high seasonal and diurnal temperature range. Water is available for supplemental irrigation from the river. The soils are varied, but on the sandier soils shiraz was able to withstand the Phylloxera plague of the nineteenth century. Tahbilk has some shiraz vines that were planted in 1860 that are still in production.

For many years Tahbilk's planting of Marsanne was the largest in the world. Now over a hundred wineries throughout Australia use this interesting Rhone variety. Roussanne and Viognier, another two Rhone white varieties, are also favoured in the region.

More recently Tahbilk has broadened their range of varieties to include Pinot gris, Sangiovese and Tempranillo. Among wineries to visit in Australia the beautiful timber building and cellars at Tahbilk are a must see. It is located right on the banks of the Goulburn river and you can see the wharf where wine would have been loaded onto paddle steamers in the past.

Mitchelton Winery also has a striking building on the banks of the river. Goulburn Terrace use the local favourite white wine variety Marsanne to make an impressive sparkling wine.
Planning a wine tour to the Nagambie Lakes wine region is easy. The region is about an hour and a half by freeway from Melbourne and is thus an ideal day trip destination.

There are a number of accommodation options in the region which you could use for an extended stay, or you could include a visit to the Nagambie Lakes Wine Region with a tour of other wineries and attractions in central Victoria.
Victorian wineries on Pinterest
I have a Pinboard showing some of the wineries in Victoria who use alternative varieties.
Wineries and varieties in The Nagambie Lakes wine region
Box Grove Vineyard Nebbiolo, Negroamaro, Prosecco, Roussanne, Savagnin, Souzao, Vermentino, Zinfandel
Dalfarras Albarino, Arneis, Marsanne, Sangiovese, Savagnin, Tempranillo, Vermentino
Goulburn Terrace Marsanne
McPherson Wines Fiano, Marsanne, Moscato, Nero d'Avola, Sangiovese, Tempranillo, Vermentino
Mitchelton Marsanne, Moscato, Roussanne
Tahbilk Cabernet Franc, Malbec, Marsanne, Roussanne, Sangiovese, Tempranillo, Zinfandel
Tar and Roses Nebbiolo, Sangiovese, Tempranillo
Updated 24 November 2022
Want to learn More About Australian Wine regions?
An Offer from our online Wine Shop Partner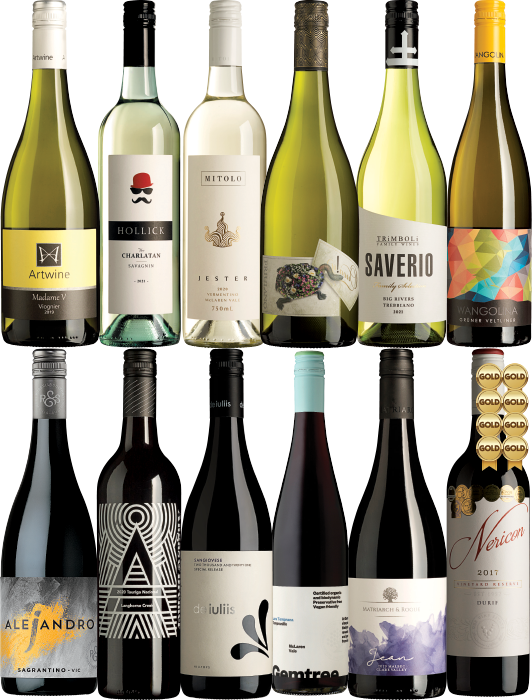 Six whites - Viognier, Savagnin, Gruner Veltliner, Vermentino, Friulano, Trebbiano .
Six reds - Sagrantino, Sangiovese, Malbec, Durif, Tempranillo, Touriga. 
Together they  make up a fine survey of the major alternative wine varieties made in Australia today by some of our best winemakers across Australian regions. 
Also available as all reds and all whites dozens.
And at a great price..
---
---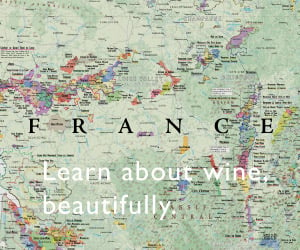 ---
Was this info what you wanted?  

Use the search box below to find more.
Before you go
Please subscribe to my newsletter...

I promise not to abuse your inbox. You will receive no more than three emails per month, most often just one, and you can unsubscribe at any time.