Pedro Ximenez
Pedro Ximenez is a white grape variety from Andalusia in Southern Spain, best known for its role in producing sherry and other fortified styles.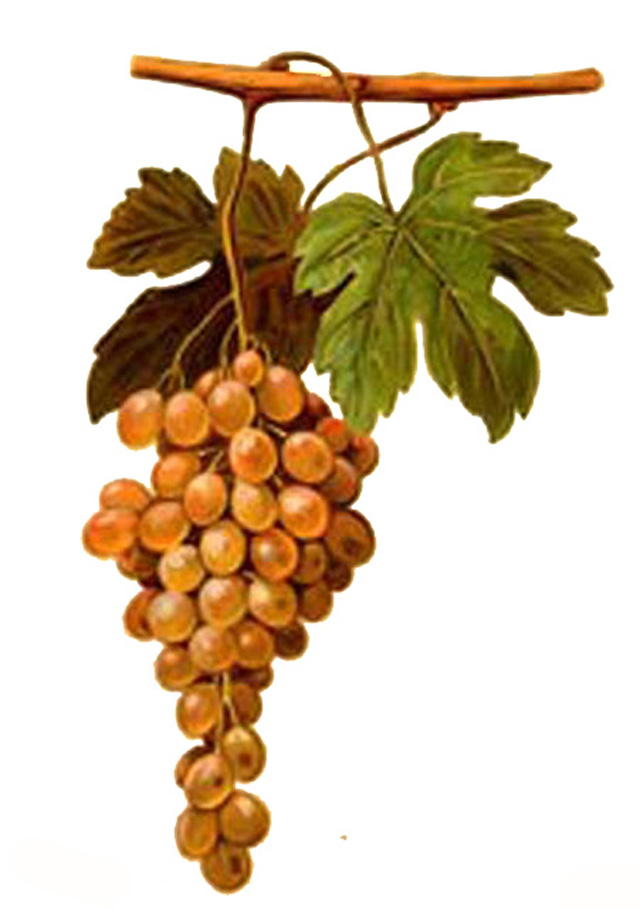 By Viala et Vermorel (Ampélographie) [Public domain], via Wikimedia Commons
Some synonyms include Pedro Jimenez, Pedro Ximenes,  Jerez, and in Australia it is often refered to as PX.
The variety Pedro Gimenez, which is used widely in Argentina for cheap everyday white wines, is unrelated despite the similar name.

Palomino, the other Sherry variety from Jerez, is much more common there than Pedro Ximenez.
PX is used to add sweetness to blends with Palomino and also on its own to make dark sweet viscous wines, both in Jerez and other regions in Southern Spain.
Under the name of Perrum this variety is used as a component of blends in Portugal. 
In Chile PX is the variety most often used to make Pisco, tho local version of brandy 
Like Palomino, Pedro Ximenez  can also be used to make dry whites without much character.

In Australia PX is used to make both fortified and table wines. In the 1950s McWilliams Pedro was one of the first botrytised wines produced in Australia. It is also used to make rich sweet fortified wines but historically PX's most common role has been anonymously bulking out mass produced cheap white wines.

Australian producers of Pedro Ximenez
Campbells Wines Rutherglen
Charles Melton Barossa Valley
Dandelion Wines Barossa Valley
Gralyn Estate Margaret River
Harris Organic Wines Swan Valley
Jones Winery and Vineyard Rutherglen
Lamonts Swan Valley
Macaw Creek Wine Mount Lofty Ranges Zone
McWilliams Riverina
Millbrook Winery Perth Hills
Muster Wine Company Barossa Valley
Sevenhill Wines Clare Valley
Talijancich Swan Valley
Turkey Flat Vineyards Barossa Valley
An Offer from our online Wine Shop Partner
This mixed dozen of red wines contains 2 bottles of each of Alicante Bouchet, Malbec, Montepulciano, Sangiovese, Saperavi and a Barbera, Sagrantino and Sangiovese blend.

---
Was this info what you wanted?  

Use the search box below to find more.
Before you go
Please subscribe to my newsletter...

I promise not to abuse your inbox. You will receive no more than three emails per month, most often just one, and you can unsubscribe at any time.