Is Franc the best Cabernet?
Cabernet franc is largely overshadowed by its more well known cousin Cabernet Sauvignon. However Cabernet Franc is widespread in France, the cooler regions of Europe and in most wine producing countries.
Some synonyms for this variety are Bouchet, Breton bordo.
The most common use for Cabernet Franc is as a blending partner, often minor, in so called Bordeaux blends. These wines are made from blends of Cabernet Sauvignon, Merlot and Cabernet Franc varieties, often with one or more of the less common Bordeaux varieties Malbec, Petit Verdot and Carmenere.
The second use for the variety is as a varietal wine. In most countries this means that wine has to be made from at least 85% Cabernet Franc.
The Difference between Franc and Sauvignon
As their names suggest these two wine grape varieties are related. Cabernet Franc is the older variety, Cabernet Sauvignon seems is its offspring.
It is highly likely that the variety originated in Spain, rather than Bordeaux, perhaps as long ago as the 11th Century.
Cabernet Franc ripens a little earlier and hence can be successful in slightly cooler areas than Cabernet Sauvignon. The Loire Valley and North Eastern Italy, both strongholds of the variety are cooler than Bordeaux.
Cabernet Franc wines tend to be softer than Cabernet Sauvignon. They have more fruit flavours, especially raspberries and thus are more likely to be given less oak treatment.

How Many Cabernets are there?
There are quite few varieties known as Cabernet something.
Cabernet Blanc is a Swiss bred hybrid.  As the name suggests its berries are white.
The Swiss also bred the dark skinned Cabernet Colonjes and Cabernet Jura varieties.
Cabernet Carbon, Cabernet Carol, Cabernet Cortis, Cabernet Cubin, Cabernet Dorio, Cabernet Dorsa, Cabernet Mitos are all red berried German bred varieties.
The Swiss also bred the dark skinned Cabernet Colonjes and Cabernet Jura varieties.
Not to be outdone the Czechs bred Cabernet Morovia.
Cabernet Severney was bred by the Russians for cold areas, 
Ruby Cabernet was bred in California for hotter climates.
 All of the above are distinct varieties.  Strictly speaking Malian and Shalastin are clones of Cabernet Sauvignon.
Cabernet Franc in France
A bunch of Cabernet Franc grapes at Paradise Rescued Vineyard in Bordeaux. Click for details of Paradise Rescued
The variety is best known for its use in Bordeaux as a blending partner.
Less well known is Cabernet Franc's role in varietal wines in France, particularly in the Loire Valley appellations of Bourgueil, Chinon and Saumur*. It is also used component of the rose Appellation Cabernet d'Anjou in the middle Loire region.
*This Wine Map of France will get you up to speed about French wine regions
Cabernet Franc in Australia
The variety is used in a similar way to its use in France, mainly as a blending variety, but quite a significant number of Australian wineries are using Cabernet Franc as a straight varietal.
Is it an alternative variety? This is controversial. It's use as a blending partner is certainly not, but there is an argument that the use of the variety to make varietals is alternative.
Australian Varietal CABERNET FRANC
All Saints Estate Rutherglen
Artwine Adelaide Hills
Bests Grampians
Bigibila Pyrenees
Bulong Estate Yarra Valley
Byrne and Smith McLaren Vale
Cape Grace Wines Margaret River
Chalk Hill Winery McLaren Vale
Cofield Wines Rutherglen
Drakesbrook Wines Peel
Gapsted Alpine Valleys
Gracebrook Vineyards King Valley
Grassy Point Coatsworth Wines Geelong
Happs Margaret River
Harcourt Valley Bendigo
Hastwell and Lightfoot McLaren Vale
Hay Shed Hill Wines Margaret River
Hemera Estate Barossa Valley
Heritage Estate Granite Belt
Howard Vineyard Adelaide Hills
Jamsheed Yarra Valley
Jarvis Estate Margaret River
Jenke Vineyards Barossa Valley
Koerner Wines Clare Valley
Louee Wines Mudgee
Mardia Wines Barossa Valley
Montefalco Vineyard Porongurup
Moombaki Wines Denmark
Paracombe Wines Adelaide Hills
Pepper Tree Wines Orange
Peter Lehmann Barossa Valley
Pyren Vineyard Pyrenees
Redgate Margaret River
Rochford Wines Yarra Valley
Rose Creek Estate Sunbury
Ross Hill Wines Orange
Sally's Paddock Pyrenees
Silverstream Wines Denmark
Squitchy Lane Wines Yarra Valley
St Leonards Rutherglen
Steels Creek Estate Yarra Valley
Surveyor's Hill Winery Canberra
Swooping Magpie Margaret River
Tahbilk Nagambie Lakes
Tallagandra Hill Canberra
Tamburlaine Hunter Valley
The Islander Estate Vineyards Kangaroo Island
Tomfoolery Barossa Valley
Twelve Acres Nagambie Lakes
Vasarelli Currency Creek
Way Wood Wines McLaren Vale
Wild Dog Gippsland
Woodgate Wines Manjimup
Last updated 9 April 2018
An Offer from our online Wine Shop Partner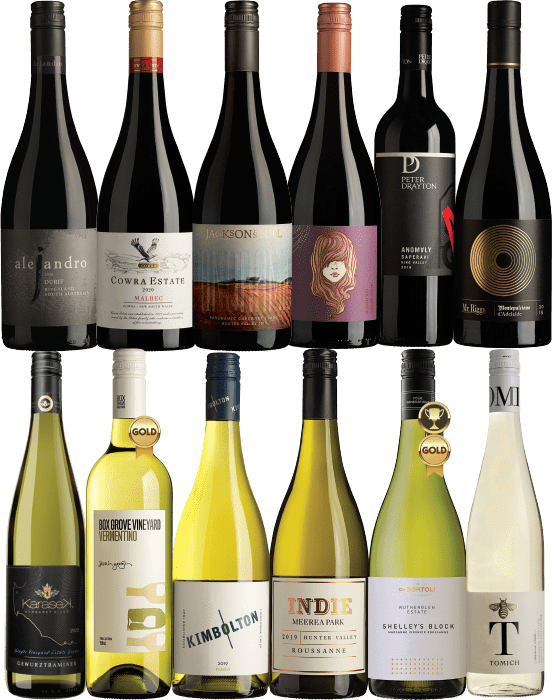 A mixed dozen, Six whites, Six reds. Different regions, different producers - the ideal way to broaden your vinous horizons. Also available as 2x6 reds or 2x6 whites.
---
The personality of Cabernet franc
Does this variety have a personality?
My friend the Winebird certainly thinks so!
You can find more about the personalities of wine varieites by visiting the Winebird Website.

Cabernet Franc and food
Varietal Cabernet Franc wines are often un-oaked and so they go with foods with herbal flavours rather than rich meats, veal or poultry rather than beef or wild boar for example. In springtime you might serve a Cabernet Franc with an asparagus quiche as an entree.
In his book Daring Pairings Evan Goldstein suggests that this variety goes well with goats cheese.
Maybe you could add a food suggestion via the comments box below...
Was this info what you wanted?  

Use the search box below to find more.
Before you go
Please subscribe to my newsletter...

I promise not to abuse your inbox. You will receive no more than three emails per month, most often just one, and you can unsubscribe at any time.