How many different grape varieties have you tried? Join the Great Australian Varietal Challenge.
Wine Map of france
This wine map of France is the best way to learn about its many wine regions.

Wine Grape Varietal Table and all listed wine maps are in stock.   Order early for seasonal gifts.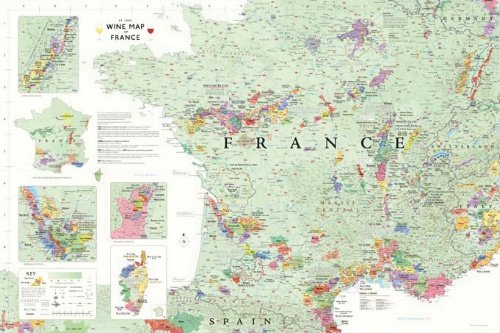 Wine maps available
France is THE home of premium wines. Reds, whites roses and sparkling wines are produced in a large number of regions organised by a system called Appellation Controllee (AOC).
The AOC system is based first on the geographic origin of the wine but includes regulations for a wide range of viticultural and winemaking practices.

De Long's Wine Map of France allows you to see at a glance where the wines of France are produced.
---
Here's what you get on this Wine Map of France
The map illustrated above.
The wine regions clearly and attractively defined.
Incredible detail and beautiful layout.
Includes all of France and the Adjacent regions in Spain, Germany, Switzerland and Italy.
Detail maps of Bordeaux, Côte d'Or and Beaujolais, and the Island of Corsica
Size is 24in X 36in. (That's about 600mm x 900mm)
Printed on quality paper, suitable for framing or laminating
An eight page booklet which serves as an index to the wine regions, DOCGs and DOC's on the map.
How to order your Wine map of France
Wine Grape Varietal Table and all listed wine maps are in stock.   Order early for seasonal gifts.
If you are in Australia or New Zealand please order  via this page.  
Please note you pay via the Paypal System.  If you don't have a Paypal account then you can pay Paypal with your credit or debit card.
For bulk orders please contact me.
If you want your map delivered elsewhere please order from De Long Wine Info.
The latest available maps are
Austria & Hungary
,
New Zealand
and
South Africa
Was this info what you wanted?  

Use the search box below to find more.
Before you go
Please subscribe to my newsletter...

I promise not to abuse your inbox. You will receive no more than three emails per month, most often just one, and you can unsubscribe at any time.