---
Wine Map of South America
Want to learn about South American wine?
This detailed wall map will help you understand the regions in a glance.
This map is also available in Digital or Bookshelf (folded) formats.
the Rise of South American wines 
Over the past decade or so South American Wines have taken the world by storm. 
First it was Chilean Cabernet Sauvignon, Sauvignon Blanc and Carmenere.
More recently Malbec from Argentina, especially from the Mendoza and Salta regions in the Andean foothills.
And watch out for Tannat from Uruguay. It might just be the next big thing.

You can locate these regions and more with this superb wall map.
Detailed map shows all of the wine regions in Chile and Argentina, two of the giants of world wine production.
Inset maps show details of Mendoza, Uruguay and SE Brazil.
You can rely on the accuracy of the information as De Long Wine Info has a worldwide reputation for thorough research.
Framable and on quality paper 600mm X 400mm approx 24 inches  by 36 inches.
You can get it laminated to put onto your tasting table.
Impress your visitors with this map on the wall of  your tasting room, your bar or dining room.
Use this map for travel planning, even from your armchair.
Order now for delivery before Festive season.
Check out the detail
How to order your Map
Please Note:  The De Luxe version of the Varietal Table is no longer available,  just the Standard version without the Index book.
If you are in Australia or New Zealand please order  via this page.  
Please note you pay via the PayPal System.  If you don't have a Paypal account then you can pay PayPal with your credit or debit card. If you wish to pay via bank transfer please contact me.
For bulk orders please contact me.
If you want your map delivered elsewhere, or would like the folded or digital versions

Please order from this page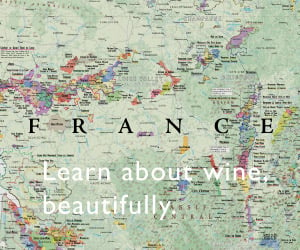 ---
Was this info what you wanted?  

Use the search box below to find more.