Macedon Ranges Wine Region
This wine region is just to the north of Melbourne. It is not as well known as other regions in the Port Phillip Zone such as the Yarra Valley and the Mornington Peninsula but the Macedon Ranges wine region is well worth a wine tour.
The major geographic feature is Mount Macedon. It is the most prominent feature on th northern horizon from most parts of Melbourne and rises to just on 1000m.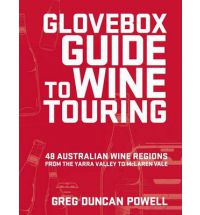 Buy this book online
Free delivery worldwide
Towns in the Macedon Ranges GI include Lancefield and Romsey to the East; Gisborne, Woodend, Kyneton, Malmsbury and Taradale along the Calder Highway which bisects the region, and the emerging sub-region around Daylesford to the West. These towns act as commuter suburbs to the city, but each is developing as a tourist attraction in its own right as cafes, restaurants, gourmet food outlets attract visitors and a range of quality accommodation options entice them to stay.
The altitude of the vineyards in the Macedon Ranges varies between 300-700m. Thus some of the coolest vineyards on mainland Australia are in this region. There are marked variations in the microclimate, with the northern sections of the region being quite warmer than the southern higher sites. The renowned Shiraz regions of Heathcote and Bendigo are immediately to the north.
With the cool climate it is no surprise that Pinot Noir and Chardonnay are grown here for sparkling wine as well as table wines. Riesling is also grown successfully here, in fact some of the highest rated Riesling in Australia are produced in this region but curiously they are rarely written about or discussed.
Among alternative varieties Gewurztraminer is the most popular. Quite a few wineries have started to use Pinot gris. Alan Cooper at Cobaw Ridge has had great success with the Italian red variety Lagrein.
The region is easily visited as a day trip from Melbourne, but there are many dining and accommodation options in the towns of the region which have well developed tourist facilities based on the region's supply of picturesque villages, heritage buildings and antique shops.
Grape Varieties and Wineries in the Macedon Ranges Region
Cleveland Pinot gris
Cobaw Ridge Lagrein
Curly Flat Pinot gris
Ellender Estate Pinot gris
Granite Hills Pinot blanc, Tempranillo
Hanging Rock Winery Grenache, Marsanne, Mourvedre, Petit verdot, Pinot gris, Zinfandel
Kangaroo Hills Tempranillo, Lagrein
Lane's End Vineyard Cabernet franc
Mount Charlie Winery Malbec, Tempranillo
Mount Franklin Estate Dolcetto, Nebbiolo, Pinot gris
Mount Macedon Winery Gewurztraminer, Meunier
Mount Towrong Nebbiolo, Prosecco
Paramoor Wines Pinot gris
Portree Vineyard Cabernet franc
Rowanston on the Track Malbec, Viognier
Sailors Falls Winery Gamay, Gewurztraminer, Pinot gris
Sautjan Vineyards Pinot gris, Viognier
Silent Way Marsanne, Roussanne
Keep in touch with Vinodiversity
Just enter your details below and you will receive an occasional newsletter letting you know all about the alternative varietal wine scene in Australia and beyond.