De Long's Wine Variety Table
So you would like to know more about wine varieties.

A good idea is to learn visually.
We remember more if we engage all of our senses. De Long's Wine Variety Table is a great way to have a fixed image to recall from that memory device between your ears. Here's how to learn about 184 of the most important wine varieties in the world...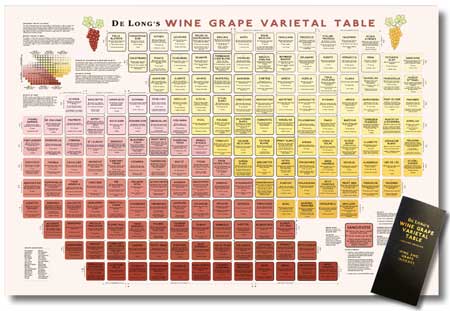 Outside Australia?

You can order the map directly from
De Long Wine Maps and the varietal table are now available for posting to Australian addresses. Please contact me for postage to NZ Adresses.
For all other places please order direct from De Long Wine Info
The Wine Varietal Table is an incredibly useful wine reference disguised as a
fine art print
.
This table and index is an ideal gift for the fussiest wine connoisseur.
You can hang it on a wall in your cellar door tasting room, next to your bar, dining room or anywhere you drink wine, you will find yourself referring to it again and again.
All you need to know about wine grape varieties in one place. (Well nearly everything!)
This is what you get when you order the Grape Varietal Table
**The Wine Grape Varietal Table. 24 by 36 inches printed on 110 lb. acid-free archival paper. For those who are imperially challenged that's about 600mm by 900mm.
**The Wine and Grape Indexes. A great little book packed with 88 pages of info. It is small enough to fit in your pocket or purse when you are out buying wine, or trying to choose from an interesting winelist. It includes all of the world's major appellations, and enables you find the grape variety of wine even when it is not listed on the label. (Not included in the Standard Edition)
**Mailing Tube. The Table and Index Book are packaged in a mailing tube .
184 varieties are listed. For each wine grape variety there is a cell with information about the country of origin, common descriptors of the wines, where it is grown and some of the major appellations. This will help you learn about varietal wine like no other product.
How to Order
Outside Australia?

You can order the map directly from

Order your Wine Varietal Table Now
Australian customers can now order the table for much reduced postage.
From AU$39.00 delivered by Australia Post.
Keep in touch with Vinodiversity
Just enter your details below and you will receive an occasional newsletter letting you know all about the alternative varietal wine scene in Australia and beyond.