Wine country maps
Finding your way around the world's famous and not so famous wine regions
Wine country maps can be a most attractive and useful addition to any wine cellar, tasting room, wine store room or home.
We usually have only the vaguest idea about just where a particular wine region is, and it's relation to neighbouring regions.
Wine regions themselves are sometimes a little vague, but over the past few decades the commercial imperative for wineries to protect their brand has lead to clear lines being marked. This has lead to the evolution of appellation; systems in all of the major wine regions.
In France the system is refered to Appellation Controlee> This is regarded as the most stringent, and at the same time the most bureaucratic. The French system was not the first, though. That honor goes to Portugal who devised a system defining Port wine in the 18th century.
In Italy and in Spain wines are produced under the system called Denomination of Controlled Origin . They share the acronym DOC. See this page for an explanation of the Italian DOC system.
In the United States wine regions are organised by the American Viticultural Area (AVA) system. In Australia wine regions are named under the Geographic Indications (GI) The march of globalisation in wine has never been stronger. Winelovers are looking for new wine experiences. Wineries and their marketers are no longer constrained by national boundaries. But wine is essential a product of a place, the much over-used word of terroir comes to mind.
So while Vinodiversity is essentially about wine grape varieties we are also striving to encompass geographic variety as well.
Wine Maps Recommend by Vinodiversity
I heartily recommend the maps produced by De Long Wine Info. They are attractive and incredibly detailed. You can access these maps from the list at the right.
I retail these maps in Australia, as postage from the US is quite expensive. For delivery to other parts of the world you can access the maps from De Long Wine Info.
Some More Wine Maps
I have pinned some images of a few more maps on this Pinboard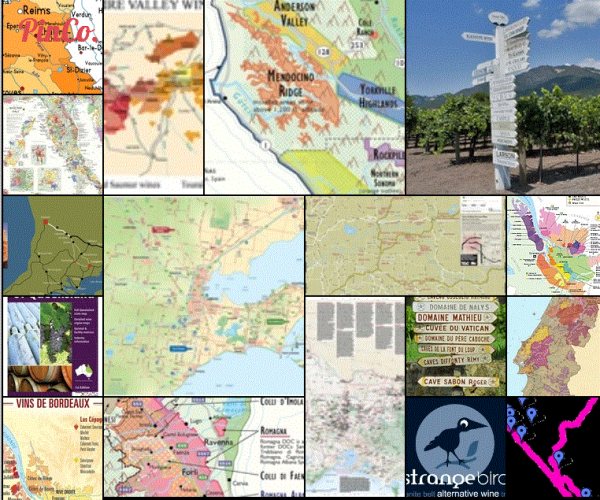 You can see more maps and atlases at this Amazon Store
Keep in touch with Vinodiversity
Just enter your details below and you will receive an occasional newsletter letting you know all about the alternative varietal wine scene in Australia and beyond.