Barbera wine variety in Australia
Barbera Wines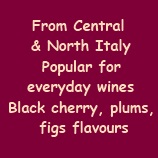 The Barbera grape has its home in the Northern part of Italy. It is also widely planted in Australia, South America and California.
Barbera is an Italian red wine variety that is best known as the second most important Piedmontese variety after Nebbiolo. It is in fact the most widely planted variety in Piedmont. Its role has been mainly to produce the everyday drinking wines of the region.
There are considerable plantings elsewhere in Italy as well as in Argentina, California and Australia.
What Does Barbera Taste Like?
De Long's Wine Grape Varietal Table
describes Barbera as
Mainly cherries, wide variety to styles from spicy and rich to smoky and smooth...
After years of being in the shadow of
Nebbiolo
this Italian variety is getting more attention from growers and winemakers and the resulting wines are much better. New methods including yield restrictions and barrel maturation have created what amounts to a new style.
Barbera d'Alba
and
Barbera d'Asti
wines, both named after their place of origin compete for the title of the best Italian examples made from this variety.
Compare Prices of Barbera Wines
Use this link to find online and physical stores near you who stock
Barbera
wine. You can read reviews and compare prices.
The naturally high acid levels of the grape are a beneficial characteristic of the Barbera variety especially in warmer climates.
Gladstones, includes the variety in Maturity Group 5, which means that it will ripen at about the same time as Shiraz and Merlot, and a little earlier than Cabernet Sauvignon and Nebbiolo.
On this basis it would seem that there are a large number of potential vineyard sites for Barbera in Australia. The ideal terroir and viticultural regime for the variety has not been agreed upon its native Piedmont, so that there may be many years before we see the best Barbera wines produced here. What seems reasonably clear at the moment is that Barbera has probably been easier to get results from in Australia than its noble cousin Nebbiolo.
Some of the Australian producers of Barbera wines include
201 Wines Hunter Valley | Aldinga Bay McLaren Vale | Alpha Box and Dice McLaren Vale | Amadio Adelaide Hills | Amulet Vineyard Beechworth | Angullong Wines Orange | Barrecas Geographe | Bimbadgen Estate Hunter Valley | Boggy Creek Vineyards King Valley | Boireann Granite Belt | Bremerton Wines Langhorne Creek | Broke's Promise Hunter Valley | Broke Estate Hunter Valley | Brown Brothers King Valley | Camp Road Estate Hunter Valley | Cargo Road Wines Orange | Carlei Estate Yarra Valley | Catherine Vale Vineyard Hunter Valley | Catspaw Farm Granite Belt | Centennial Vineyards Southern Highlands | Ceravolo Premium Wines Adelaide Plains | Chain of Ponds Adelaide Hills | Chalk Hill Winery McLaren Vale | Chrismont King Valley | Clearview Estate Mudgee Mudgee | Clovely Estate South Burnett | Cobbitty Wines South Coast Zone | Connor Park Bendigo | Coriole McLaren Vale | Crittenden at Dromana Mornington Peninsula | Dal Zotto Estate King Valley | David Hook Wines Hunter Valley | Dell'uva Wines Barossa Valley | Di Lusso Estate Mudgee | Donnybrook Estate Geographe | Dromana Estate Mornington Peninsula | Dunn's Creek Winery Mornington Peninsula | Eden Hall Eden Valley | Eden Road Wines Canberra | Fairview Wines Hunter Valley | First Drop Barossa Valley | Flying Fish Cove Margaret River | G Pattriti & Co McLaren Vale | Gapsted Alpine Valleys | Gilbert by Simon Gilbert Mudgee | Glenwillow Vineyard Bendigo | Golden Grove Estate Granite Belt | Grove Estate Wines Hilltops | Hand Crafted by Geoff Hardy McLaren Vale | Heartland Vineyard Hunter Valley | Hollick Wines Coonawarra | House of Certain Views Hunter Valley | Idlewild Hunter Valley | Jamieson Estate Mudgee | King River Estate King Valley | Kingston Estate Riverland | Kurrrajong Estate Hunter Valley | Kyotmunga Estate Perth Hills | La Cantina King Valley King Valley | Lowe Family Wines Mudgee | Mac Forbes Wines Yarra Valley | Macquarie Grove Vineyards Western Plains | Maglieri McLaren Vale | Margan Family Hunter Valley | Massena Wines Barossa Valley | Massoni Pyrenees | Michael Unwin Wines Grampians | Michelini Alpine Valleys | Middlebrook Estate McLaren Vale | Mongrel Vineyard Mudgee | Monichino Wines Goulburn Valley | Monument Vineyard Central Ranges Zone | Morning Sun Vineyard Mornington Peninsula | Mount Broke Wines Hunter Valley | Mount Langi Ghiran Vineyards Grampians | Mount Buff Wines Alpine valleys | Oatley Wines Mudgee | Orchard Road Orange | Pasut Family Wines Murray Darling | Paul Bettio King Valley | Pegeric Macedon Ranges | Piggs Peake Winery Hunter Valley | Pizzini King Valley | Poet's Corner Mudgee | Port Phillip Estate Mornington Peninsula | Primo Estate McLaren Vale | Prince Hill Wines Mudgee | Red Earth Estate Western Plains | Redbox Perricoota Perricoota | Riverina Estate Wines Riverina | Rossiters Murray Darling | Sam Miranda King Valley | Scarpantoni Estate McLaren Vale | Seaview McLaren Vale | Serafino Wines McLaren Vale | Sevenhill Wines Clare Valley | Seville Hill Yarra Valley | Shaw + Smith Adelaide Hills | Skimstone Mudgee | Spook Hill Wines Riverland | Thomson Brook Wines Geographe | Tombstone Estate Western Plains | Toppers Mountain New England | Tower Estate Hunter Valley | Tulloch Hunter Valley | Vale Creek Wines Central Ranges Zone | Vico Riverina | Vigna Bottin Wines McLaren Vale | Vinea Marson Heathcote | Warrenmang Vineyard Pyrenees | Whispering Hills Yarra Valley | Wild Broke Wines Hunter Valley | Witchmount Estate Sunbury | Woodstock McLaren Vale | Yandoit Hill Winery Bendigo | Yass Valley Wines Canberra | Zappa Wines New England | Zonte's Footstep Langhorne Creek
Barbera Food Pairing
The savory flavours and high acid levels in many Barberas make them ideal accompaniments to Italian style cuisine. If you are serving charcuterie or a meaty antipasto, Barbera's sharpness can make it a great choice of wine.
You could serve Barbera wines with most dishes that have a tomato and herb based sauce... or try them with a mushroom risotto.
Fatty foods such as roast duck also benefit from being served with acid wines.
Maybe you could use Barbera with duck and orange sauce. The wine would be robust enough not to be overwhelmed by the citrus sauce.
Evan Goldstein recommends serving Barbera wine with Junipers-scented Chicken Liver You can buy his book from Book Depository, with free delivery wherever you are.
If you have a favourite food pairing recipe or idea why not share it via the comment box below?
Keep in touch with Vinodiversity
Just enter your details below and you will receive an occasional newsletter letting you know all about the alternative varietal wine scene in Australia and beyond.