Sagrantino Red Wine Variety in Umbria and Australia
Sagrantino is one of the most interesting Italian red wine varieties used in Australia. A growing number of Winemakers are using this variety to make delicious wines with fruity, spicy flavors and fine structure.
Sagrantino in Italy
The most famous expression of this red grape in Italy is Sagrantino di Montefalco, named after the town of Montefalco in Central Umbria.
These wines are big full bodied reds showing fruity spicy aromatics and flavour. Sagrantino is sometimes blended with Sangiovese.
A sweet version of Sagrantino di Montefalco is made using the passito method where the grapes are dried to some extent before the wine is made.
Sagrantino in Australia
The passion for Italian wines, first by grapegrowers and then winemakers and finally consumers was mainly about Sangiovese in the nineties and the noughties. Now Australians are busy trying the myriad of other Italian varieties, both as imported wines and as locally produced wines.
Sagrantino is still at the early stages of viticulture and production here but there are a few Australian Sagrantino wines around that you might like to check out. For those who are wordsmiths as well as winelovers d'Arenberg's Cenosilicaphobic cat is worth seeking out...it's a mainly Sagrantino, with a touch of Cinsaut
Australian wineries using Sagrantino
The wineries in this list are among the pioneers of the variety in Australia. They either have some available or will have in the next year or so. Let me know if there are any more.
Amadio Adelaide Hills
Andrew Peace Wines Swan Hill
Chalmers Heathcote
Chrismont King Valley
Coriole McLaren Vale
D'Arenberg McLaren Vale
Domain Day Barossa Valley
Gracebrook Vineyards King Valley
Heathvale Eden Valley
King River Estate King Valley
Lou Miranda Estate Barossa Valley
Montevecchio Heathcote
Olivers Taranga McLaren Vale
Preston Peak Granite Belt
Quarry Hill Wines Canberra
Rupert's Ridge Estate Heathcote
Savaterre Beechworth
Tall Poppy Murray Darling
Tallavera Grove Winery Hunter Valley
Terra Felix Upper Goulburn
View Road Wines Adelaide Hills
Sagrantino and food
Sagrantino wines can be little too acid and tannic for some Australian palates, especially if they are not accompanied by food.
A clue as how best to appreciate these wines is to look to Sagrantino's home base in Umbria. One food specialty of the region is Norcineria - hams and sausages made from pork and wild boar (cinghiale). There are produced in the town of Norcia, famous for its pork butchers and delicatessens.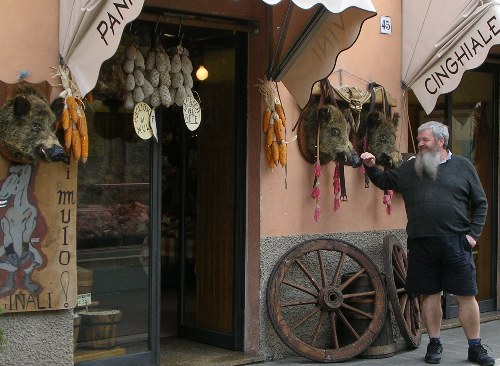 Darby at a Wild Boar meat shop in Norcia, Umbria, Italy.
If you are not having a meaty antipasto you could serve your Sagrantino wine with a meat based pasta or a game dish.
Keep in touch with Vinodiversity
Just enter your details below and you will receive an occasional newsletter letting you know all about the alternative varietal wine scene in Australia and beyond.