Aglianico wine variety in Australia
Aglianico is a robust red wine variety from Southern Italy which is now used in Australia
Aglianico, the name of this red wine variety which is now at home in Southern Italy, is believed to be derived from Ellenico, the Italian word for Greek. This gives us a clue that the wine may have been introduced by the Greeks who settled in Southern Italy a couple of millennia ago.
The variety hasn't moved far since, seemingly content to hibernate in obscurity in the southern Italian regions of Campania and Basilicata, but that is now changing.
In his latest book Wine Terroir and Climate Change, Gladstones includes Aglianico in Maturity Group 8, along with varieties such as Montepulciano, Mourvedre and Carignan.  This means it is a late maturing variety, best suited to warmer wine regions.
In Italy this variety makes full bodied elegant wines with firm tannins and high acidity. Aglianico is made into varietal wines or is often the dominant variety in blends.
It sometimes plays a minor role in blends with other varieties such as the ubiquitous Sangiovese.
Australian wineries have been slow to adopt this variety compared to other recent imports but the number of producers is growing steadily.  Aglianico's ability to make deeply coloured and aromatic wines in warm to hot regions indicate that it is a variety with considerable future in Australia. 
As more wineries and grapegrowers become more concerned about global warming they are looking for varieties like this one, and for example the white varieties Fiano and Bianco d'Alessano.
Aglianico in Italy
The Italian DOCGs of Taurasi in Campania and Aglianico of Vulture in Basilicata are where the best Aglianico wines are produced. Learn about Italian wine regions with this map.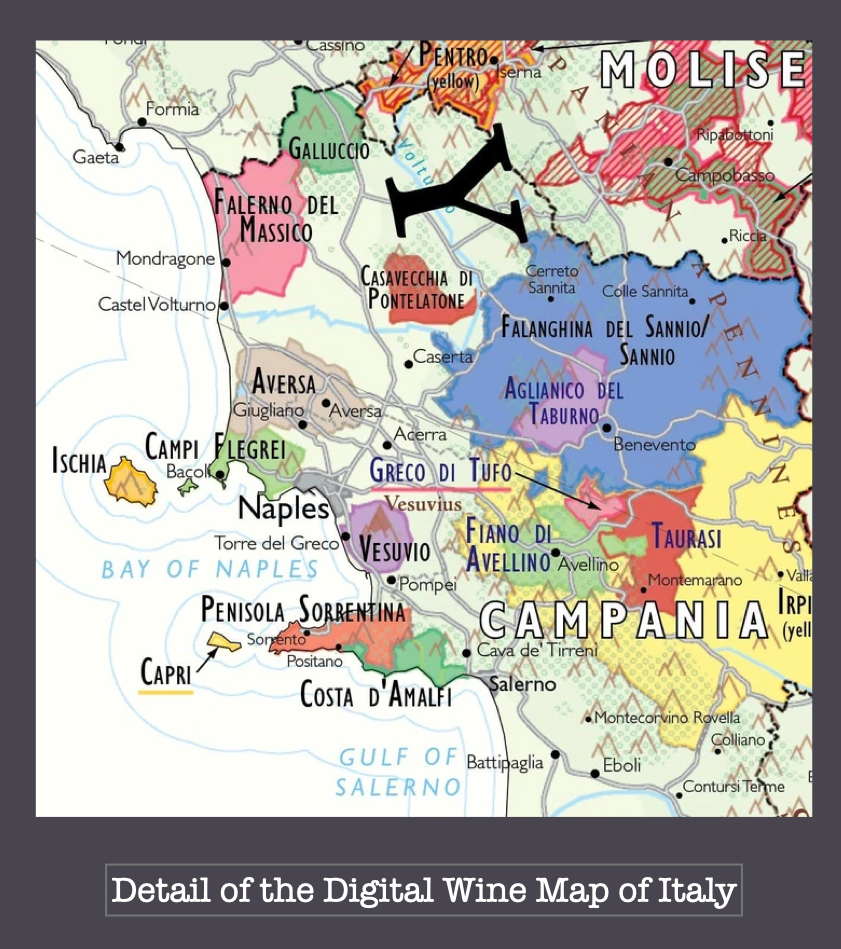 Australian WIneries using Aglianico
4382 Terroir Granite Belt
Amadio Adelaide Hills
Atze's Corner Wines Barossa Valley
Ballandean Estate Granite Belt
Beach Road McLaren Vale
Bunyip Hollow North East Victoria
Calabria Family Wines Riverina
Cantina Abbatiello Riverland
Carillion Wines Orange
Chalmers Heathcote
Chrismont King Valley
Conte Estate Wines McLaren Vale
Cradle of Hills McLaren Vale
D'Arenberg McLaren Vale
Dell'uva Wines  Barossa Valley
Di Lusso Estate Mudgee
Dowie Doole McLaren Vale
Fighting Gully Road Beechworth
Grey Sands Northern Tasmania
Grosset Clare Valley
Hidden Creek Granite Belt
Hither and Yon McLaren Vale
Hofer Family Wines Langhorne Creek
Il Modo Murray Darling
Izway Wines Barossa Valley
La Curio McLaren Vale
L'Enologa Murray Darling
La Prova Adelaide Hills
Lethbridge Wines Geelong
Mr Black Barossa Valley
Next Crop Wines Langhorne Creek
Ngeringa Adelaide Hills
Otherness Barossa Valley
Pertaringa McLaren Vale
Pepper Tree Wines Hunter Valley
Prometheus Riverland
Purple Hands Wines Barossa Valley
Sabella Wines McLaren Vale
Saddlers Creek Wines Hunter Valley
Scarpantoni Estate McLaren Vale
SC Pannell McLaren Vale
Sew and Sew McLaren Vale
Signor Vino Riverina
Somos McLarenVale
Surveyor's Hill Winery Canberra
Susuro Adelaide Hills
Sutton Grange Winery Bendigo
Tallavera Grove Winery Hunter Valley
Thistledown McLaren Vale
Trentham Estate Murray Darling
View Road Wines Adelaide Hills
Whitches Falls Queensland Zone
Witches Falls Winery Granite Belt
Updated 18 Nov 2023
Award winning Aglianico
At the 2022 Australian Alternative Varieties Wine Show ten Aglianico wines were judged.  Two Gold, three Silver and two Bronze medals were awarded.  Purple Hands won gold and trophy for best wine in show for their 2021 After Five Wine Co Aglianico. Izaway also won gold for their 2021 Mates Aglianico.

Abuzz with Alternatives
dozen Offer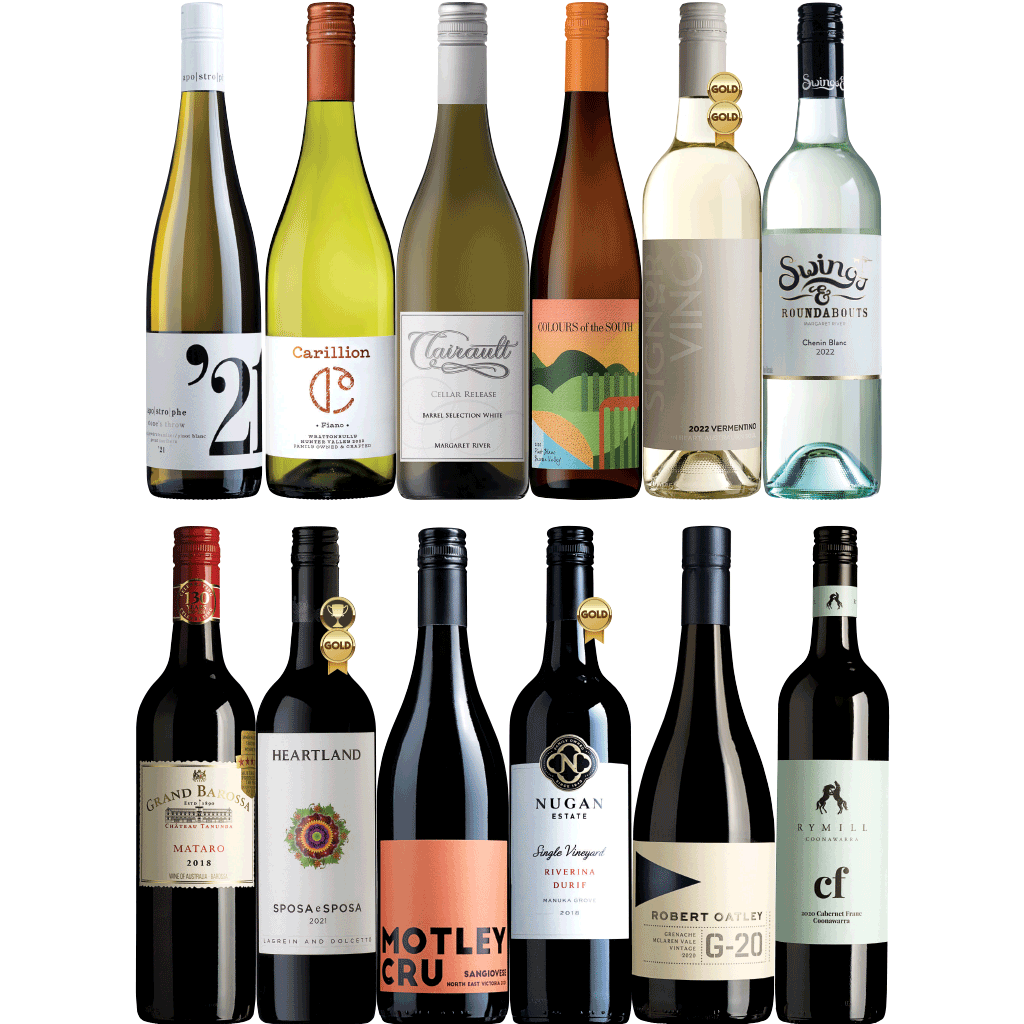 Twelve different alternative varieties and blends.
Also available as all red or all whites.
And at an affordable price.
---
More Italian red wine varieties used in Australia
Aglianico
|
Aleatico
|
Barbera
|
Canaiolo Nero
|
Colorino
|
Corvina
|
Dolcetto
|
Friesa
|
Lagrein
|
Mammolo
|
Marzemino
|
Montepulciano
|
Nebbiolo
|
Negroamaro
|
Nero d'Avola
|
Nero Di Troia
|
Primitivo
|
Refosco
|
Rondinella
|
Sagrantino
|
Sangiovese
|
Teroldego
|
Zinfandel
---
One of the best books about Italian wine grape varieties is Ian d'Agata's Native Wine Grapes of Italy
Aglianico and food
Spaghetti Putanesca
These wines are firm and full bodied. Perhaps you could choose a game dish such as wild boar, or kangaroo.
In Southern Italian cuisine spicier sauces are often used for pasta dishes. One of the favourites in the region is Spaghetti alla puttanesca, prostitute's spaghetti, where the sauce is made with garlic, olive oil and tomatoes but given a spicier savoury flavour by the addition of anchovies, capers and chilli.
See more about Food Pairing with Aglianico in Evan Goldstein's Daring Pairings book
---
Was this info what you wanted?  

Use the search box below to find more.