Zinfandel Wine variety In australia
For years we argued about whether is more correctly called Zinfandel (USA) or Primitivo (Italy), but recent evidence gives it a Croatian origin.
It's all Zin the name
For several decades controversy surrounded the identity of what were regarded as two separate grape varieties - Zinfandel and Primitivo.
The grapes were obviously very similar, but there was no completely objective way to define whether they were separate varieites, as the Californians argued, or clones of the same variety as the Italians posited.

Not surprisingly, there was a commercial motive in the background as well.  Puglian winemakers argued that they should be able to market their wine in the USA as Zinfandel.
In the 1990s some Croatian winemakers joined the fray contending that the variety they called Plavic Mali was Zinfandel too. They also wanted to be permitted to use that name on wines they exported to the USA.
Just in time DNA profiling technology came to sort things out with some sort of objectivity. 
Here is current consensus about this variety, backed by modern DNA analysis as reported in Jancis Robinson's book Wine Grapes.
Primitivo and Zinfandel are genetically identical, hence they can be correctly identified as clones of the same variety, but see more on this below. See this article to understand the difference between a clone and a variety.
Plavic Mali is a similar but distinct variety. DNA shows that it is a cross of Zinfandel and another Dalmatian variety.
It has also been established that the Croatian varieties Crljenak Kastelanski and Tribidrag are also genetically identical to Zinfandel.  Mercifully the later name is older and therefore more correct, making life simpler for those of use unfamiliar with Slavic languages.
Each of the four names are acceptable.  My guess is that the Italians will keep calling theirs Primitivo and the Americans will use Zinfandel.  In Australia winemakers can use any of the names.  Those wishing to emphasise the Italian style of their wine are using using Primitivo. Nobody seems to be calling their wine Tribidrag Australia. Yet.
What Zinfandel tastes Like
. . . deep ruby, blackberry, peppery . . .
These are some of the adjectives used for this variety on De Long's Wine Grape Varietal Table
---
ZInfandel in Australia
Zinfandel has been grown for some time in Australia.  Among the pioneers was Cape Mentelle in the Margaret River Region.
Zinfandel going into barrels for ageing at Cargo Road Wines in the Orange Wine Region
Award wining Zinfandel
Eleven Zinfandel wines were judged at the 2023 Australian Alternative Varieties Wine Show. One gold medal, three silver and two bronze medals were awarded.  Smallwater Estate of Geographe was awarded The gold medal for their 2022 Zinfandel.
Arimia Margaret River
Barrecas Geographe
Beach Road McLaren Vale
Box Grove Vineyard Nagambie Lakes
Buckshot Vineyard Heathcote
Burge Family Winemakers Barossa Valley
By Fabiano McLaren Vale
By Jingo Adelaide Hills
Cape Horn Vineyard Goulburn Valley
Cape Mentelle Margaret River
Cargo Road Wines Orange
Ceravolo Premium Wines Adelaide Plains
Chapman Valley Wines Central Western Australian Zone
Chateau Tanunda Barossa Valley
Churchview Estate Margaret River
Ciavarella King Valley
Coughlan Estate Geographe
DCB Wine Yarra Valley
De Bertolis Rutherglen Estates Rutherglen
De Bortoli Riverina
Dell'uva Wines  Barossa Valley
Elderton Barossa Valley
Ernest Schuetz Wines Mudgee
Flying Duck Estate King Valley
Fratelli Heathcote
Gapsted Wines Alpine Valleys
Groom Barossa Valley
Grove Estate Wines Hilltops
Hand Crafted by Geoff Hardy McLaren Vale
Head in the Clouds McLaren Vale
Hently Farm Wines Barossa Valley
Heslop Wines Mudgee
Hotham Ridge Winery Peel
Inkwell McLaren Vale
Irvine Eden Valley
Jarrah Ridge Winery Perth Hills
Kabminye Wines Barossa Valley
Kalleske Wines Barossa Valley
Kangarilla Road McLaren Vale
La Curio McLaren Vale
La Prova Adelaide Hills
Lambert Estate Barossa Valley
Langmeil Barossa Valley
Lenton Brae Margaret River
Lethbridge Wines Geelong
Levrier Eden Valley
Lion Mill Vineyards Perth Hills
Lowe Family Wines Mudgee
Mandalay Road Geographe
Mansfield Wines Mudgee
Marions Vineyard Northern Tasmania
Massena Wines Barossa Valley
Matriarch and Rogue Clare Valley
McHenry Hohnen Margaret River
Memento Wines Rutherglen
Morlet Margaret River
Morrisons of Glenrowan Glenrowan
Mudgee Wines Mudgee
Murray Street Vineyard Barossa Valley
Nepenthe Adelaide Hills
Nugan Estate Riverina
Oak Valley Estate Murray Darling
Oak Works Riverland
Peel Estate Peel
Pepper Tree Wines Hunter Valley
Petersons Glenesk Estate Mudgee
Piggs Peake Winery Hunter Valley
Pirate Cru Barossa Valley
Pirramimma McLaren Vale
Purple Hands Wines Barossa Valley
Quid Pro Quo Hunter Valley
Red Feet King Valley
Renzaglia Central Ranges Zone
Riverbank Estate Swan Valley
Robinvale Wines Murray Darling
Rockcliffe Margaret River
Roenfeldt Hill Barossa Valley
Romavilla Queensland Zone
Rowsley Fault Vineyards Geelong
Rusden Wines Barossa Valley
Rusticana Langhorne Creek
Sanguine Estate Heathcote
Schulz Vignerons Barossa Valley
Serafino Wines McLaren Vale
Silent Noise Mclaren Vale
Silkwood Wines Pemberton
Smallwater Estate Geographe
Stefano di Pieri Murray Darling
Stefano Lubiano Southern Tasmania
Stockman's Ridge Orange
Summit Estate Granite Belt
Tahbilk Nagambie Lakes
Talisman Wines Geographe
Tanglefoot Winery Peel
Tempus Two Hunter Valley
Terindah Estate Geelong
Tim Adams Clare Valley
Tomich Adelaide Hills
Tscharke Barossa Valley
Uleybury Wines Adelaide Zone
Watershed Wines Margaret River
Waterwheel Wines Bendigo
Wilson Vineyard Clare Valley
Wine by Sam Strathbogie Ranges
Wood Park King Valley
Yelland and Papps Barossa Valley
Updated 15 Nov 2023
Why is Zinfandel so special?
Read what some Aussie winemakers say about Zinfandel in this article.
Zinfandel  and food
Zinfandel red wines are often robust and have moderate to high alcohol. Thus they can be combined with all sorts of barbecued meats.
They will also stand up well with spicy Asian dishes, say steak with capsicums and black bean sauce.
You might even try Zinfandel with game meats, say wild boar, hare or grilled kangaroo fillets.

A few years ago I asked some readers for suggestions.
Anthony said 

Zinfandel with its opulent fruit characters and the excellent tannins I find works exceptional well with game meats.
I love a kangaroo steak and I find myself reaching for a bottle of Zin every time.
Ann said
"Smoked salmon with horseradish cream" 

Hardly surprising as she and her husband Brian are also owners of Newman's Horseradish.
Peter Said 
I'm thinking chilli con carne made with chocolate and cumin in the sauce.

What is so special About Zinfandel?
See what some Australian Winemakers Say about Zinfandel
Abuzz with Alternatives
dozen Offer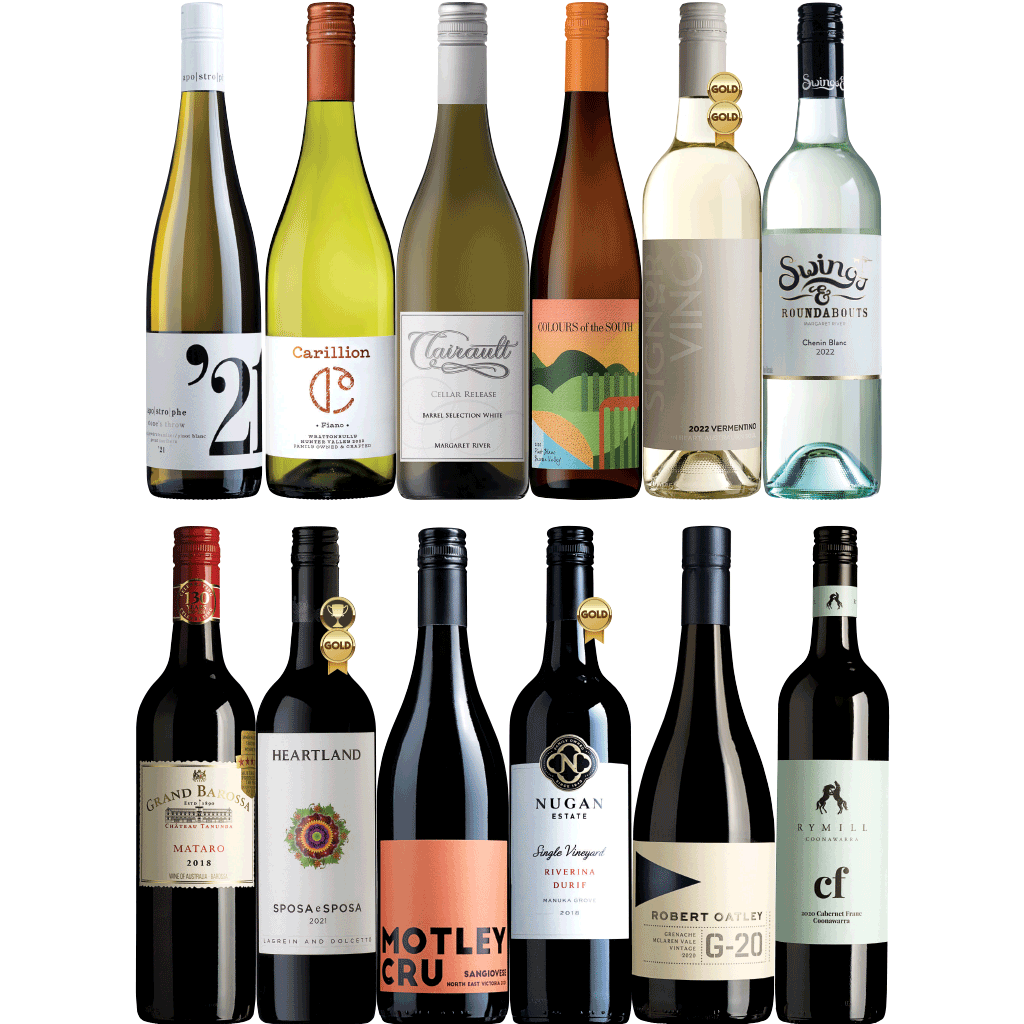 Twelve different alternative varieties and blends.
Also available as all red or all whites.
And at an affordable price.
---
---
See the full list of varieties described on this site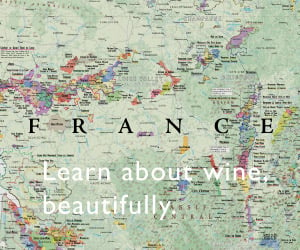 ---
Was this info what you wanted?  

Use the search box below to find more.