Lagrein Wine in Australia
This Italian red wine variety is prized for producing wines with firm tannins and good colour, particularly in its native Trentino and Alto Aldige regions of Northern Italy. It is now being used by over forty Australian producers.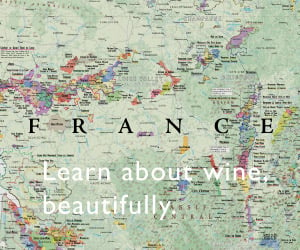 ---
In Northern Italy Lagrein is used to make varietal and blended red wines, the main blending partner is Schiava Grossa.  It is also used to make rose style wines.
The flavour of Lagrein
Here is what some wine writers say about Lagrein
---
More Italian red wine varieties used in Australia
Aglianico
|
Aleatico
|
Barbera
|
Canaiolo Nero
|
Colorino
|
Corvina
|
Dolcetto
|
Friesa
|
Lagrein
|
Mammolo
|
Marzemino
|
Montepulciano
|
Nebbiolo
|
Negroamaro
|
Nero d'Avola
|
Nero Di Troia
|
Primitivo
|
Refosco
|
Rondinella
|
Sagrantino
|
Sangiovese
|
Teroldego
|
Zinfandel
---
One of the best books about Italian wine grape varieties is Ian d'Agata's Native Wine Grapes of Italy
Lagrein in Australia 
There are now about forty producers of wine from this variety in Australia, up from about zero at the start of this century.
The interesting thing is that although this variety hails from the cooler northern region of Italy it is being used very successfully in the warmer Australian regions of Murray Darling and Riverland.
Rita Richter of Grey Sands winery in Northern Tasmania suggests 
A  possible reason for Lagrein doing well in Riverland is that, although it comes from northern Italy where it gets snow it winter, maybe it gets pulses of high heat in summer - ie the 'continental effect'.
The first commercial lagrein in Australia
You can read about how wine enthusiast Peter May encouraged the first Australian commercial planting of Lagrein vines
---
At the 2020 Alternative Varietal Wine Show (AAVWS) just 9 wines were judged in the Lagrein class. Nine were judged as medal worthy. Next Crop 2017 Langhorne Creek Lagrein and SAMU 2108 Riverland  won the Gold medals. Three Silver medals and four Bronze medals were also awarded.
4382Terroir Granite Belt
919 Wines Riverland
Alejandro Riverland
Amadio Adelaide Hills
Angus Plains Estate Langhorne Creek
Bassham Wines Riverland
Bremerton Langhorne Creek
Brown Brothers King Valley
Cargo Road Wines Orange
Chalmers Heathcote
Cirami Estate Riverland
Cobaw Ridge Macedon Ranges
Conte Estate Wines McLaren Vale
Dell'uva Wines  Barossa Valley
Di Lusso Estate Mudgee
Domain Day Barossa Valley
Dowie Doole McLaren Vale
Gisborne Peak Macedon Ranges
Hand Crafted by Geoff Hardy McLaren Vale
Hartz Barn Wines Eden Valley
Heartland Wines Limestone Coast Zone
Heritage Estate Granite Belt
Hickinbotham of Dromana Mornington Peninsula
Hidden Creek Granite Belt
Hofer Family Wines Langhorne Creek
John Gehrig Wines King Valley
Kangaroo Hills Macedon Ranges
King River Estate King Valley
La Prova Adelaide Hills
Lazzar Wines Mornington Peninsula
Lethbridge Wines Geelong
Matriarch and Rogue Clare Valley
Mount Avoca Pyrenees
Mount Towrong Macedon Ranges
Next Crop Wines Langhorne Creek
Oak Works Riverland
Paulmara Estate Barossa Valley
Point Leo Road Vineyard Mornington Peninsula
Poppelvej Adelaide Hills
Ricca Terra Riverland
Salena Estate Riverland
SAMU Riverland
Seppeltsfield Barossa Valley
Serafino Wines McLaren Vale
Sfera Limestone Coast Zone
Sirromet Granite Belt
Symphony Hill Wines Granite Belt
Tertini Wines Southern Highlands
Wangolina Mount Benson
Warburn Estate Riverina
Woodstock McLaren Vale
Zonte's Footstep McLaren Vale
Last Update 27 May 2023
---
Lagrein and food
The Italian origin of the variety suggests Italian food but I would suggest it would go better with heartier Italian dishes such as osso bucco, brasato  (beef braised in red wine), grilled fennel sausages or perhaps with a grilled steak with anchovy butter.
You could also try Lagrein with sharp vintage cheese, crackers and dried fruit.

You can find some wine of this variety at this online wine merchant.  you can make up your own mixed cases.  And you have the convenience of ordering from home and getting your wine delivered.
Was this info what you wanted?  

Use the search box below to find more.