Negroamaro red wine variety in Australia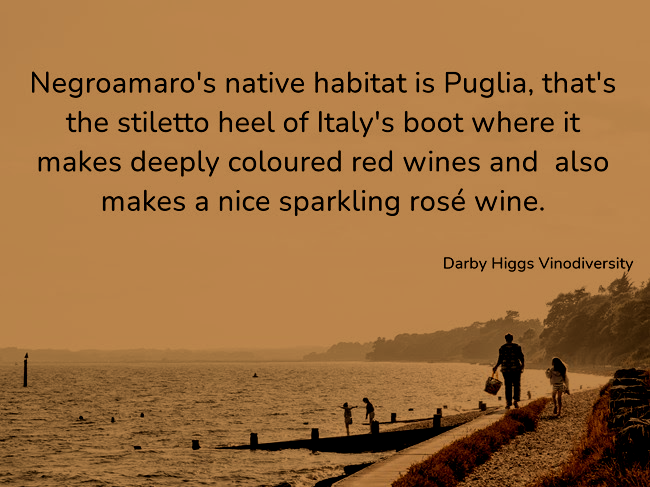 Does Negroamaro mean
Black Bitter or Black Black?
Many commentators think that the name comes from the Italian words for black "black" and "bitter". The wines are certainly deeply coloured even black, but they are not really bitter.
An alternative idea is that the amaro part of the word comes from a Greek word for black as well. So the translation is "black black". My friend and Puglian wine specialist Silvestro Silvestori of Awaiting Table Cooking School subscribes to the latter idea which he thinks better describes the wines.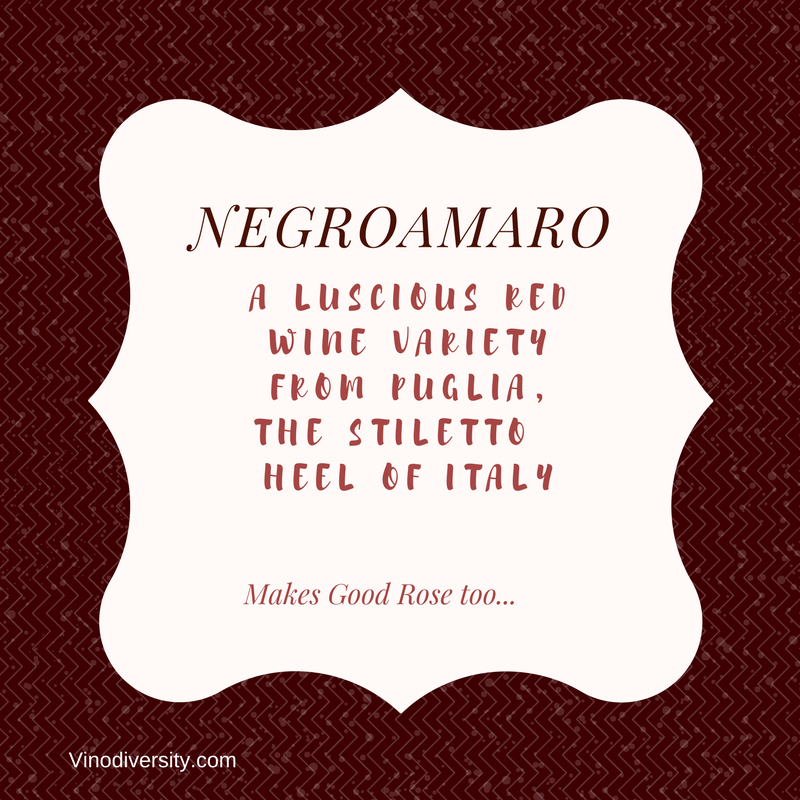 Negroamaro's native habitat is Puglia, that's the stiletto heel of Italy's boot.
There it makes deeply coloured red wines and as I found in a recent trip to the region, it also makes a nice sparkling rose wine.
The most highly regarded wine made from Negroamaro is Salice Salentino, a DOC region in Southern Puglia. These wines are predominantly Negroamaro  often blended with more aromatic Malvasia Nera.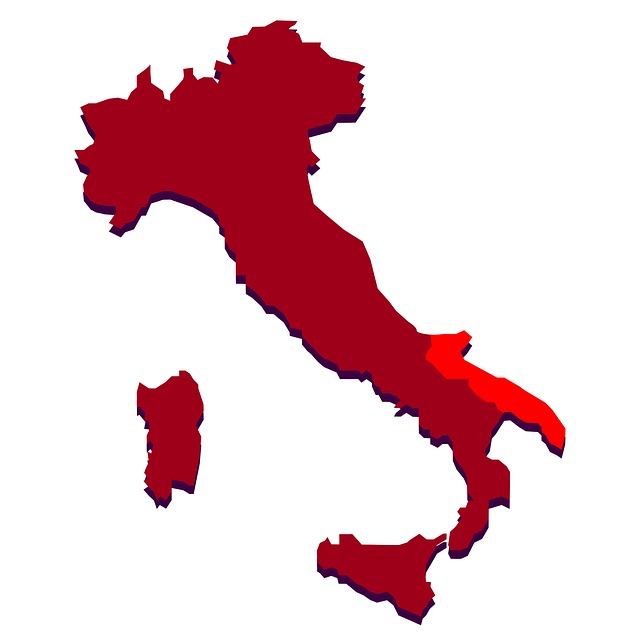 Puglia is Italy's Stilleto heal
Negroamaro in Australia
This variety is fairly new to Australia.  Like several other varieties from southern Italy it has attracted attention because of its ability to thrive in a hot climate. Although Negroamaro has shown promise here it hasn't taken off to the extent that other reds from Southern Italy such as Nero d'Avola or Aglianico have.
Box Grove Vineyard Nagambie Lakes
By Jingo Adelaide Hills
Chalmers Heathcote
Coriole McLaren Vale
Dune McLaren Vale
Ephemera Heathcote
Hesketh Wines Barossa Valley
Lethbridge Wines Geelong
Mount Eyre Hunter Valley
Mount Towrong Macedon Ranges
Mudgee Homestead Estate Mudgee
Mudgee Wines Mudgee
Olive Farm Wines Swan Valley
Parish Hill Wines Adelaide Hills
Purple Hands Wines Barossa Valley
Quid Pro Quo Hunter Valley
Shut the Gate Clare Valley
Tallavera Grove Winery Hunter Valley
Torzi Matthews Eden Valley
Last updated 4 April 2023

Negroamaro and food

Orecchiette with broccoli. Pixabay image

Think Puglia.  One of the classic dishes of this region is  Orecchiette con cime di rapa which is small ear shaped pasta and cime di rapa are bitter turnip tops. Or you can use broccoli as in the image at left.

My friend Sandro from Feudi Di Guagnano in Puglia, makers of Negroamaro has three rustic recipe suggestions for this variety in the article Three Puglian Dishes for Negroamaro

---

Abuzz with Alternatives
dozen Offer

Twelve different alternative varieties and blends.

Also available as all red or all whites.

And at an affordable price.

---

---

See the full list of varieties described on this site

Was this info what you wanted?  


Use the search box below to find more.