Dolcetto Red Wine Variety
The name means "sweet" but the wines are usually dry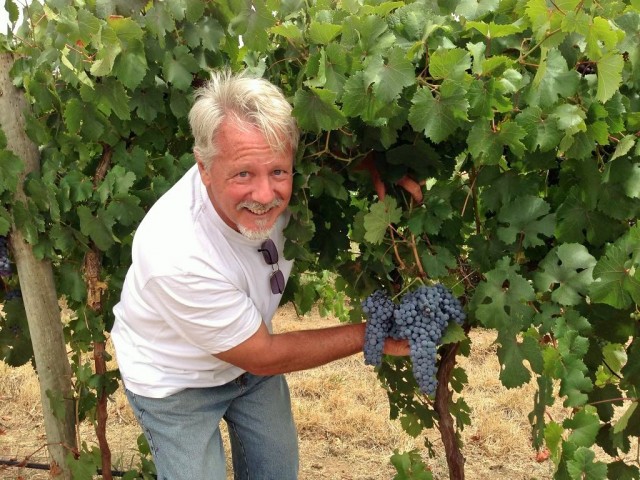 Wayne Farquhar and his Dolcetto at Delluva Wines in the Barossa Valley
Dolcetto is an Italian red wine grape variety which is popular in the cooler northern regions of Italy, particularly in the Piedmont and Liguria regions.
Its early ripening makes it a feasible choice in areas where Barbera and Nebbiolo would struggle to ripen.
The variety is noted for producing relatively low acid wines. The strong dark colour of the grape is reflected in the deep colour of the wine. Low to moderate acidity and tannins mean that these wines are best consumed fairly young, and they are rarely great wines.
Brown Brothers blends Dolcetto with Shiraz, or Syrah as it says on the label to make a popular sweetish red. Unfortunately this wine has perpetuated the idea that Dolcetto wines are sweet.

Steve De Long, on his Wine Grape Varietal Table describes these wines as
Deep purple, intensely fruity, almonds, plums, blackberries...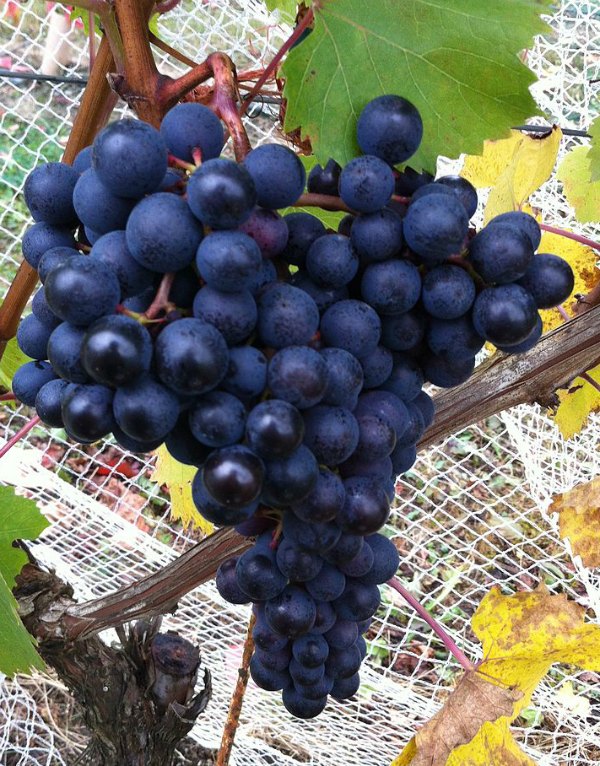 Dolcetto grapes. Image: By Agne27 - Own work, CC BY-SA 3.0, https://commons.wikimedia.org/w/index.php?curid=29923432
Dolcetto in Australia
The variety hasn't taken off in Australia like some of the other red Italian varieties, such as the increasingly popular Sangiovese. It seems that Australia is the only country outside Italy that has significant plantings of the variety. It is an early ripening variety and hence suitable for cooler regions. However there are some attractive Australian Dolcetto wines being made. They don't taste like Shiraz.
Ben Glaetzer of Heartland wines blends 30% of this variety with Lagrein for an interesting dry red.
Alpha Box and Dice McLaren Vale
Bests Grampians
Bittern Estate Mornington Peninsula
Brown Brothers King Valley
Calabria Family Wines Riverina
Catherine Vale Vineyard Hunter Valley
Ceravolo Premium Wines Adelaide Plains
Ciavarella King Valley
Crittenden Estate Mornington Peninsula
Dell'uva Wines  Barossa Valley
Dromana Estate Mornington Peninsula
Gipsie Jack Langhorne Creek
Gracebrook Vineyards King Valley
Grant Burge Barossa Valley
Heartland Wines Limestone Coast Zone
Kaesler Barossa Valley
La Cantina King Valley King Valley
La Prova Adelaide Hills
Magpie Estate Barossa Valley
Massena Wines Barossa Valley
Mount Franklin Estate Macedon Ranges
New Era Adelaide Hills
Noble Road Clare Valley
Nomads Garden Alpine Valleys
Parish Hill Wines Adelaide Hills
Pike and Joyce Adelaide Hills
Route du Van Yarra Valley
Sam Miranda Wines King Valley
Sfera Limestone Coast Zone
Shoofly Yarra Valley
Spider Bill Wines Adelaide Hills
Symphonia King Valley
Turkey Flat Vineyards Barossa Valley
Unico Zelo Adelaide Hills
Vale Creek Wines Central Ranges Zone
Vineyard 28 Geographe
Wangolina Mount Benson
Wanted Man Heathcote
Warburn Estate Riverina
Woodstock McLaren Vale
Yacca Paddock Vineyards Adelaide Hills
Updated 21 June 2023
---
More Italian red wine varieties used in Australia
Aglianico
|
Aleatico
|
Barbera
|
Canaiolo Nero
|
Colorino
|
Corvina
|
Dolcetto
|
Friesa
|
Lagrein
|
Mammolo
|
Marzemino
|
Montepulciano
|
Nebbiolo
|
Negroamaro
|
Nero d'Avola
|
Nero Di Troia
|
Primitivo
|
Refosco
|
Rondinella
|
Sagrantino
|
Sangiovese
|
Teroldego
|
Zinfandel
---
One of the best books about Italian wine grape varieties is Ian d'Agata's Native Wine Grapes of Italy
Dolcetto and food
These red wines are probably best consumed young, with some of your favourite tomato based Italian cuisine. They are often robust enough to be paired with antipasto where they will be consumed with sharp pickled foods, salted anchovies or savoury salamis all at once.
They are also suitable for Asian foods where their fruity flavours can compete with spicier flavours.

Next time you find a good Dolcetto why not try it with a chicken liver risotto, or perhaps a gnocchi with a cheese sauce.

In his book The Wine Lover Cooks Italian Brain St Pierre suggests that this is one red wine that goes well with white meats such as chicken or turkey.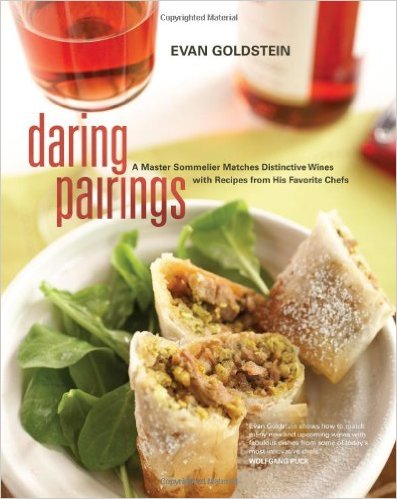 Daring Pairings By Evan Goldstein
Daring pairings has a whole chapter devoted to Dolcetto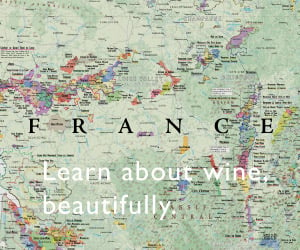 ---
Was this info what you wanted?  

Use the search box below to find more.