Sangiovese red wine variety in Australia
Sangiovese
is one of the stars of the Italian wine grape varieties now making their mark in Australia. best known for its role in
Chianti
, the variety is regarded as being suitable for cultivation in a number of Australian wine regions.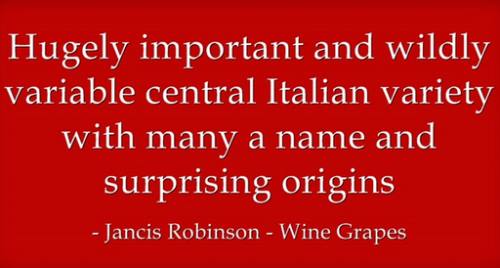 The vagaries of the rules for the grape varieties permitted in Chianti have added to the broad range of quality of this particular wine. Now growers and winemakers are more conscious of using the better clones or subvarieties. The result is better wine and wider acceptance of the variety.
Sangiovese is the only variety permitted in the famous wines from Brunello di Montalcino, which are regarded as among Italy's best. They're made a strain of Sangiovese Grosso called Brunello ("little dark one"), so named for the brown hue of its skin. Although these wines are grown and made in Tuscany they are big, deep-colored, and powerful, with enough tannins and structure to warrant considerable cellaring. Over recent years there has been increased plantings and interest in the variety in California.
Sangiovese in Australia
The Sangiovese variety has only been used in any quantity in Australia over recent years. It has been tried in most regions in Eastern Australia
It is comparatively scarce in WA, perhaps because of the mix up a few years ago when some WA wineries, including Howard Park planted what they thought were Sangiovese vines but they turned out to be Carnelian As the list below shows the Sangiovese variety has become extremely popular. By 2009, there were over 200 Australian wineries using this exciting Italian variety.

Some commentators believe that many plantings of Sangiovese made during the 1990s were of inferior clones. If this is the case we should expect to see some better wines in the future as newer Sangiovese vineyards come into production and others are grafted over to better clones.
Australian Wineries using Sangiovese
919 Wines Riverland | A Retief Southern New South Wales Zone | Adina Vineyard Hunter Valley | Aldinga Bay McLaren Vale | All Saints Estate Rutherglen | Allandale Hunter Valley | Alpha Box and Dice McLaren Vale | Amadio Adelaide Hills | Amulet Vineyard Beechworth | Anderson Winery Rutherglen | Andrew Peace Wines Swan Hill | Angullong Wines Orange | Avalon Wines King Valley | Aventine Wines Granite Belt | Avonmore Estate Bendigo | Bacchus Hill Sunbury | Barrecas Geographe | Barton Estate Canberra | Beechworth Wine Estates Beechworth | Belalie Bend Southern Flinders Region | Belgrave Park Winery South Coast Zone | Belgravia Vineyards Orange | Bella Riva King Valley | Benwarin Wines Hunter Valley | Bimbadgen Estate Hunter Valley | Blackford Stable Wines Adelaide Hills | Blue Metal Vineyard Southern Highlands | Boggy Creek Vineyards King Valley | Bottin Wines McLaren Vale | Boyntons Feathertop Alpine Valleys | Brindabella Hills Canberra | Broken Gate Wines Heathcote | Brokenwood Wines Hunter Valley | Brown Brothers King Valley | Bull Paddock Wines Rutherglen | Bull Run Estate Heathcote | Burnbrae Winery Mudgee | Burnton Ridge Adelaide Hills | Buttermans Track Yarra Valley | Cape Mentelle Margaret River | Capel Vale Geographe | Capital Wines Canberra | Cardinam Estate Clare Valley | Carilley Estate Swan Valley | Carlei Estate Yarra Valley | Carpe Diem Margaret River | Casella Riverina | Castagna Vineyard Beechworth | Catspaw Farm Granite Belt | Caudo Vineyard Riverland | Cedaro Estate Margaret River | Ceravolo Premium Wines Adelaide Plains | Chain of Ponds Adelaide Hills | Chalk Hill Winery McLaren Vale | Chalmers Murray Darling | Chapel Hill McLaren Vale | Charlatan Wines McLaren Vale | Chrismont King Valley | Ciccone Estate King Valley | Cirami Estate Riverland | Clearview Estate Mudgee Mudgee | Clovely Estate South Burnett | Coates Wines McLaren Vale | Cofield Wines Rutherglen | Colvin Wines Hunter Valley | Condie Heathcote | Connor Park Bendigo | Copper Bull Yarra Valley | Coriole McLaren Vale | Counterpoint Vineyard Pyrenees | Crittenden at Dromana Mornington Peninsula | Crooked River Wines Shoalhaven Coast | Dal Zotto Estate King Valley | Dalfaras Nagambie Lakes | David Hook Wines Hunter Valley | De Iulius Hunter Valley | Deviation Road Adelaide Hills | Di Lusso Estate Mudgee | Di Sciascio Family Wines Heathcote | Domain Day Barossa Valley | Dominic Versace Wines Adelaide Plains | Drakesbrook Wines Peel | Drews Creek Wines Hunter Valley | Dromana Estate Mornington Peninsula | Edwards and Chaffey McLaren Vale | Eldredge Clare Valley | Farrell Estate Murray Darling | Fighting Gully Road Beechworth | Flat View Vineyard Clare Valley | Flying Duck Estate King Valley | Flying Fish Cove Margaret River | Flynn's Wines Heathcote | Foster e Rocco Heathcote | Four Winds Vineyard Canberra | Galli Estate Sunbury | Garbin Estate Swan Valley | Gemtree Vineyards McLaren Vale | Geographe Wines Geographe | Giant Steps Yarra Valley | Gilbert by Simon Gilbert Mudgee | Gin Gin Wines Queensland Coastal | Glenguin Hunter Valley | Goombaronga Park Alpine Valleys | Gracebrook Vineyards King Valley | Greenstone Vineyard Heathcote | Greg Cooley Clare Valley | Grove Estate Wines Hilltops | Hamiltons Bluff Cowra | Hay Shed Hill Wines Margaret River | Heartland Wines Limestone Coast Zone | Henry's Drive Padthaway | Hollick Wines Coonawarra | Hopwood Winery Goulburn Valley | Howard Park Wines Margaret River | Hugh Hamilton McLaren Vale | Indigo Wine Company Beechworth | Innocent Bystander Yarra Valley | Jester Hill Wines Granite Belt | Jinks Creek Winery Gippsland | Jirra Wines at Jeir Station Canberra | Joadja Vineyards Southern Highlands | Jylland Vineyard Central Western Australian Zone | Kangarilla Road McLaren Vale | Katoa Wines Heathcote | Kevin Sobels Wines Hunter Valley | Killara Estate Yarra Valley | King River Estate King Valley | Kingsley Grove South Burnett | Kirrihill Estates Clare Valley | Knots Wines Heathcote | Koltz McLaren Vale | Kurrrajong Estate Hunter Valley | La Bise Adelaide Hills | La Cantina King Valley King Valley | La Curio McLaren Vale | Lark Hill Winery Canberra | Last Word Wines Clare Valley | Lethbridge Wines Geelong | Little Bridge Canberra | Little Wine Company Hunter Valley | Lowe Family Wines Mudgee | Macquarie Grove Vineyards Western Plains | Mad Dog Wines Barossa Valley | MadFish Wines Margaret River | Maglieri McLaren Vale | Massoni Pyrenees | Mayfield Vineyard Orange | McCrae Mist Wines Mornington Peninsula | McIvor Estate Heathcote | Melross Estate Pyrenees | Michael Unwin Wines Grampians | Michelini Alpine Valleys | Minnow Creek McLaren Vale | Mitchell Harris Wines Pyrenees | Mitchell Clare Valley | Mitolo McLaren Vale | Monichino Wines Goulburn Valley | Montefalco Vineyard Porongurup | Monument Vineyard Central Ranges Zone | Mopoke Ridge Winery Shoalhaven Coast | Moppity Vineyards Hilltops | Mount Burrumboot Estate Heathcote | Mount Langi Ghiran Vineyards Grampians | Mount Vincent Estate Hunter Valley | Mt Billy Southern Fleurieu | Mulligan Wongara Vineyard Cowra | Mulyan Cowra | Neagles Rock Vineyards Clare Valley | New Glory Goulburn Valley | Ngeringa Adelaide Hills | Night Harvest Margaret River | Nova Vita Wines Adelaide Hills | Oakvale Hunter Valley | Ochota Barrels Adelaide Hills | Olive Hills Estate Rutherglen | Orange Highland Wines Orange | Pankhurst Wines Canberra | Pasut Family Wines Murray Darling | Paulmara Estate Barossa Valley | Pengally Lane Wines Bendigo | Penmara Hunter Valley | Perrini Estate Adelaide Hills | Phoenix Estate Clare Valley | Piako Vineyards Murray Darling | Piggs Peake Winery Hunter Valley | Pikes Clare Valley | Pindarie Wines Barossa Valley | Piromit Wines Riverina | Pizzini Wines King Valley | Plantagenet Mount Barker | Poet's Corner Mudgee | Pokolbin Estate Hunter Valley | Politini King Valley | Primo Estate McLaren Vale | Prince Hill Wines Mudgee | Pycnantha Hill Estate Clare Valley | Quarry Hill Wines Canberra | Quealy Mornington Peninsula | Racecourse Lane Wines Hunter Valley | Ravensworth Wines Canberra | Remarkable View Winery Southern Flinders Region | Restdwon Wines Perricoota | Rigel Wines Mornington Peninsula | Rimfire Vineyards Darling Downs | Ringer Reef Winery Alpine Valleys | Ringer Reef Winery Alpine Valleys | Riverbank Estate Swan Valley | Roberts Estate Murray Darling | Rojo Wines Port Phillip Zone | Rookery Wines Kangaroo Island | Ruane Winery Southern Highlands | Rutherglen Estates Rutherglen | Salena Estate Riverland | Salisbury Winery Murray Darling | Scaffidi Estate Adelaide Hills | Scott Winemaking Adelaide Hills | Seaview McLaren Vale | Sedona Estate Upper Goulburn | Serenella Estate Hunter Valley | Settlers Ridge Margaret River | Sevenoaks Wines Hunter Valley | Severn Brae Estate Granite Belt | Seville Hill Yarra Valley | Shadowfax Vineyard and Winery Geelong | Shays Flat Vineyard Pyrenees | Shepherds Run Canberra | Sherwood Estate Hastings River | Shobbrook Wines Barossa Valley | Silverfox Wines Perricoota | Skimstone Mudgee | South Channel Wines Mornington Peninsula | Southern Highland Wines Southern Highlands | St Ignatius Vineyard Pyrenees | Star Lane Beechworth | Starvedog Lane Adelaide Hills | Stefani Estate Heathcote | Stella Bella Margaret River | Stevens Brook Estate Perricoota | Stone Bridge Estate Manjimup | Stone Bridge Wines Clare Valley | Stonehaven Padthaway | Stumpy Gully Mornington Peninsula | Sutton Grange Winery Bendigo | Swings & Roundabouts Margaret River | Tahbilk Nagambie Lakes | Tall Poppy Murray Darling | Tallis Wine Company Goulburn Valley | Taltarni Pyrenees | Talunga Adelaide Hills | Tannery Lane Bendigo | Tar and Roses Nagambie Lakes | Tatachilla McLaren Vale | Clare Valley | Tempus Two Hunter Valley | Tenafeate Creek Wines Adelaide Plains | The Deanery Vineyards Adelaide Hills | The Grapes of Ross Barossa Valley | The Islander Estate Vineyards Kangaroo Island | The Pawn Wine Company Adelaide Hills | Tilbrook Estate Adelaide Hills | Tintara McLaren Vale | Tintilla Wines Hunter Valley | Tombstone Estate Western Plains | Toombullup North King Valley | Torzi Matthews Eden Valley | Totino Wines Adelaide Hills | Tower Estate Hunter Valley | Trelawney Clare Valley | Trifon Estate Goulburn valley | Tulloch Hunter Valley | Two Italian Boys Riverina | Uleybury Wines Adelaide Zone | Underground Winemakers Mornington Peninsula | Vale Creek Wines Central Ranges Zone | Varrenti Wines Grampians | Vasarelli Currency Creek | View Road Wines Adelaide Hills | Vinea Marson Heathcote | Vintara Rutherglen | Virgara Wines Adelaide Plains | W Wine of Mudgee Mudgee | Walter Clappis Wine Co McLaren Vale | Warrenmang Vineyard Pyrenees | Watchbox Wines Rutherglen | Watershed Wines Margaret River | Way Wood Wines McLaren Vale | Well Mannered Wines Mudgee | Whistling Eagle Wines Heathcote | Windemere Wines Granite Belt | Windowrie Estate Cowra | Wine By Brad Margaret River | Wise Wine Margaret River | Wood Park King Valley | Woolybud Kangaroo Island | Yalumba Wine Company Barossa Valley | Yanmah Ridge Manjimup | Yarra Yering Yarra Valley | Yarrh Wines Canberra | Zilzie Wines Murray Darling | Zonte's Footstep Langhorne Creek
Keep in touch with Vinodiversity
Just enter your details below and you will receive an occasional newsletter letting you know all about the alternative varietal wine scene in Australia and beyond.