Cinsaut red grape variety in Australia
Cinsaut is a high yielding, workhorse red variety, also known in Australia as
Blue Imperial
and
Oeillade
.
Other synonyms include Black malvoisie, Boudalès,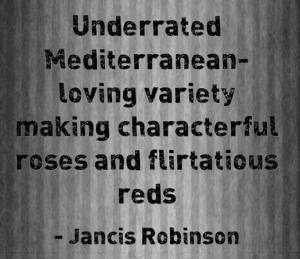 Bourdalès, Bourdelas, Calabre, Cinq-saou, Cinqsaut, Cinsaut, Cuvillier, Espagne, Espagnen, Espagnol, Gros de Lacaze, Gros marocain, Hermitage, Malaga, Malaga kék, Marocain, Marroquin, Marrouquin, Maurange, Mavro kara melki, Milhau, Milhaud du Pradel, Morterille, Morterille noire, Negru de Sarichioi, Ottavianello, Ottaviano, Pampous, Papadou, Passerille, Pétaïre, Picardan noir, Piquepoul d'Uzès, Plant d'Arles, Plant de Broqui, Poupe de crabe, Prunaley, Prunelas, Prunella, Prunellas, Prunellas noir, Salerne, Senso, Sinso, Ulliaou
A grape variety with that many synonyms is obviously used in many regions, but Cinsaut's stronghold is the Languedoc Region of South West France where it is now being replaced by more fashionable varieties such as Shiraz and Mourvedre.
In the Italian region of Puglia Cinsaut makes up the bulk of the red wine in the Ostuni Ottovianello DOC. Here it is blended with small amounts of the Puglian favourites of Negroamaro and Malvasia Nero.
Cinsaut in Australia
This variety, according to Robin Bradley in his Australian Wine Pocketbook of 1978, is "used, mostly in South Australia, to lend mediocrity to otherwise good wine".
Cinsaut's other claim to fame is that it is the crossing parent, along with Pinot noir of the South African variety Pinotage.
Despite this bad press, this variety is still most often used as blending material, probably in more wines than mention the fact on their labels, but there are a couple of exceptions. I ahve long been a fan of Morris Wines Cinsaut, sold for many years as Blue Imperial, but now bearing is more correct name.
Foggo wines in McLaren Vale have had success with a Grenache Shiraz Cinsaut.
D'Arenberg's Cenosilicophobic Cat is a blend of Sagrantino with about 9% Cinsaut.
The Cinsaut grape variety on its own makes quite good rose. Again Foggo Wines are leading the way with a couple of bronze medals, but as Sandie van der Wiel of Foggo says "It is difficult to succeed with different varieties as often the judges have not come across the variety before."
Australian Wineries and Cinsaut
Bullers Beverford Swan Hill | Cascabel McLaren Vale | Chambers Rosewood Rutherglen | Clonakilla Canberra | Cradle of Hills McLaren Vale | D'Arenberg McLaren Vale | Donnybrook Estate Geographe | Foggo Wines McLaren Vale | Happs Margaret River | Kabminye Wines Barossa Valley | Lake Moodemere Rutherglen | Little River Wines Swan Valley | Massena Wines Barossa Valley | Morris Rutherglen | Murray Street Vineyard Barossa Valley | Shadowfax Vineyard and Winery Geelong | Shobbrook Wines Barossa Valley | Smallfry Wines Barossa Valley | Spinifex Barossa Valley | Vintara Rutherglen | Yangarra Estate McLaren Vale
My friend Herb Van De Wiel at Foggo Wines is an enthusiast for this variety. He uses it to make a rose, as a red wine blended with Shiraz and Grenache and a lovely sparkling red. You can buy these Cinsaut wines from Foggo Winery
Keep in touch with Vinodiversity
Just enter your details below and you will receive an occasional newsletter letting you know all about the alternative varietal wine scene in Australia and beyond.