Granite Belt Wine Region
Queensland's Granite Belt Wine Region, despite being in a subtropical latitude is cool enough to produce high quality wines.
Varieties found in the Granite Belt
It comes as a surprise to most people that the Sunshine State should have a serious wine industry.
The popular image of Queensland is of a warm to hot climate with beaches, rainforest, holiday islands and the Great Barrier Reef, or else we think of the hot interior and cattle country.
Neither stereotype seems to include vineyards.
But in the Great Dividing Range a couple of hundred kilometres south west of Brisbane there is an area eminently suited to wine.
Because of the altitude, 800-1000 metres, the winters are quite cold. The summers are not as fiercely hot as the plains in the interior,  nor do they bring the extreme humidity of coastal areas.  Cool nights often experienced during vintage also contributes to wine quality. Spring frosts are the main viticultural hazard of this region as well as damaging hailstorms over the summer months.
It can be argued the area should be regarded as a cool climate rather than warm climate wine region.
The Granite Belt abuts the New South Wales border to the south, where the wine country continues in the New England Wine Region.
The main commercial centre is Stanthorpe. The area has had some vineyards for many years, however serious commercial production really only started in the 1980s.

There is a rapidly growing number of wineries in the region and just over half of them are growing alternative varieties. Much experimentation is still needed, but it seems that varieties which are traditionally associated with cooler areas will do well here.

Granitic soils are typically sandy and well drained, which is good for viticulture. Some enthusiasts claim that the mineral composition of the soil gives the wines a 'flinty' character.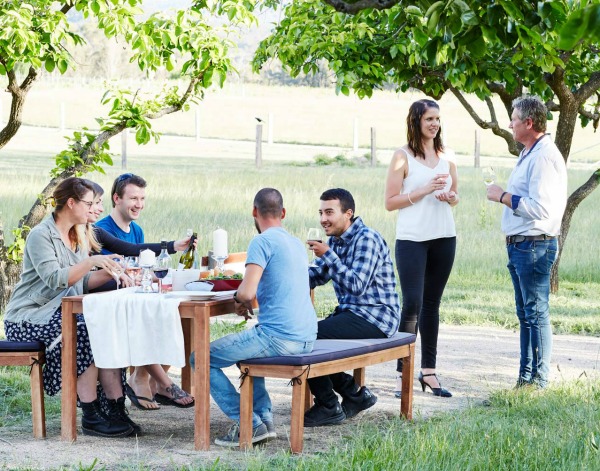 Enjoying an alfresco lunch at Ridgemill Estate, Granite Belt
Alternative Varieties in the Granite Belt region
4382 Terroir Aglianico, Arinto, Fernao Pires, Fiano, Lagrein, Montepulciano
Balancing Heart Wines Carmenere, Sagrantino, Montepulciano, Vermentino
Ballandean Estate Aglianico, Barbera, Lagrein, Malvasia, Montepulciano
Banca Ridge Albarino, Mondeuse, Petit Verdot,
Bent Road Marsanne, Nebbiolo, Petit Verdot, Roussanne, Saperavi, Tempranillo
Bioreann Barbera, Nebbiolo, Sangiovese, Tannat
Bungawarra Gewurztraminer, Malbec
Casley Mount Hutton Chenin Blanc
Girraween Estate Petit Verdot
Golden Grove Estate Barbera, Durif, Malbec, Nero d'Avola, Tempranillo, Vermentino
Granite Ridge Wines Petit Verdot, Ruby Cabernet, Tempranillo
Heritage Estate Fiano, Gewurztraminer, Inzolia, Lagrein, Marsanne, Nebbiolo, Prieto Picudo, Sagranino, Tempranillo, Vermentino
Hidden Creek Aglianico, Fiano, Gewurztraminer, Inzolia, Lagrein, Marsanne, Mencia, Nebbiolo, Prieto Picudo, Tempranillo, Vermentino
Jester Hill Wines Roussanne, Sangiovese, Tempranillo
Just Red Wines Tannat
Meteora Estate
Barbera
Preston Peak Carmenere, Gewurztraminer, Petit Verdot, Sagrantino
Pyramids Road Petit Verdot
Ravenscroft Wines Albarino, Fiano, Gewurztraminer, Petit Verdot, Pinotage, Sangiovese, Tempranillo, Vermentino
Ridgemill Estate Albarino, Graciano, Mencia, Jacquez, Saperavi, Tempranillo
Robert Channon Albarino, Malbec
Rokkwell Arneis, Nebbiolo, Nero d'Avola
Rosby Sangiovese
Savina Lane Fiano, Graciano, Montepulciano, Petit Manseng, Tempranillo
Serrena Que Estate Barbera, Bastardo, Cortese, Fiano, Garganega, Mencia, Saperavi, Tempranillo
Sirromet Fiano, Lagrein, Pecorino, Petit Verdot, Montepulciano, Nebbiolo, Saperavi, Vermentino
Summit Estate Albarino, Fiano, Malbec, Marsanne, Petit Verdot, Tannat, Tempranillo, Vermentino, Zinfandel
Symphony Hill Wines Albarino, Chanel Paradisa, Fiano, Gewurztraminer, Graciano, Lagrein, Mondeuse, Montepulciano, Moscato Giallo, Nebbiolo, Petit Manseng, Petit Verdot, Picpoul, Prieto Picudo, Tannat, Tempranillo, Vermentino
Tobin Wines Sagrantino, Tempranillo
View Wine Albarino, Petit Manseng
Whiskey Gully Colombard, Malbec
Witches Falls Winery Aglianico, Arinto, Durif, Fiano, Marsanne, Negroamaro, Nero d'Avola, Sangiovese, Tinta Barocca, Vermentino
Last Update 20 Nov 2023
*A couple of the wineries listed here are actually based elsewhere but grow a large proportion of their grapes in the Granite Belt
---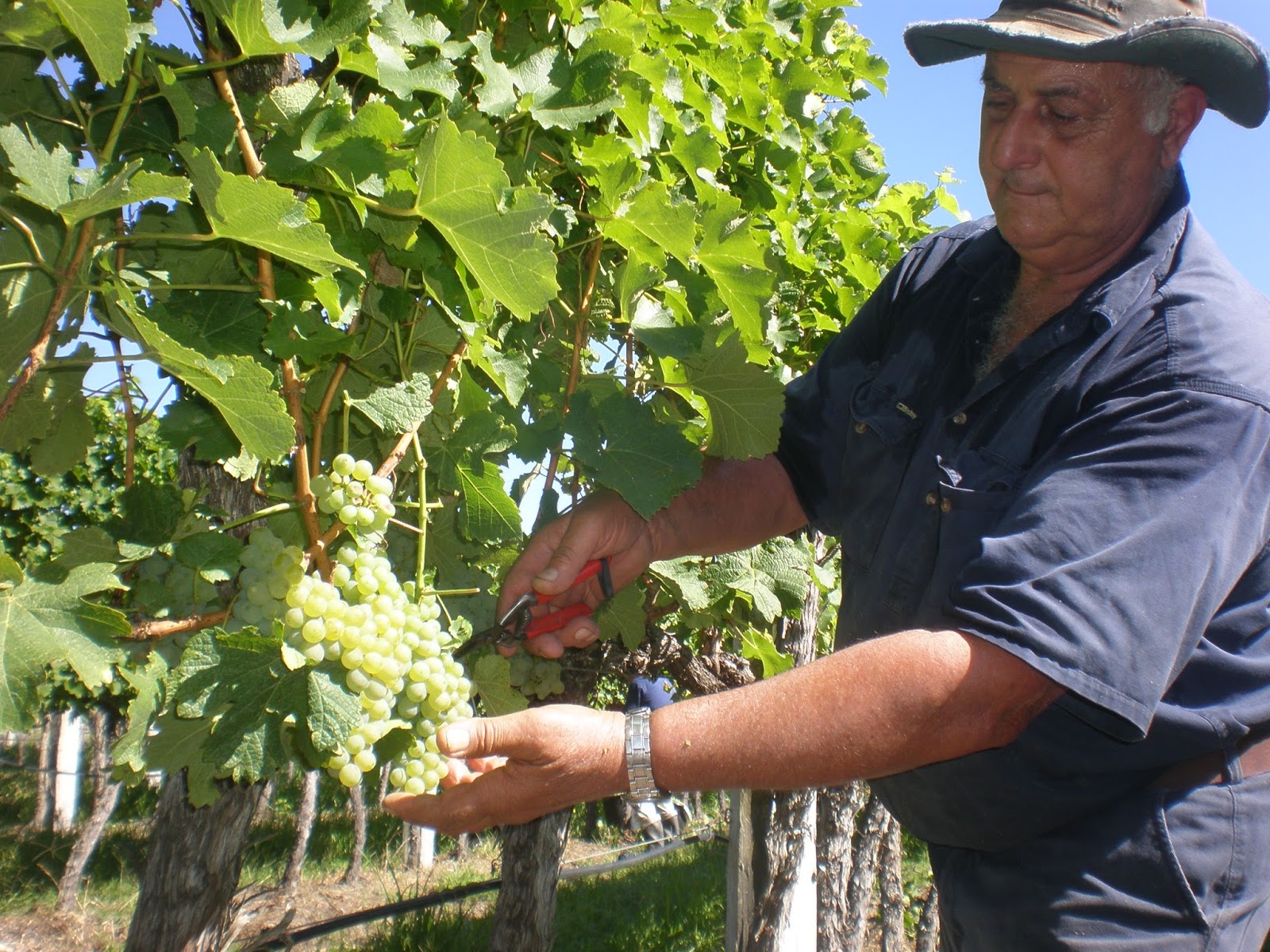 Angelo Puglisi and Fiano grapes at Ballendean Estate
See this story about Angelo Puglisi of Ballendean Estate and why he introduced the Fiano variety to his vineyard.
Staying in the Granite Belt

There are plenty of wineries and other attractions in this scenic area to justify a stay of several days.  The Granite Belt offers hotels, motels, apartments, cottages, B&Bs and caravan and camping parks. There are restaurants and shops which proudly feature the local produce.

Rather than present you with a list of links to Granite Belt accommodation sites I suggest that you use Vinodiversity's Granite Belt accommodation finder.
That way you will get the latest info and will be able to make an informed decision about accommodation. The choice is yours.
A visual guide to Queensland wineries 
Do you have a wine related business in this region?
Contact Darby to explore sponsoring options for this page

Abuzz with Alternatives
dozen Offer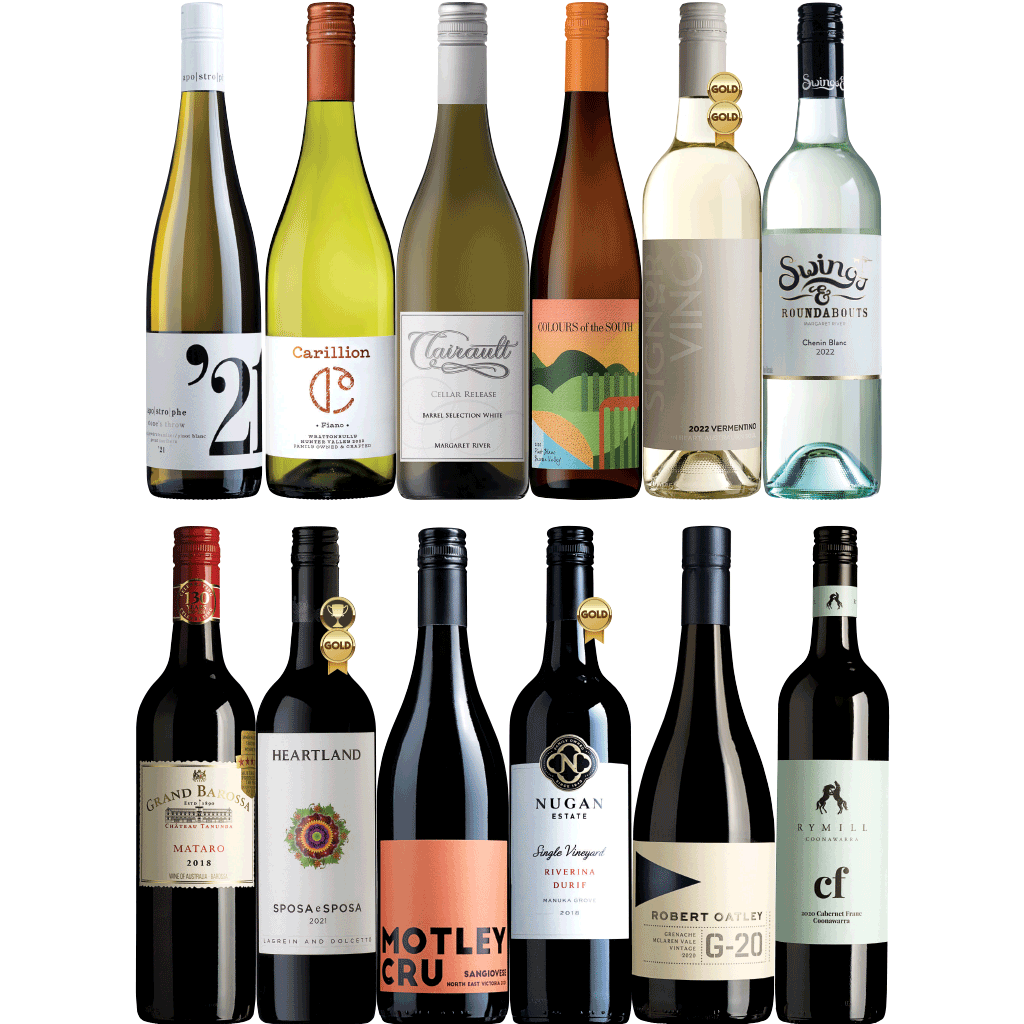 Twelve different alternative varieties and blends.
Also available as all red or all whites.
And at an affordable price.
---
---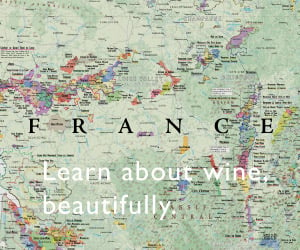 ---
Was this info what you wanted?  

Use the search box below to find more.