Tour of the Macedon Ranges Region
The Macedon Ranges Wine Region is well known for its cool climate, so it is not surprising that the dominant varieties are Pinot Noir and Chardonnay.  But you can make the most of a tour of the cellar doors here if you look for something a little different.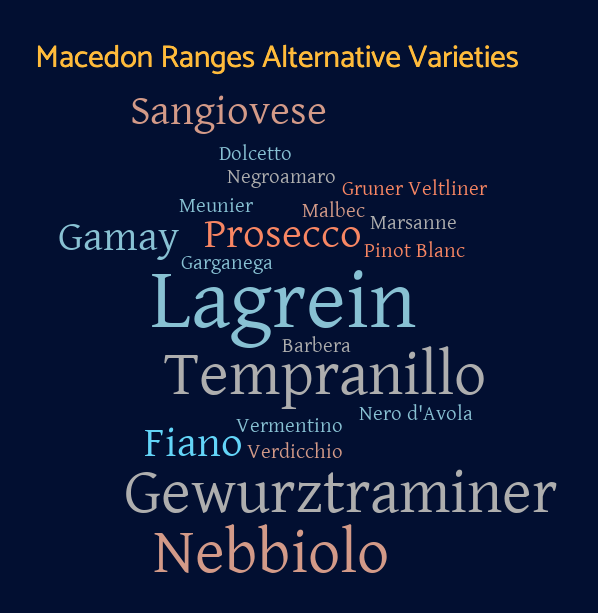 When you travel you look for different scenery and experiences, so why not try some different wine varieties when you visit the Macedon Wine Region.  Here are a few suggestions if you are looking for some offbeat varieties. The wineries listed below all have cellar doors for tasting, but these days it is even more important to call ahead to check on arrangements.
Cobaw Ridge was the first Australian winery to make Lagrein.  This is a northern Italian red wine variety well known for producing impressive darkly coloured wines.  Winemaker Alan Cooper loves the depth of flavour of his wines.  He believes that the high altitude of his vineyard, 610m, contributes to the quality of the Lagrein.  Look for the hints of dark chocolate in the complex brooding aromas of these wines, but in some vintages you might detect more leathery odours.  
For decades Granite Hills Winery has been famous for its Riesling, Shiraz and Cabernet Sauvignon.  In more recent years owner winemaker Lew Knight has broadened the range of varieties grown.  Lew is especially pleased with his Gruner Veltliner, an Austrian variety.  It is well suited to the cool climate and austere granitic soils here.  Granite Hills also makes Pinot Blanc and Gamay, with a few more alternative varieties on the way.
Renata Morello and Ollie Rapson at Lyons Will are enthusiasts for the French variety red wine Gamay.  This variety is known for producing light- and medium-bodied wines in the Beaujolais region of France, but don't be deceived.  Well made Gamay packs a powerful punch with its rich aromas and dynamic flavours.  At Lyons Will they take great care to capture all of the delights of this variety.
The white wine variety Semillon is very common in New South Wales, especially the Hunter Valley, but it is quite unfamiliar to most Victorians.  In its native France Semillon is used to make the famous sweet wines Sauternes, but it is also frequently blended with Sauvignon blanc to make dry whites.  Bob Nixon at Gisborne Peak likes to explain to his visitors how Semillon goes through several stages as it ages, culminating in golden honey richness if you have the patience to cellar it.
Hew and Di Richards discovered they had some Gewurztraminer vines by accident in a Chardonnay patch at their Midhill Vineyard.  Rather than removing them, the vines were shifted into a separate block.  This variety loves cooler regions where it makes amazingly aromatic wines.  Many wine drinkers expect Gewurztraminer wines to be sweet because of their heady aroma, but they are often dry.  Hew makes his wine from this bone dry and crisp.  He recommends you try it with charcuterie, tuna or spicy dishes.
Mount Towrong is recognised as the go-to place in the Macedon Ranges for Italian varieties.  One of winemaker Adam Paleg's favourites is Vermentino.  This white variety from Sardinia and mainland Italy is known for making crisp dry white wines.  Often Vermentino wines are very dry and light bodied, but Adam takes care in the winemaking to make the wines more textual and Italian in style.  Mount Towrong also makes wines from Prosecco, Fiano, Garganega, Lagrein, Nebbiolo, Sangiovese and Negroamaro - all Italian and all of interest to the adventurous wine lover.
You can read more about the Macedon Ranges regions and its alternative varieties on this page.
This article is an edited version of an article which appeared in the Daylesford Macedon Life in August 2021
Abuzz with Alternatives
dozen Offer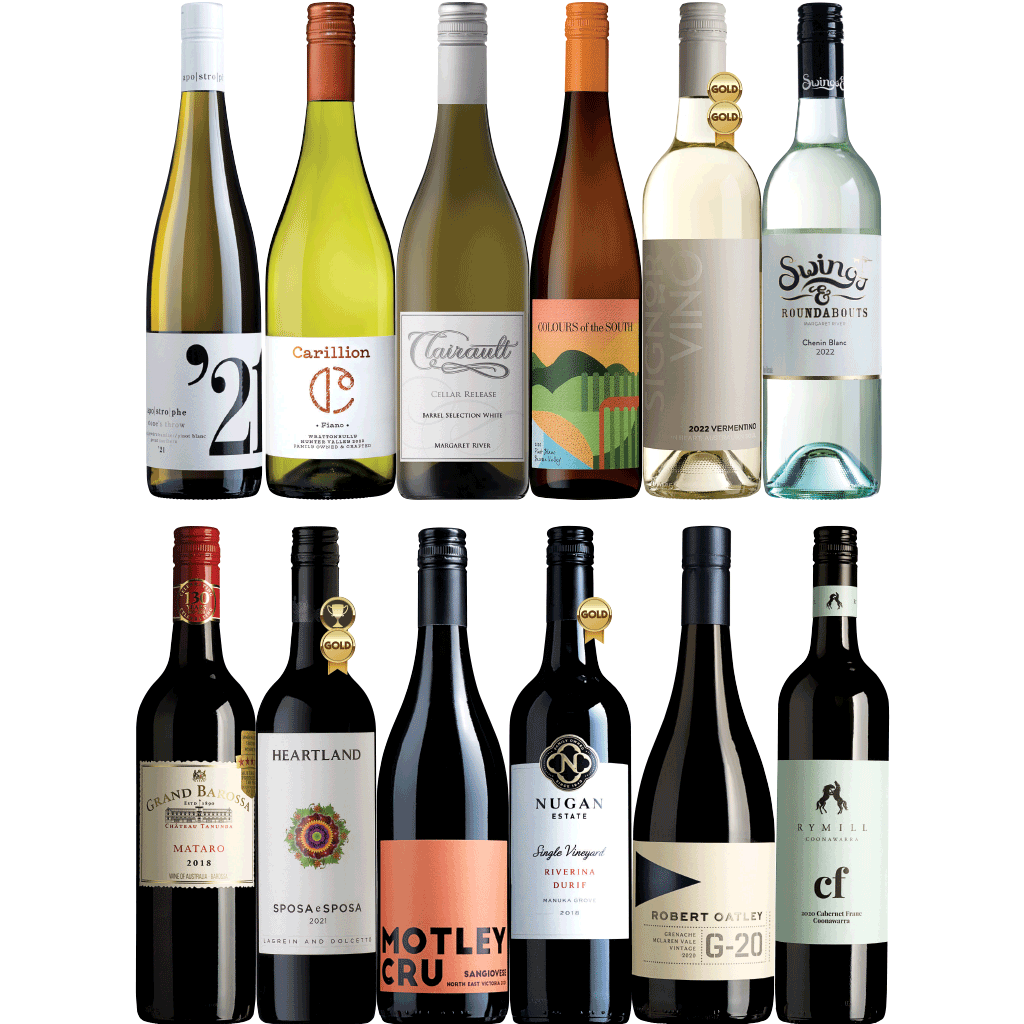 Twelve different alternative varieties and blends.
Also available as all red or all whites.
And at an affordable price.
---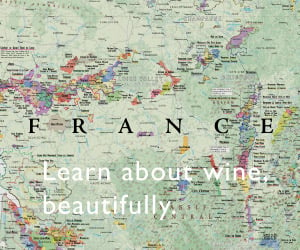 ---
Was this info what you wanted?  

Use the search box below to find more.