Durif red wine variety in Australia
Durif is famous in Australia for producing robust red wines.  In California is better known as Petite Sirah.
The origins and Identity of Durif
This red wine grape from the Rhone Valley is not highly regarded in its native France. It is named after its breeder who established the variety in the late nineteenth century.
It was introduced into Australia by pioneering Victorian viticulturalist Francois de Castella in 1908.
The variety is planted in California under the name of Petite Sirah where there has been some confusion about the variety. Many Californian vineyards have proved to be field blends of Durif and another variety called Pelourisin.  
Californian enthusiasts have created a group called PS I Love You to promote and educate about the variety.
More recent DNA Analysis has shown that Durif is in fact a cross of Syrah (Shiraz) and Pelourisin. Its resemblance to both of its parents has of doubt caused some of the confusion.

In Australia, the CSIRO uses DNA fingerprinting to clear up confusion about similar grape varieties. They report that the grapes imported to Australia are indeed Durif and not Peloursin.

Durif In Australia
In Australia the variety is most commonly associated with Rutherglen in North Eastern Victoria. 
The Rutherglen Wine Region built its reputation around fortified wines - Port, Muscat and Tokay - as we misnamed them until fairly recently.  There were also plenty of big age-worthy reds with plenty (probably too much) of body, oak, tannins and alcohol. Durif and Shiraz were the varieties used in these wines.
The wine styles now have probably toned down a little since the 1960s, but these are still impressive wines.
As well as red wines Durif is used, of the blended with Shiraz, to make sparkling red wine.
The list below shows that Rutherglen does not have a monopoly on the variety. It is used in quite a few of Australia's warm climate wine regions, as well as at least one cooler region.
919 Wines Riverland
Acres Wilde Glenrowan
Alejandro Riverland
All Saints Estate Rutherglen
Anderson Winery Rutherglen
Andrew Peace Wines Swan Hill
Aramis Hunter Valley
Arlo Vintners Rutherglen
ATR Wines Grampians
Atze's Corner Wines Barossa Valley
Bailey's of Glenrowan Glenrowan
Ballycroft Barossa Valley
Baratto Wines Riverina
Berton Vineyards Riverina
Billy Button Alpine Valleys
Brown Brothers King Valley
Brumby Wines Swan Hill
Bullers Calliope Rutherglen
Bush Track Wine Alpine Valleys
Calabria Family Wines Riverina
Calico Town Rutherglen
Campbells Wines Rutherglen
Cape Horn Vineyard Goulburn Valley
Capercaillie Hunter Valley
Captain Barossa Barossa Valley
Chambers Rosewood Rutherglen
Charles Cimicky Barossa Valley
Ciavarella King Valley
Cirami Estate Riverland
Cofield Wines Rutherglen
Countertop Swan Hill
Curtis Family Vineyards McLaren Vale
Date Brothers Swan Hill
Dee Vine Estate Riverina
Dell'uva Wines  Barossa Valley
Domaine Asmara Heathcote
Eldorado Road North East Victoria
Faber Vineyard Swan Valley
Fairbrossen Perth Hills
Feathertop Alpine Valleys
Five O'Clock Somewhere McLaren Vale
Flying Duck Estate King Valley
Folino Estate Alpine Valleys
Fratelli Heathcote
Gapsted Wines Alpine Valleys
Glenbosch Estate Rutherglen
Golden Grove Estate Granite Belt
John Gehrig Wines King Valley
Kabminye Wines Barossa Valley
Kaesler Barossa Valley
Kalleske Wines Barossa Valley
Lake Moodemere Rutherglen
Lambert Estate Barossa Valley
Lion Mill Vineyards Perth Hills
Lost Penny Barossa Valley
Mandalay Road Geographe
Massena Wines Barossa Valley
McWilliams Riverina
Memento Wines Rutherglen
Michael Unwin Wines Grampians
Millbrook Winery Perth Hills
Monichino Wines Goulburn Valley
Morris Rutherglen
Morrisons of Glenrowan Glenrowan
Mount Buff Wines Alpine Valleys
Mount Pilot Estate North East Victoria
Mount Prior Rutherglen
Mount View Estate Hunter Valley
Mudgee Wines Mudgee
Mundoo Ridge Riverland
Murray Estate Big Rivers Zone
Myattsfield Vineyard and Winery Perth Hills
Noble Red Heathcote
Nugan Estate Riverina
Oak Works Riverland
Olive Farm Swan District
Olive Farm Wines Swan Valley
Olive Hills Estate Rutherglen
Oxenbury Beechworth
Patrice Winery North East Victoria
Petersons Glenesk Estate Mudgee
Pieter van Gent Mudgee
Pinelli Swan Valley
Pyren Vineyard Pyrenees
Quarisa Riverina
Reedy Creek New England
Rolf Binder Barossa Valley
Rusticana Langhorne Creek
Rutherglen Estates Rutherglen
Sam Miranda Wines King Valley
Santolin Yarra Valley
Scarpantoni Estate McLaren Vale
Scion Vineyard Rutherglen
Spook Hill Wines Riverland
Spring Spur Alpine Valleys
St Annes Vineyards Perricoota
St Leonards Rutherglen
Stanton and Killeen Wines Rutherglen
Starrs Reach Riverland
Steinborner Family Vineyards Barossa Valley
Taminick Cellars Glenrowan
Tawonga Vineyard Alpine Valleys
Tempus Two Hunter Valley
Tenafeate Creek Wines Adelaide Plains
Thomas New England Estate New England
Toorak Winery Riverina
Trahna Rutherglen Wines Rutherglen
Trimboli Riverina
Underground Winemakers Mornington Peninsula
Valhalla Rutherglen
Vanden Murray Darling
Warburn Estate Riverina
Warrabilla Wines Rutherglen
Witches Falls Winery Granite Belt
Yacca Paddock Vineyards Adelaide Hills
Yarran Wines Riverina
Updated 30 May 2023
---
Durif and food
This variety makes full bodied wines so you might enjoy Durif with rich, meaty stews and game dishes. For example, you might like to try my recipe for Braised Oxtail with Black Olives.
Grilled and barbecued meats are another option, but probably not fish or seafood

With cheeses you might like consider something from the hard section. Aged vintage cheddar, Spanish manchego, or the Italian Piave.
Evan Goldstein includes Durif, under its American name Petite Sirah in his book Daring Pairings.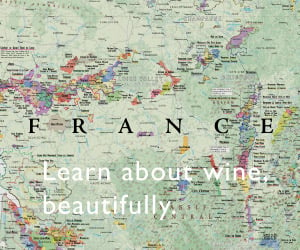 ---
Was this info what you wanted?  

Use the search box below to find more.