Rutherglen Wine Region
The Rutherglen Wine Region in North East Victoria has achieved iconic status with its fortified wines.
It has also been associated with big, full bodied long-lived red wines, a style that has gone out of fashion.
But things are changing...
In more recent years a range of new varieties and styles have been made, with considerable success.
You will now find Italian varieites as well as the classic port varieties from the Iberian peninsula.
As the big, robust and highly tannic red wines characteristic of Rutherglen have become less popular a few wineries have begun making sparkling red wines. This style has not attracted universal approval, but it certainly has its enthusiasts.
History of the Rutherglen Region
The wine industry was established in the middle of the nineteenth century. Unlike many other Victorian wine regions, Rutherglen escaped the Phylloxera pest, and was able to survive the fall in popularity of table wines by developing a specialty in fortified wine.
Many wineries around in this wine region have been in the same family for several generations and are housed in historic gold era buildings that provide an appropriate setting to taste the venerable wines.
Many of the winery buildings, including those at All Saints, Gehrig Estate, Mount Prior and Pfeiffer, are well worth visiting for their architectural interest, quite apart from the superb table and fortified wines.
The fortified wines of Rutherglen are undoubtedly of world class quality. Rutherglen Ports* and Sherries* matched it with all but the best of the Iberian wines of those styles. But the region's unique gifts to the world are the Muscats and Tokays* which have no equal.
*In the modern era this terminology is no longer used.  To comply with modern international naming these wines are now called Vintage fortified, Apera and Topaque
Alternative varieties in the rutherglen region
All Saints Estate Cabernet franc, Chenin blanc, Durif, Marsanne, Muscadelle, Orange muscat, Prosecco, Roussanne, Ruby Cabernet, Sangiovese, Tempranillo
Anderson Winery Chenin blanc, Durif, Muscadelle, Petit verdot, Sangiovese, Saperavi, Tempranillo
Bullers Calliope Biancone, Cinsaut, Durif, Marsanne, Mondeuse, Muscadelle, Sangiovese, Tempranillo, Vermentino
Calico Town Durif, Petit manseng, Trebbiano
Campbells Wines Cornifesto, Durif, Malbec, Marsanne, Muscadelle, Negramoll, Pedro Ximenez, Roussanne, Ruby Cabernet, Souzao, Tempranillo, Tinta Cao, Trebbiano
Chambers Rosewood Caracosa, Cornifesto, Cinsaut, Durif, Gouais blanc, Graciano, Mondeuse, Muscadelle, Palomino, Roussanne, Tinto Cao
Cofield Wines Cabernet franc, Chenin blanc, Durif, Gamay, Malbec, Marsanne, Muscadelle, Sangiovese
Jones Winery and Vineyard Fiano, Malbec, Marsanne, Pedro Ximenez, Roussanne, Trebbiano
Lake Moodemere Biancone, Cinsaut, Malbec, Durif
Morris Cinsaut, Durif, Muscadelle, Palomino, Trebbiano
Mount Prior Durif, Muscadelle
Olive Hills Estate Durif, Malbec, Ruby Cabernet, Sangiovese, Tempranillo
Pfeiffer Wines Cabernet Sanzey, Gamay, Malbec, Marsanne, Muscadelle, Palomino, Tempranillo, Tinta barocca, Tinto Cao
Rutherglen Estates Arneis, Durif, Fiano, Marsanne, Nebbiolo, Sangiovese, Savagnin, Tempranillo, Zinfandel
Scion Vineyard Durif, Orange muscat
St Leonards Durif, Cabernet franc, Chenin blanc, Orange muscat
Stanton and Killeen Wines Durif, Muscadelle, Souzao, Tempranillo, Tinta Barocca, Tinto Cao, Touriga
Trahna Rutherglen Wines Durif, Petit verdot, Tempranillo
Valhalla Wines Durif, Marsanne, Roussanne
Warrabilla Wines Durif, Marsanne, Moscato, Zinfandel
Victorian wineries on Pinterest
I have a Pinboard showing some of the wineries in Victoria who use alternative varieties.
Want to learn More About Australian Wine regions?
Click on the images above and right to find out more about these resources
visiting the rutherglen region
The region is centred around the town of Rutherglen and is bounded on the north by the Murray River. Other towns within the region include Wahgunyah and Chiltern, and immediately across the river in New South Wales is the substantial town of Corowa. 
While it is feasible to visit the region as a day trip from Melbourne you will enjoy yourself more if you stay a night or two.
Explore the accommodation offers with Vinodiversity's Wine Hotels finder
Try this mixed dozen from our wine merchant partner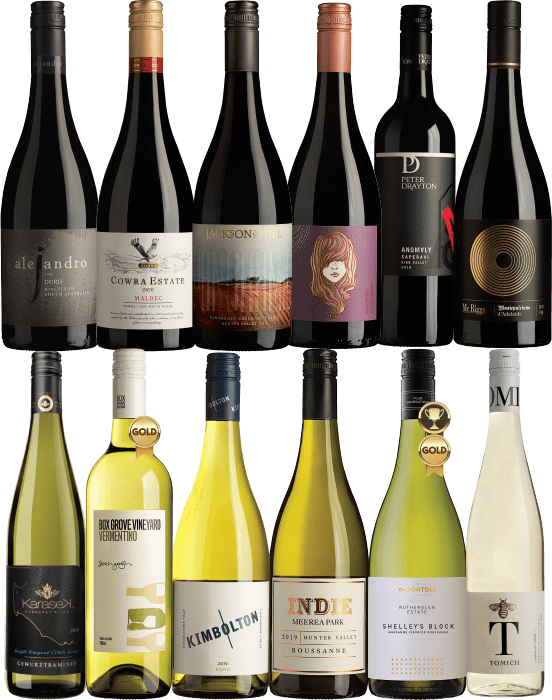 Was this info what you wanted?  

Use the search box below to find more.
Before you go
Please subscribe to my newsletter...

I promise not to abuse your inbox. You will receive no more than three emails per month, most often just one, and you can unsubscribe at any time.