Petit Meslier Wine Variety
Petit Meslier very rare white grape variety that is used in Champagne where it is valued for its ability to hold acid levels in warm years. The major Champagne varieties, Chardonnay, Pinot noir and Pinot meunier do not retain their acidity when the weather is too warm at ripening. This is a problem because the base wine used to make sparkling wine needs to have a high acidity.
Irvine Wines in the Eden Valley are the only Australian grower and producers using this variety. They are about to be joined by Tasmanian producer Domaine Anthony Woollams who recently acquired some curttings from Irvine.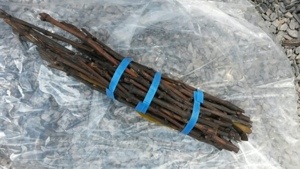 Petit Meliser cutting arriving in Tasmania.
Irvine planted a small amount in the mid 1980s which they originally used in a blend with Chardonnay, but in the 1990s they decided to make a straight Petit Meslier. The result was a crisp sparkling wine with with a bouquet of green apples. They have continued making a small commercial amount under the name Meslier Brut that sells out every year.
James Irvine was able to develop commercialise this variety because of his skills and experience as a winemaker. He is better known as the first winemaker in Australia to do something serious with Merlot as a varietal wine, rather than as a minor partner in Cabernet blends.
In the current environment of varietal exploration maybe someone else will try their hand with Petit Meslier.
Keep in touch with Vinodiversity
Just enter your details below and you will receive an occasional newsletter letting you know all about the alternative varietal wine scene in Australia and beyond.