How many different grape varieties have you tried? Join the Great Australian Varietal Challenge.
Trincadeira (AKA Tinta amarela) Red Wine Variety
Trincadeira is the most commonly used name for this variety in Portugal, but Tinta Amarela is a widely used and accepted synonym. Amarela means yellow in Portuguese. It refers to the colour of the mature shoots.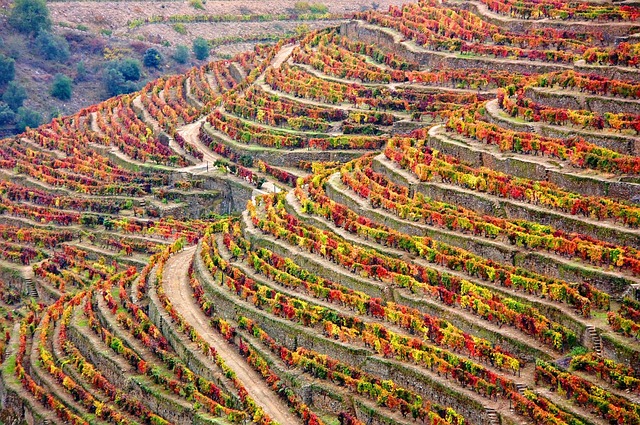 In Portugal's Douro Valley many of the terraced vineyards are field blends of several varieites as illustrated by this image. Trincadeira is likely to be among the varieites here. Image from Monica749 via Pixabay
Several of the varieties used for port wine are very suitable for table wine production, either alone or in blends.
Other varieties commonly used to make port are Tinta Roriz (AKA Tempranillo), Tinta Barocca, Tinto Cao and Touriga.

As the demand for fortified wines declines there is now quite a trend in the Douro Valley, the home of Port wine, to switch production from making fortified wines to table wines.
This same trend has been evident in Australia as well.

Learn about Portuguese wines with this book
The flavour of Trincadera
Here are a couple of descriptions of this variety
full of rich dark fruit spiced by notes of cinnamon and clove supported by rounded tannins...
Jancis Robinson, Wine Grapes
Trincadeira in Australia
First Drop Barossa Valley
G Patritti & Co McLaren Vale
Massena Wines Barossa Valley
Old Plains Adelaide Plains
Peel Estate Peel
Quattro Mano Barossa Valley
Smallfry Wines Barossa Valley
Yarra Yering Yarra Valley

Patritti's Trincadeira dry red wine from the Barossa Valley
An offer from our online shop partner
2 bottles each of some stunning alternative reds.
Nero d'Avola, Touriga, Zweigelt and more. 
Was this info what you wanted?  

Use the search box below to find more.
Before you go
Please subscribe to my newsletter...

I promise not to abuse your inbox. You will receive no more than three emails per month, most often just one, and you can unsubscribe at any time.