Teroldego wine variety
Teroldego is a red wine grape variety from the
Trentino
region in North Eastern Italy.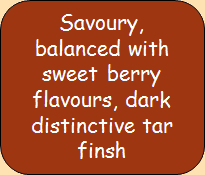 According to Oz Clarke in his
Grapes and Wines Book
, Teroldego has similarities to Shiraz, Lagrein and Marzimino.
Teroldego is another of those varieties that are frequently allowed to overcrop thus producing large volumes of fairly ordinary wine.
Those producers who take the variety seriously though have shown that it does produce some very interesting wines- deep, rich and well structured.
"Savoury balanced with sweet berry flavours, dark distinctive tar finish"
This is the description of Teroldego on
De Long's Wine Grape Varietal Table
Teroldego in Australia
So far only a few producers have shown interest in this variety.
Blue Poles Vineyard Margaret River | Hand Crafted by Geoff Hardy McLaren Vale | Michelini Alpine Valleys | Zonte's Footstep Langhorne Creek
***z-italianreds.shtml***