Albarino is an aromatic white wine variety from Spain. Many Australian winemakers are enthusiastic about its potential in Australia, but unfortunately efforts to introduce the variety into this country have struck a reef.
In early 2009 a controversy emerged about the identity of the variety of vines in some Albarino vineyards in Australia. It is now confirmed that these vines are in fact a different variety - Savagnin. The problem originated in 1989 when Spanish authorities made a mix up when supplying propagating material to the CSIRO. All so called Albarino vines from these sources are now known to be Savagnin.
This is a late ripening white wine variety whose home is the Rias Baixas and Galician wine regions of North West Spain and Portugal. These areas, under the influence of the nearby Atlantic Ocean, are cooler and wetter than the rest of Spain.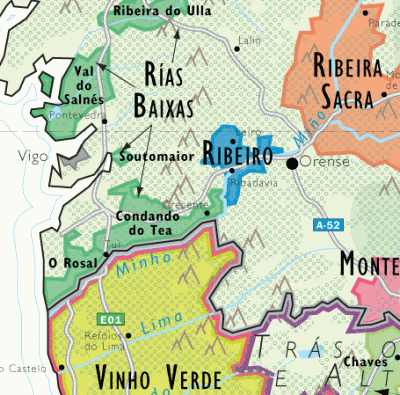 Detail from an excellent wine map from

De Long's Wine Info

, maker of the famous wine grape varietal table.

In Portugal the variety is known as 'Alvarinho'

In the north west of the Iberian Peninsula this variety produces light bodied wines with high acidity. The Portuguese Vinho Verde's made from this variety are often very light in body and alcohol, say 8.5%, reflecting the common practice of overcropping on pergola trellises in a warm, humid climate.

Albarino wines are very aromatic, redolent of peaches and apricots and can display a complex array of flavours, similar to Viognier but with much less weight.

It is no surprise to those who have tried these wines that this is now the most fashionable Spanish varietal white wine.
Albarino in Australia
Some winemakers believe that true Albarino is a worthwhile variety and the process of importing the wine through quarantine has begun.
Many of those who planted Savagnin, and those who have tasted the wines believe that Savagnin is a very suitable variety for making aromatic white wine in Australia. See this page for Savagnin in Australia
Cirami Estate in the Riverland Wine Region plan to release their first Albarino in the near future.
What should you eat with Albarino wine?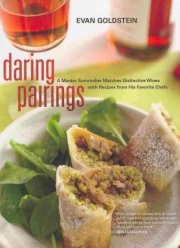 Spanish style seafood dishes or tapas are the the obvious choices for food pairing with Albarino varietal wines.
However it is a very versatile variety and can be used in a similar way to Riesling with all manner of seafood dishes, especially those with garlic. Paella, pastas and risottos will be enjoyed with these wines as well.
This Book by Evan Goldstein contains many suggestions for pairing unusual varietal wines with food. One suggestion for food pairing with albarino is Steamed Manilla Crabs and Udon
Keep in touch with Vinodiversity
Just enter your details below and you will receive an occasional newsletter letting you know all about the alternative varietal wine scene in Australia and beyond.