Trincadeira (aka Tinta Amarela) Wine Variety in Australia
Trincadeira
is the most commonly used name in Portugal, but
Tinta Amarela
is a widely used and accepted synonym. The variety is also called Trincadeira Prete, and just to confuse the scene a little more this is a white grape variety called
Trincadeira das Pratas
Trincadeira is one of a number of Portuguese red wine varieties which have potential to be used in Australia. During the nineteenth and twentieth centuries quite a few varieties were brought into Australia to make port style wine.
Until the 1960's the consumption of port wine was higher than table wine, but since that date Port styles have become much less popular. This decline in popularity is worldwide.
For more about Port wine and Portuguese grape varieties see this book The Wine and Food Lover's Guide to Portugal
Several of the varieties used for port wine are very suitable for table wine production, either alone or in blends. There is now quite a trend in the Douro Valley, the home of Port wine, to switch production from making fortified wines to table wines. This same trend has been evident in Australia as well.
The Flavour of Trincadeira
full of rich dark fruit spiced by notes of cinnamon and clove supported by rounded tannins...
These are the flavours you can expect in this variety according to Jancis Robinson's Wine Grapes
Wines made from this variety have good rich colour and a tea-like aroma.
A few wineries use the Trincadeira wine grape variety to make a varietal wine but it is more often used to add colour and another layer of flavour to blended wines.
Trincadeira in Australia
First Drop Barossa Valley
G Patritti Barossa Valley
Massena Wines Barossa Valley
Peel Estate Peel
Quattro Mano Barossa Valley
Smallfry Wines Barossa Valley
Yarra Yering Yarra Valley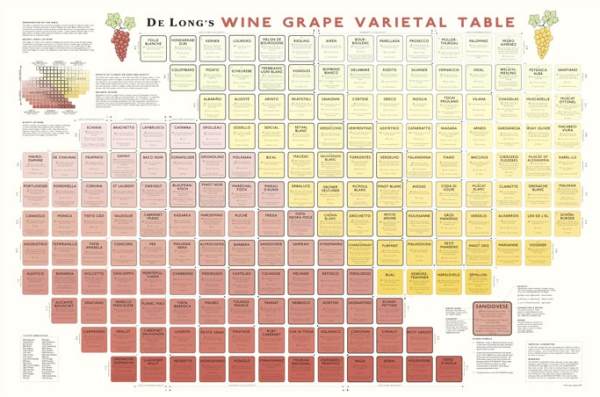 Trincadeira is one of the 184 wine grape varieties that feature on the De Long Grape Varietal Table
Use Snooth to find some Trincadeira wine merchants near you
Keep in touch with Vinodiversity
Just enter your details below and you will receive an occasional newsletter letting you know all about the alternative varietal wine scene in Australia and beyond.