Tempranillo a new red wine variety for Australia
Tempranillo
is the premium red wine grape variety from the Rioja Region in Spain. It is also grown in many other regions of Spain.
But now Tempranillo wine is being made in many Australian wine regions from the Granite Belt in Queensland to the King Valley in Victoria to McLaren Vale and the Barossa to Geographe and Margaret River in Western Australia.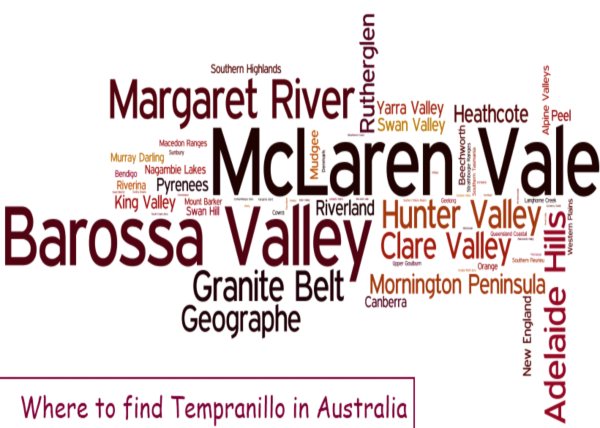 The variety is now challenging Sangiovese as the up and coming star of the red varietal wine scene in Australia.
The variety is grown in many Spanish wine regions and is grown in Portugal under the name Tinta Roriz.
Other synonyms include Aragonez, Cencibel, Tinto Fino, Tinto Madrid, Grenache de Logrono, Tinto de la Rioja, Tinto de toro, Jacivera, Tempranilla, Ull de Llebre, Tinta Roriz, Tinto de Santiago
Find this wine online
Use this link to find online and physical stores near you who stock
Tempranillo
wine. You can read reviews and compare prices.
Tempranillo is rapidly gaining folloers around the world and plantings of the variety are growing rapidly, see this article The Rising Tide of Tempranillo in Australia for more detail.
New plantings throughout Australian wine regions over the past five years are just coming into bearing. In fact, on a percentage basis Tempranillo is growing in popularity more rapidly than any other variety.
What makes this variety so exciting? Well, it makes wines which have good colour and good fruit flavours along with low acid and low tannins. The middle palate is just full of interesting fruit flavours. This adds up to an easy drinking style of wine that matches very well with a range of foods.
The wine also goes well with American oak, a fact which many winemakers are exploring in Australia. In the vineyard the variety has a short growing season which makes it suitable for cooler areas.
In Spain the Tempranillo wine grape variety is the backbone of the wines of the Rioja and the Ribera del Duero regions in Northern and Central Spain. In these regions it is often blended with varieties such as Graciano, Grenache or Cabernet sauvignon playing a minor role. It makes up about 60% of Ribera del Duero's famous Vega Sicilia, the Spanish equivalent to Grange.
Some Tempranillo wines are intended to be consumed while they are young, in which case they are referred to as being the joven style. The Spanish term crianza refers to aged wines. In very good years Spanish wineries make a reserva intended for extended aging.
In Portugal the variety is used as a minor component in port, and some red table wines.
Elsewhere in the world the major plantings are in Argentina and California. In the latter region it is called Valdepenas and is regarded as a unsuitable for making fine wine. Tempranillo has taken off in Australia only in the past few years. Brown Brothers have been pioneers of this variety, but there are now over two hundred wineries using the variety. The table below shows that the variety is widely planted throughout the mainland Australian wine regions.
Some food pairing choices for Tempranillo wine
The obvious food pairing with Tempranillo wine is to go with Spanish style dishes. A lighter bodied Tempranillo would go well with tapas, those delightful little snacks that originally were designed for accompanying sherry. A little plate of olives, a few
marinated mushrooms
, some prawns and a few slices of Chorizo sausage may be just what is needed.
The Spanish also love jamon, dry cured ham. Many bars in Spain have dozens of country style hams hanging up and there is always a ham in a special rack ready to be thinly carved for a snack to accompany a glass of wine.
Sheep farming is a major industry in the Rioja and the Ribera del Duero regions. Hence grilled and especially roast lamb are local specialties, as well as the ideal accompaniment to Tempranillo.
Evan Goldstein in his excellent book Daring Pairings suggests Rack of Lamb with Creamy Rice and Parsnips as a food pairing idea for this wine
Sheep milk cheeses, roast stuffed peppers and vegetable casseroles would also be enhanced by a glass or two of these fine wines.
Tempranillo Wine in Australia
919 Wines Riverland | A Rodda Wines Beechworth | All Saints Estate Rutherglen | Alpha Box and Dice McLaren Vale | Amadio Adelaide Hills | Anderson Winery Rutherglen | Andrew Peace Wines Swan Hill | Angelicus Geographe | Angoves Winery Riverland | Angullong Wines Orange | Arete Barossa Valley | Artemis Wines Southern Highlands | Artwine Clare Valley | Atika Yarra Valley | Atze's Corner Wines Barossa Valley | Audrey Wilkinson Hunter Valley | Australian Domaine Wines Clare Valley | Avalon Wines King Valley | Badgers Brook Yarra Valley Yarra Valley | Banca Ridge Granite Belt | Banrock Station Riverland | Barossa Valley Estate Barossa Valley | Basalt Henty | Beechworth Wine Estates Beechworth | Bella Ridge Estate Swan District | Bent Road Wines Granite Belt | Bidgeebong Wines Gundagai | Bilgavia Wines Hunter Valley | Bird in Hand Adelaide Hills | Blackbilly McLaren Vale | Bleasdale Langhorne Creek | Blue Poles Vineyard Margaret River | Blue Rock Eden Valley | Boggy Creek Vineyards King Valley | Bogie Man Wines Strathbogie Ranges | Boora Estate Western Plains | Bousaada Southern Highlands | Box Stallion Mornington Peninsula | Boyntons Feathertop Alpine Valleys | Brandy Creek Wines Gippsland | Broke Estate Hunter Valley | Brookhampton Estate Geographe | Brown Brothers King Valley | Bullers Calliope Rutherglen | Bunkers Margaret River | Byrne and Smith McLaren Vale | Campbells Wines Rutherglen | Capel Vale Geographe | Capital Wines Canberra | Carlaminda Estate Geographe | Cascabel McLaren Vale | Casella Riverina | Caudo Vineyard Riverland | Centennial Vineyards Southern Highlands | Ceres Bridge Estate Geelong | Chalmers Murray Darling | Chapel Hill McLaren Vale | Charlies Estate Wines Swan Valley | Chrismont King Valley | Clarence House Wines Southern Tasmania | Clarence Southern Tasmania | Coolangatta Estate Shoalhaven Coast | Counterpoint Vineyard Pyrenees | Cow Hill Beechworth | Crabtree of Watervale Clare Valley | Crittenden at Dromana Mornington Peninsula | D'Arenberg McLaren Vale | Dalfaras Nagambie Lakes | David Treager Nagambie Lakes | Dawson and Wills Strathbogie Ranges | De Iulius Hunter Valley | Deakin Estate Murray Darling | Devil's Lair Margaret River | Dimbulla Hunter Valley | Doctors Nose Wines New England | Dogrock Winery Pyrenees | Dolan Family wines Barossa Valley | Donnybrook Estate Geographe | Donovan Wines Grampians | Dos Rios Swan Hill | Dowie Doole McLaren Vale | Drakesbrook Wines Peel | Ducks in a Row McLaren Vale | Dunn's Creek Winery Mornington Peninsula | Eaglerange Wines Alpine Valleys | Echelon McLaren Vale | Edgecombe Orange | Edwards and Chaffey McLaren Vale | Epsilon Barossa Valley | Ernest Hill Wines Hunter Valley | Eumundi Winery Queensland Coastal | Evelyn County Estate Yarra Valley | Ferguson Falls Winery Geographe | Fifth Estate Geographe | Fighting Gully Road Beechworth | Firebox Ridge Swan Hill | First Drop Barossa Valley | Fowles Wine Strathbogie Ranges | Fox Gordon Barossa Valley | Freeman Vineyards Hilltops | Galafrey Mount Barker | Galli Estate Sunbury | Galvanized Wine Group McLaren Vale | Gapsted Alpine Valleys | Gemtree Vineyards McLaren Vale | Geographe Wines Geographe | Gin Gin Wines Queensland Coastal | Glandore Estate Hunter Valley | Glaymond Wines Barossa Valley | Golden Grove Estate Granite Belt | Goundrey Mount Barker | Gowrie Mountain Estate Darling Downs | Granite Hills Macedon Ranges | Granite Ridge Wines Granite Belt | Greenstone Vineyard Heathcote | Hand Crafted by Geoff Hardy McLaren Vale | Happs Margaret River | Hare's Chase Barossa Valley | Hastwell and Lightfoot McLaren Vale | Hay Shed Hill Wines Margaret River | Heathcote II Heathcote | Heathcote Winery Heathcote | Hedberg Hill Orange | Hemera Estate Barossa Valley | Henschke Eden Valley | Heritage Estate Granite Belt | Hewitson Barossa Valley | Hidden Creek Granite Belt | Higher Plane Margaret River | Hollick Wines Coonawarra | Honey Moon Vineyard Adelaide Hills | Hotham Ridge Winery Peel | Houghton Swan Valley | Houlaghans Valley Wines Gundagai | Howard Park Wines Margaret River | Hugh Hamilton McLaren Vale | Inghams Skilly Ridge Wines Clare Valley | Ironbark Hill Estate Hunter Valley | Island Brook Margaret River | Jester Hill Wines Granite Belt | Juniper Estate Margaret River | K1 by Geoff Hardy Adelaide Hills | Kaesler Barossa Valley | Kalleske Wines Barossa Valley | Kangaroo Hills Macedon Ranges | Keith Tulloch Wine Hunter Valley | Kellermeister Wines Barossa Valley | Kennedy Heathcote | Kingston Estate Riverland | Kinloch Wines Upper Goulburn | Kirrihill Estates Clare Valley | Krinklewood Hunter Valley | Kulkunbulla Hunter Valley | La Bise Adelaide Hills | La Cantina King Valley King Valley | La Linea Adelaide Hills | Lake Geroge Canberra | Lambert Estate Barossa Valley | Lazzar Wines Mornington Peninsula | Liebichwein Barossa Valley | Liebichwein Barossa Valley | Lillypilly Estate Riverina | Lion Mill Vineyards Perth Hills | Little Wine Company Hunter Valley | Llangibby Estate Adelaide Hills | Lobethal Road Wines Adelaide Hills | Lucas Estate Granite Belt | Macketh House Historic Vineyard Pyrenees | Macquarie Grove Vineyards Western Plains | MadFish Wines Margaret River | Major View Swan Hill | Mallee Estate Riverland | Mansfield Wines Mudgee | Manton's Creek Vineyard Mornington Peninsula | Marq Margaret River | Maximus Wines McLaren vale | Mayford Wines Alpine Valleys | Mazza Geographe | McCuskers Vineyard Perth Hills | McHenry Hohnen Margaret River | Melville Hill Estate Wines New England | Merilba Estate New England | Mongrel Vineyard Mudgee | Montalto Vineyards Mornington Peninsula | Morrisons of Glenrowan Glenrowan | Moss Brothers Margaret River | Mount Avoca Pyrenees | Mount Burrumboot Estate Heathcote | Mount Charlie Winery Macedon Ranges | Mount Majura Canberra | Mount Trio Vineyard Porongurup | Mr Mick Clare Valley | Mr Riggs Wine Company McLaren Vale | Mt Billy Southern Fleurieu | Mt Samaria Vineyard Goulburn Valley | Mundrakoona Estate Southern Highlands | Murdock Barossa Valley | Muster Wine Company Barossa Valley | Nashwauk McLaren Vale | Nepenthe Adelaide Hills | Ngeringa Adelaide Hills | Noble Red Heathcote | Oatley Wines Mudgee | Olive Hills Estate Rutherglen | Olivers Taranga McLaren Vale | Optimiste Mudgee | Oxenbury Estate McLaren Vale | Pankhurst Wines Canberra | Paul Conti Wines Greater Perth Zone | Paul Nelson Wines Mount Barker | Paxton McLaren Vale | Peacetree Estate Margaret River | Peel Ridge Peel | Pengally Lane Wines Bendigo | Pertaringa McLaren Vale | Peter Lehmann Barossa Valley | Pfeiffer Wines Rutherglen | Piako Vineyards Murray Darling | Piano Piano Beechworth | Pikes Clare Valley | Pindarie Wines Barossa Valley | Plan B Margaret River | Plantagenet Mount Barker | Pokolbin Estate Hunter Valley | Pondalowie Bendigo | Quarry Hill Wines Canberra | Quattro Mano Barossa Valley | Quoin Hill Pyrenees | Raven Wines Peel | Red Earth Estate Western Plains | Red Edge Heathcote | Regent Wines Swan Hill | Reilly's Wines Clare Valley | Remarkable View Winery Southern Flinders Region | Ridgemill Estate Granite Belt | Riverbank Estate Swan Valley | Rojomono Barossa Valley | Romantic Vineyard Pyrenees | Rookery Wines Kangaroo Island | Ros Ritchie Upper Goulburn | Rumbarella Granite Belt | Rusty Fig Wines South Coast Zone | Rutherglen Estates Rutherglen | Sam Miranda Wines King Valley | Samuels Gorge McLaren Vale | Sanguine Estate Heathcote | SC Pannell McLaren Vale | Seaview McLaren Vale | Serafino Wines McLaren Vale | Seville Hill Yarra Valley | Sittella Swan Valley | Smallfry Wines Barossa Valley | Sons of Eden Barossa Valley | Spook Hill Wines Riverland | St Hallett Barossa Valley | Stakehill Estate Peel | Stanton and Killeen Wines Rutherglen | Starvedog Lane Adelaide Hills | Stella Bella Margaret River | Stockman's Ridge Central Ranges Zone | Stuart Wines Heathcote | Summit Estate Granite Belt | Sutherland Estate Yarra Valley | Swings & Roundabouts Margaret River | Symphonia King Valley | Symphony Hill Wines Granite Belt | Tahbilk Nagambie Lakes | Talijancich Swan Valley | Tallavera Grove Winery Hunter Valley | Talunga Adelaide Hills | Tar and Roses Nagambie Lakes | Taylors Clare Valley | TeAro Barossa Valley | Tempus Two Hunter Valley | Ten Minutes by Tractor Mornington Peninsula | Tenafeate Creek Wines Adelaide Plains | Terrel Estate Wines Riverina | The Grove Vineyard Margaret River | The Pawn Wine Company Adelaide Hills | Thomson Estate Riverland | Tim Adams Clare Valley | Tintara McLaren Vale | Tobin Wines Granite Belt | Tokar Estate Yarra Valley | Toppers Mountain New England | Trahna Rutherglen Wines Rutherglen | Trelawney Clare Valley | Tscharke Barossa Valley | Tulloch Hunter Valley | Two Dragons Wine Currency Creek | Underground Winemakers Mornington Peninsula | Upper Reach Vineyard Swan Valley | Vale Vineyard Mornington Peninsula | Vasse Felix Margaret River | Vasse River Wines Geographe | Vinaceous Various | Vinifera Wines Mudgee | Vinous Australia Geelong | Vintara Rutherglen | Wakefield Estate Clare Valley | Wangolina Station Mount Benson | Wallington Wines Cowra | Walter Clappis Wine Co McLaren Vale | Watchbox Wines Rutherglen | Way Wood Wines McLaren Vale | Welshmans Reef Vineyard Bendigo | West Cape Howe Wines Denmark | Westend Estate Riverina | Whale Coast Wines Southern Fleurieu | Whitfield Estate Denmark | Wild Orchids Blackwood Valley | Willoughby Park Denmark | Willow Bridge Estate Geographe | Willunga 100 Wines McLaren Vale | Wilson Vineyard Clare Valley | Windowrie Estate Cowra | Windsors Edge Hunter Valley | Wine by Sam Strathbogie Ranges | Witchmount Estate Sunbury | Woodstock McLaren Vale | Woody Nook Margaret River | Wovenfield Geographe | Wrattonbully Vineyards Wrattonbully | Yacca Paddock Vineyards Adelaide Hills | Yalumba Wine Company Barossa Valley | Yangarra Estate McLaren Vale | Zappa Wines New England | Zilzie Wines Murray Darling | Zonte's Footstep Langhorne Creek |