Nero d'Avola red wine variety in Australia
Nero d'Avola is a red wine variety from Sicily. It makes up most of that island's red wine vineyard.
The Nero in the name obviously refers to the colour of the grapes. d'Avola refers to the town and region of Avola in the south-eastern part of Sicily where this variety produces some fine wines.
Although Nero d'Avola has an alternative name of Calabrese suggesting its origin on the neighboring mainland region of Italy it is doubtful if the variety was ever grown there. This issue is discussed at length in Jancis Robinson's 2012 publication Wine Grapes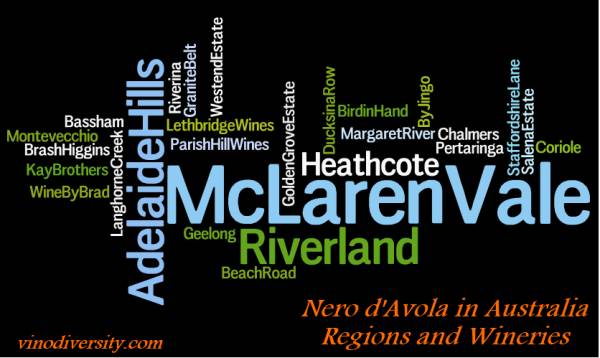 Nero d'Avola in Australia
This variety is one of several from Southern Italy that are of interest to winemakers in warm to hot conditions. As more grapegrowers and winemakers become concerned about climate change they are increasingly looking for wine varieties from Southern Italian Regions rather than the cooler North.
Nero d'Avola is favoured in warmer climates for two reasons. Firstly as a late ripening variety the critical last month of maturation is more likely to be after the hottest part of summer. Steady ripening in this last few weeks of the growing season is a major factor in wine quality.
Secondly the variety seems to be less susceptible to berry damage during heat waves.
I believe this variety has a huge future in Australia. It is suitable for most of the warmer areas of this country and will quickly break out from it's current habitat of mainly McLaren Vale in South Australia.
A possible limitation of the variety is its susceptibility to fungal diseases so that it may not do well in regions where there is rain at harvest time.
Australian Wineries with Nero d'Avola include
Bassham
Riverland
|
Beach Road
Langhorne Creek
|
Bellwether
Heathcote
|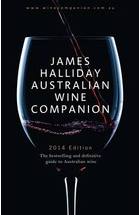 This page recently updated to include new wineries listed in
James Halliday's Wine Companion 2014
Bird in Hand
Adelaide Hills
|
Brash Higgins
McLaren Vale
|
Brown Brothers
King Valley
|
By Jingo
Adelaide Hills
|
Chalmers
Heathcote
|
Coriole
McLaren Vale
|
Ducks in a Row
McLaren Vale
|
Eldorado Road
North East Victoria
|
Golden Grove Estate
Granite Belt
|
Hither and Yon
McLaren Vale
|
Kay Bros Amery
McLaren Vale
|
Lethbridge Wines
Geelong
|
Loom Wine
McLaren Vale
|
Montevecchio
Heathcote
|
Parish Hill Wines
Adelaide Hills
|
Pertaringa
McLaren Vale
|
Politini
King Valley
|
Rosemount
McLaren Vale
|
Salena Estate
Riverland
|
Staffordshire Lane
Riverland
|
Taminick Cellars
Glenrowan
|
Westend Estate
Riverina
|
Wine By Brad
Margaret River
Nero d'Avola and Food
Nero d'Avola wines tend to be savory with firm tannins. The Sicilian origin of this variety suggests some obvious food matches. A
spaghetti puttanesca
with a spicy tomato based sauce might be one match you could try, or perhaps grilled Italian fennel sausages...
Arancini are rice and meat balls and a favourite in Sicily.
Nero d'Avola wine are sometimes likened to Shiraz. I think that the likeness is fairly rough, but it gives you an idea about the range of foods to consider.
Where can I find some Nero d'Avola?
The
Snooth search engine
is good way to find wines from less common varieties.
You can add your location to the search results and you will get a list of retailers near you, or you can find online merchants.