Nero d'avola Wine Variety
From Sicily to Australia this is a
seriously stylish red wine variety
Vinodiversity thinks that this could become the premium red wine variety in Australia.
Nero d'Avola is a red wine variety from Sicily. It makes up most of that island's red wine vineyard.
The Nero in the name obviously refers to the colour of the grapes. d'Avola refers to the town and region of Avola in the south-eastern corner of Sicily where this variety produces some fine wines.
Although Nero d'Avola has an alternative name of Calabrese suggesting its origin on the neighbouring mainland region of Italy it is doubtful if the variety was ever grown there. This issue is discussed at length in Jancis Robinson's 2012 publication Wine Grapes.
Nero d'avola In Australia
Nero sampler six-pack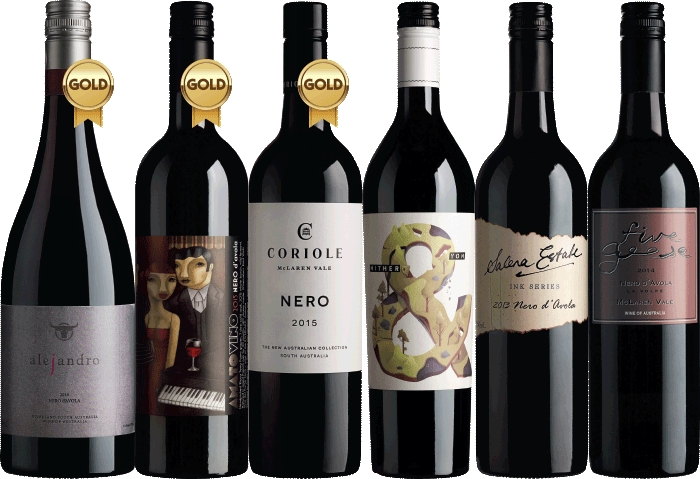 You can find out just how exciting this variety is with this six pack.  Available for shipping to Australian addresses.
You won't believe the price!    Details here
This variety is one of several from Southern Italy that are of interest to winemakers in warm to hot conditions. As more grapegrowers and winemakers become concerned about climate change they are increasingly looking for wine varieties from Southern Italian Regions rather than the cooler North.
Nero d'Avola is favoured in warmer climates for two reasons. Firstly as a late ripening variety the critical last month of maturation is more likely to be after the hottest part of summer. Steady ripening in this last few weeks of the growing season is a major factor in wine quality.
Secondly the variety seems to be less susceptible to berry damage during heat waves.

I believe this variety has a huge future in Australia. It is suitable for most of the warmer areas of this country and will quickly break out from it's current habitats of mainly McLaren Vale and Riverland in South Australia. It has great potential in areas like Bendigo, Heathcote, The Pyrenees and Rutherglen in Victoria, as well as most of the inland regions of New South Wales.

A possible limitation of the variety is its susceptibility to fungal diseases so that it may not do well in regions where there is rain at harvest time.
prize winning Nero's
At the Australian Alternative Varieties Wine Show (AAVWS) in 2016 24 Neros were judged. Five golds, one silver and nine bronze medals were awarded.  Coriole's 2016 Nero d'Avola was awarded the trophy for Best Wine in the show.
The five Gold medal wines were
Brown Brothers 2016 Vintage Release Nero d'Avola

Calabria Family Wines  2015 Private Bin Nero d'Avola

Coriole 2016 Nero d'Avola

Parish Hill Wines 2016 Nero d'Avola Amphora

Thick as Thieves 2015 The Don Nero d'Avola
Amato Vino Margaret River
Bailey's of Glenrowan Glenrowan
Bassham Riverland
Beach Road Langhorne Creek
Bellwether Coonawarra
Bird in Hand Adelaide Hills
Blaxland Wine Group Barossa Valley
Brash Higgins McLaren Vale
Brown Brothers King Valley
Bunyip Hollow North East Victoria
By Jingo Adelaide Hills
Calabria Family Wines Riverina
Chalmers Heathcote
Collins and Co Wines Barossa
Coriole McLaren Vale
Deliquente Wine Riverland
Dell'uva Wines  Barossa Valley
Eldorado Road North East Victoria
Fall from Grace McLaren Vale
Five Geese Hillgrove Wines McLaren Vale
Five o'Clock Project McLaren Vale
Fox Creek Wines McLaren Vale
Fox Gordon Barossa Valley
Golden Grove Estate Granite Belt
Hither and Yon McLaren Vale
Kay Bros Amery McLaren Vale
Lethbridge Wines Geelong
Lino Ramble McLaren Vale
Montevecchio Heathcote
Mount Eyre Vineyards Hunter Valley
Mount Horrocks Clare Valley
Parish Hill Wines Adelaide Hills
Pertaringa McLaren Vale
Politini King Valley
Pyren Vineyard Pyrenees
Sabella Wines McLaren Vale
Salena Estate Riverland
SAMU Riverland
Santolin Yarra Valley
Scott and La Prova Adelaide Hills
Sherrah McLaren Vale
Taylors Clare Valley
Tellurian Heathcote
Thick as Thieves Yarra Valley
Unico Zelo Adelaide Hills
Vigna Bottin McLaren Vale
Zerella (la Gita) McLaren Vale
---
More Italian red wine varieties used in Australia
Aglianico
|
Barbera
|
Canaiolo Nero
|
Colorino
|
Corvina
|
Dolcetto
|
Lagrein
|
Mammolo
|
Marzemino
|
Montepulciano
|
Nebbiolo
|
Negroamaro
|
Nero d'Avola
|
Primitivo
|
Refosco
|
Rondinella
|
Sagrantino
|
Sangiovese
|
Teroldego
|
Zinfandel
Nero d'avola and food
The richness and spiciness of Nero d'Avola can be used to accompany some of the sweet and sour Sicilian Dishes such as Caponata a Sicilian dish consisting of a cooked vegetable salad made from chopped fried eggplant, green olives, capers and celery seasoned with sweetened vinegar.
Pasta Norma, made with eggplants is another Sicilian dish to pair with Nero. These wines are often soft and drinkable making them versatile for when and with what you serve them, but my recommendation is that they go well with slightly spicy cuisine such as Moroccan tagines.

Caponata. Source By Massimoweb - Own work, CC BY-SA 3.0, https://commons.wikimedia.org/w/index.php?curid=16891038
More Italian red wine varieties used in Australia
Aglianico
|
Barbera
|
Canaiolo Nero
|
Colorino
|
Corvina
|
Dolcetto
|
Lagrein
|
Mammolo
|
Marzemino
|
Montepulciano
|
Nebbiolo
|
Negroamaro
|
Nero d'Avola
|
Primitivo
|
Refosco
|
Rondinella
|
Sagrantino
|
Sangiovese
|
Teroldego
|
Zinfandel
Learn More about Grape varieties
Get your copy of
De Long's Wine Grape Varietal Table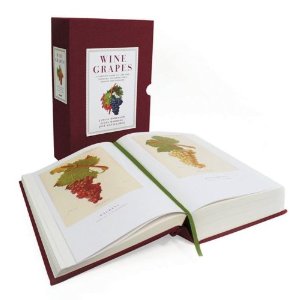 Wine Grapes by Jancis Robinson, Julia Harding and José Vouillamoz
Want know more ABout Nero d'Avola?
Before you go
Please subscribe to my newsletter...

I promise not to abuse your inbox. You will receive no more than three emails per month, most often just one, and you can unsubscribe at any time.

Try this six-pack of alternative reds from our online wine retail partner. Six wines, six regions, six top producers. Just $99. Details here.
Hint: Even cheaper bottle price by the dozen