Lagrein Wine in Australia
Lagrein is an Northern Italian red wine variety that has shown great promise in Australia.
This Italian red wine variety is prized for producing wines with firm tannins and good colour, particularly in its native Trentino Alto Aldige* region of Northern Italy.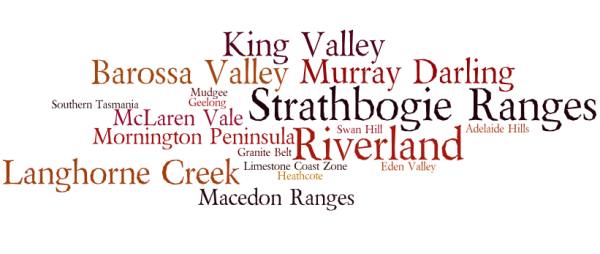 Regions In Australia with Lagrein Variety
It is still early days for Lagrein wine in Australia, but Cobaw Ridge Winery in the Macedon Ranges had outstanding results with the variety over several vintages, and now there are about 30 producers and some very good wines
Lagrein can be made into varietal wines but it is also used in blends. Amietta use it in a blend with Shiraz, while Ben Glaetzer has made an excellent blend of 70% Dolcetto and 30% Lagrein.
The flavour of Lagrein is described as
Sour plums with a touch of grass and bitter cherries some dark chocolate and a deep dark colour - Oz Clarke in Grapes and Wines
Tannic, spicy, tobacco, black plums, grassy herbaceous, earthy, fragrant - Steve De Long
Wineries Using Lagrein in Australia
919 Wines Riverland
Amadio Adelaide Hills
Amietta Vineyard Geelong
Antcliff's Chase Wines Strathbogie Ranges
Bassham Riverland
Bogie Man Wines Strathbogie Ranges
Bremerton Langhorne Creek
Brown Brothers King Valley
Chalmers Heathcote
Cirami Estate Riverland
Cobaw Ridge Macedon Ranges
Dell'uva Wines  Barossa Valley
Dos Rios Swan Hill
Di Lusso Estate Mudgee
Domain Day Barossa Valley
Fowles Wine Strathbogie Ranges
Gisborne Peak Macedon Ranges
Hand Crafted by Geoff Hardy McLaren Vale
Hartz Barn Wines Eden Valley
Heartland Wines Limestone Coast Zone
Jacobs Creek Barossa
John Gehrig Wines King Valley
Kangaroo Hills Macedon Ranges
Karanto Vineyards Langhorne Creek
King River Estate King Valley
Lazzar Wines Mornington Peninsula
Montevecchio Heathcote
Oak Works Riverland
Paulmara Estate Barossa Valley
Piako Vineyards Murray Darling
Point Leo Road Vineyard Mornington Peninsula
Regent Wines Swan Hill
Ridgemill Estate Granite Belt
Rossiters Murray Darling
Seppletsfield Barossa Valley
Salena Estate Riverland
Serafino Wines McLaren Vale
Sugarloaf Ridge Southern Tasmania
Wine by Sam Strathbogie Ranges
Zonte's Footstep Langhorne Creek
Lagrein Wine and Food
The Italian origin of the variety suggests Italian food but I would suggest it would go better with heartier Italian dishes such as osso bucco, carbonara (beef braised in red wine) or perhaps with a grilled steak with anchovy butter. You could also try Lagrein with sharp vintage cheese, crackers and dried fruit.
Keep in touch with Vinodiversity
Just enter your details below and you will receive an occasional newsletter letting you know all about the alternative varietal wine scene in Australia and beyond.