Nebbiolo red wine variety in Australia
If you like difficult and eccentric wines then this variety is for you. Even British wine writer Oz Clarke says
For years I couldn't get to grips with Nebbiolo
Nebbiolo grapes ready for processing at Virago Vineyard in the Beechworth Region, NE Victoria
Nebbiolo in Italy
Nebbiolo is a red grape variety grown in the Piedmont region of North West Italy.
It is the variety used to make the highly regarded Barolo and Barbaresco wines, named after the Piedmontese villages of their origin.
Some is grown in neighbouring Lombardy as well.
There is some Nebbiolo in California and Washington State but the general consensus in the US is that it has not been a successful import.

Piedmont in NW Italy.
Nebbiolo in Australia
In Australia this variety, like many other Italian wine varieties, is attracting some interest.
Nebbiolo has the reputation of being a difficult grape to grow, as many Australian winegrowers will tell you. Consumers too find their first introduction to the variety a little strange. The colour, aroma and mouthfeel are not what your average Shiraz drinker is used to.
It is a variety that needs to matched closely with the appropriate microclimate. It has been tried in most Australian wine regions but it seems that the most successful Australian Nebbiolo wines as far as critics and judges have come from The Mornington Peninsula, and King Valley in Victoria and the Adelaide Hills, McLaren Vale and Clare Valley in South Australia.
Those growers and winemakers who have persisted have been rewarded with some excellent Australian Nebbiolo wines.
A T Richardson Wines Grampians
Adelina Wines Clare Valley
Aldinga Bay McLaren Vale
Alpha Box and Dice McLaren Vale
Amato Vino Margaret River
Amulet Vineyard Beechworth
Arlewood Estate Margaret River
Arrivo Adelaide Hills
Bacchus Hill Sunbury
Ballandeen Estate Granite Belt
Barrecas Geographe
Black Stump Wines Clare Valley
Boireann Granite Belt
Bowe Lees Adelaide Hills
Brokenwood Wines Hunter Valley
Brown Brothers King Valley
Capel Vale Geographe
Cappa Stone Murray Darling
Carlaminda Estate Geographe
Carlei Estate Yarra Valley
Carpe Diem Margaret River
Casa Freschi Langhorne Creek
Castagna Vineyard Beechworth
Ceres Bridge Estate Geelong
Chain of Ponds Adelaide Hills
Chestnut Hill Vineyard Port Phillip Zone
Clovely Estate South Burnett
Coriole McLaren Vale
Cupitt's Winery Shoalhaven Coast
Dal Zotto Estate King Valley
Darling Estate King Valley
David Hook Wines Hunter Valley
Deep Woods Estate Margaret River
Delatite Winery Upper Goulburn
Della Fay Margaret River
Di Lusso Estate Mudgee
Di Sciascio Family Wines Heathcote
Domaine De Binet Hunter Valley
Domenica Beechworth
Dromana Estate Mornington Peninsula
Ferguson Falls Winery Geographe
Fermoy Estate Margaret River
First Drop Barossa Valley
Fletcher Pyrenees
Flying Fish Cove Margaret River
Freeman Vineyards Hilltops
Galli Estate Heathcote
Geographe Wines Geographe
Giaconda Beechworth
Glenwillow Vineyard Bendigo
Goodman Wines Heathcote
Grant Burge Barossa Valley
Grove Estate Wines Hilltops
Happs Margaret River
Hay Shed Hill Wines Margaret River
Henschke Eden Valley
Hidden Creek Granite Belt
Indigo Wine Company Beechworth
Jasper Hill Heathcote
Kenton Hill Adelaide Hills
Kirrihill Estates Clare Valley
La Cantina King Valley King Valley
Lashmar Kangaroo Island
Longview Vineyard Adelaide Hills
Louee Wines Mudgee
Luke Lambert Wines Yarra Valley
McIvor Estate Heathcote
Merkel King Valley
Millbrook Winery Perth Hills
Montefalco Vineyard Porongurup
Monument Vineyard Central Ranges Zone
Moondarra Gippsland
Mount Avoca Pyrenees
Mount Cole Wineworks Grampians
Mount Franklin Estate Macedon Ranges
Mount Surmon Clare Valley
Mount Towrong Macedon Ranges
Mr Barval Fine Wines Margaret River
Next Crop Wines Langhorne Creek
Ngeringa Adelaide Hills
Nillumbik Estate Yarra Valley
Oak Works Riverland
Out of Step Yarra Valley
Oxenbury Beechworth
Parish Hill Wines Adelaide Hills
Peel Ridge Peel
Pengally Lane Wines Bendigo
Philip Lobley Wines Upper Goulburn
Pizzini Wines King Valley
Pokolbin Estate Hunter Valley
Pondalowie Bendigo
Prancing Horse Estate Mornington Peninsula
Primo Estate McLaren Vale
Protero Adelaide Hills
Provenance Wines Geelong
Quealy Mornington Peninsula
Ravensworth Wines Canberra
Red Feet King Valley
Ringer Reef Winery Alpine Valleys
Ros Ritchie Upper Goulburn
Rowlee Wines Orange
Rowsley Fault Vineyards Geelong
Rutherglen Estates Rutherglen
Sandhurst Ridge Bendigo
SC Pannell McLaren Vale
Scaffidi Estate Adelaide Hills
Seaview McLaren Vale
Semprevino Adelaide Hills
Serafino Wines McLaren Vale
serrat Yarra Valley
Shobbrook Wines Barossa Valley
Signor Vino Riverina
Soumah Yarra Valley
Spider Bill Wines Adelaide hills
Spook Hill Wines Riverland
Star Lane Beechworth
Starvedog Lane Adelaide Hills
Stefano Lubiano Southern Tasmania
Stuart Wines Heathcote
Sum of the Few Pyrenees
Symphony Hill Wines Granite Belt
Tar and Roses Nagambie Lakes
Tenafeate Creek Wines Adelaide Plains
The Hairy Arm Heathcote
Thick as Thieves Yarra Valley
Thorn-Clarke Wines Barossa Valley
Toppers Mountain New England
Trandari Hilltops
Traviati Beechworth
Trentham Estate Murray Darling
Unico Zelo Adelaide Hills
Vinea Marson Heathcote
Vineyard 28 Geographe
Virago Beechworth
Warrenmang Vineyard Pyrenees
Way Wood Wines McLaren Vale
Yalumba Wine Company Eden Valley
See this article about the trials and tribulations of establishing a Nebbiolo vineyard in Beechworth
the flavour of Nebbiolo
Nebbiolo makes wine with a distinct brown colour. The wines are usually long lived and often reward cellaring for a decade or so.
In some ways Nebbiolo wines resemble Pinot Noirs in the way that they age into wines with soft rich tannins. The wines have rich flavours with a nose most often described as 'tar and roses'.
Some other flavours and aromas to look for are spicy, chocolate, leathery and earthy flavours. Think of a forest floor.
Nebbiolo and food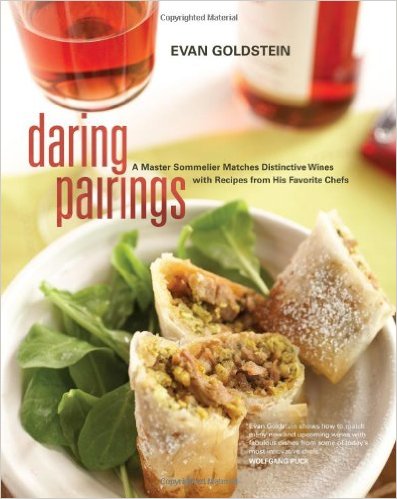 Daring pairings suggests food pairing for Alternative varietal wines
In Daring Pairings Evan Goldstein recommends pairing Nebbiolo with Braised Duck Leg Ragu with Chestnut Polenta and Green Olives.
As a general rule of thumb, any food you could serve with mushrooms is suitable to accompany Nebbiolo. Suggested other food matches with Nebbiolo wines are grilled steak, slow cooked winter casseroles and game dishes.
At a long lunch for wine makers prepared by Mildura chef Stefano di Pieri I enjoyed braised ox cheek with polenta as a dish specially designed to accompany an award winning Nebbiolo.
Brasato al Barolo is a classic dish of a large piece of beef slowly braised in a Barolo wine.  You can cheat a little by not using 100 Euro a bottle wine as discussed in this Q and A.
For an authentic touch you could try this variety with a Bollito misto, which is a Northern Italian dish of mixed boiled meats, sausages and offal served with a garlicky basil sauce.

More Italian red wine varieties used in Australia
Aglianico
|
Barbera
|
Canaiolo Nero
|
Colorino
|
Corvina
|
Dolcetto
|
Lagrein
|
Mammolo
|
Marzemino
|
Montepulciano
|
Nebbiolo
|
Negroamaro
|
Nero d'Avola
|
Primitivo
|
Refosco
|
Rondinella
|
Sagrantino
|
Sangiovese
|
Teroldego
|
Zinfandel
Before you go
Please subscribe to my newsletter...

I promise not to abuse your inbox. You will receive no more than three emails per month, most often just one, and you can unsubscribe at any time.