Mclaren Vale Wine Region
The McLaren Vale Wine Region is blessed with a wonderful climate for viticulture. it has rolling hills and a variety of suitable soils for grapegrowing and the cooling influence of the Southern Ocean.
the location
McLaren Vale is located just south of Adelaide in South Australia.
It is part of the Fleurieu Zone along with the Currency Creek, Langhorne Creek, Kangaroo Island and Southern Fleurieu wine regions.
Situated on rolling plains between the Mount Lofty Ranges and the sea, the area is warm enough to ripen almost all varieties, but the maritime influence tempers the worst of the summer heat. No wonder there are more than a hundred wineries operating in the region, and most are producing excellent wine.
The climate also suits olives and a few wineries have a sideline of producing olive oil.
The location so close to the State capital is a mixed blessing.  While it is easy for visitors to come from Adelaide the region is under threat of being encroached on by suburban development from nearby Adelaide.
Want to learn More About Australian Wine regions?
Click on the images above and right to find out more about these resources
Wine varieties in Mclaren Vale
The benign viticultural environment here is suitable for many varieties and until recently the region was best known for its red wines, notably Shiraz, Cabernet Sauvignon as well its Grenache Shiraz Mourvedre (GSM) blends. 
But now the region is abuzz with a whole range of new varieties. In the 1990s a few wineries such as Coriole broke out of the traditional mould and started producing wine from Italian varieites notably Sangiovese. Early in the current century a whole new wave of alternative varieties have been introduced and are now flourishing.
For example Coriole were the first winery to release Fiano in Australia, while their neighbours at Olivers Taranga Vineyards are the first with the Galician variety Mencia.

McLaren Vale now has an amazing culture of innovative winemakers introducing new varieties, new winemaking techniques (or reviving ancient ones like amphora fermentation) and creating groundbreaking marketing methods.
Aldinga Bay Barbera, Petit verdot, Nebbiolo, Ruby Cabernet, Sangiovese, Vermentino
Alpha Box and Dice Barbera, Dolcetto, Muscadelle, Nebbiolo, Sangiovese, Tinta Negra Mole, Tempranillo
Aphelion Sagrantino
Battle of Bosworth Wines Graciano, Touriga
Beach Road Aglianico, Greco, Fiano, Nero d'Avola, Petit verdot, Vermentino, Zinfandel
Beechtree Wines Arneis, Marsanne, Petit verdot
Bent Creek Vineyards Gamay, Moscato, Rossola Nera
Big Easy Radio Fiano, Malbec, Tempranillo, Touriga, Vermentino
Bondar Wines Fiano
Brash Higgins Nero d'Avola
Byrne and Smith Cabernet franc, Tempranillo
Cape Barren Wines Gruner Veltliner
Chalk Hill Winery Barbera, Cabernet franc, Moscato, Sangiovese, Savagnin, Tempranillo, Vermentino
Chapel Hill Roussanne, Sangiovese, Savagnin, Tempranillo, Vermentino
Coates Wines Malbec, Sangiovese, Touriga
Collins and Co Wines Fiano
Conte Estate Wines Aglianico, Gewurztraminer, Lagrein, Vermentino
Coriole Barbera, Chenin blanc, Fiano, Negroamaro, Nebbiolo, Nero d'Avola, Picpoul, Prosecco, Sangiovese, Sagrantino
Cradle of Hills Aglianico, Cinsaut
Cragg Cru Fiano, Touriga
D'Arenberg Aglianico, Arneis, Chambourcin, Cinsaut, Marsanne, Mencia, Petit verdot, Roussanne, Sagrantino, Souzao, Tempranillo, Tinto Cao
Doc Adams Savagnin, Tempranillo
Dowie Doole Aglianico, Chenin blanc, Graciano, Petit verdot, Tempranillo, Vermentino
ess&see Sangiovese, Tempranillo, Vermentino
Five Geese Hillgrove Wines Nero d'Avola
Five o'Clock Project Durif, Montepulciano, Nero d'Avola, Sagrantino, Sangiovese, Tannat, Touriga, Vermentino
Foggo Wines Cinsaut
Fox Creek Wines Nero d'Avola, Vermentino
G Pattriti & Co Arneis, Barbera, Moscato, Savagnin, Saperavi, Trincadeira
Gemtree Vineyards Savagnin, Tempranillo
Gilligan Marsanne, Roussanne
Graham Stevens wines Tempranillo
Hancock and Hancock Touriga
Hand Crafted by Geoff Hardy Fiano, Graciano, Lagrein, Roussanne, Savagnin, Tannat, Tempranillo, Teroldego, Zinfandel
Hastwell and Lightfoot Cabernet franc, Tempranillo, Vermentino
Head in the Clouds Graciano
Hedonist Wines Sangiovese, Tempranillo
Hither and Yon Aglianico, Petit Verdot, Nero d'Avola, Tannat, Tempranillo
Hugh Hamilton Nero d'Avola, Petit verdot, Sangiovese, Saperavi, Tempranillo
Inkwell Tempranillo, Zinfandel
Kangarilla Road Fiano, Montepulciano, Sangiovese, Savagnin, Tinta Negra Mole, Vermentino, Zinfandel
Kay Bros Amery Nero d'Avola
Koltz Sagrantino, Sangiovese
La Curio Aglianico, Sangiovese, Zinfandel
Lino Ramble Bastardo, Fiano, Marsanne, Nero d'Avola, Roussanne
Loom Gruner Veltliner
Maximus Wines Graciano, Tempranillo
Maxwell Wines Malbec
McCarthy's Orchard Nero d'Avola
Middlebrook Estate Barbera, Sangiovese
Ministry of Clouds Tempranillo
Mitolo Malbec, Sagrantino, Sangiovese, Vermentino
Monterra Nero d'Avola, Tempranillo
Mr Riggs Wine Company Montepulciano, Petit verdot, Tempranillo
Nashwauk Tempranillo
Olivers Taranga Fiano, Mencia, Sagrantino, Tempranillo, Vermentino
Oxenbury Estate Tempranillo
Paxton Graciano, Tempranillo
Pertaringa Aglianico, Graciano, Nero d'Avola, Petit verdot, Tannat, Tempranillo
Pirramimma Chenin blanc, Colombard, Petit verdot, Tannat
Possums Vineyard Malbec
Primo Estate Barbera, Colombard, Garganega, Nebbiolo, Sangiovese
Renards Folly Sangiovese
Rewine Fiano
Richard Hamilton Wines Marsanne, Roussanne
Rudderless Wines Graciano, Malbec
Sabella Wines Aglianico, Colorino, Nero d'Avola
Samuels Gorge Graciano, Nero d'Avola, Tempranillo
SC Pannell Nebbiolo, Tempranillo, Touriga
Scarpantoni Estate Aglianico, Barbera, Chenin Blanc, Durif, Gamay, PinotBlanc, Vermentino
Seaview Barbera, Fiano, Nebbiolo, Sangiovese, Tempranillo, Vermentino
Serafino Wines Barbera, Fiano, Lagrein, Montepulciano, Nebbiolo, Tempranillo, Vermentino, Zinfandel
Sherrah Fiano, Nero d'Avola, Tempranillo
Shingleback Tempranillo
Tapestry Touriga
The Hedonist Sangiovese, Tempranillo
Three Dark Horses Touriga
Ulithorne Marsanne, Graciano, Tempranillo
Vigna Bottin Barbera, Fiano, Nero d'Avola, Sangiovese, Vermentino
Way Wood Wines Cabernet franc, Montepulciano, Nebbiolo, Sangiovese, Tempranillo
Willunga 100 Wines Tempranillo
Wirra Wirra Tempranillo, Touriga
Woodstock Dolcetto, Lagrein, Montepulciano, Tempranillo
Yangarra Estate Cinsaut, Carignan, Graciano, Roussanne, Tempranillo
Zerella (la Gita) Arneis, Barbera, Fiano, Nero d'Avola, Sangiovese
Last Update 10 April 2018
The rolling hills of Mclaren Vale facing the Gulf of Saint Vincent
Visiting Mclaren vale
This region is easily reached as a day trip from Adelaide.  But you will enjoy your time here more if you stay for a couple of nights.  After all there are dozens of cellar doors to visit and the scenery is gorgeous.
You will find plenty of restaurants and pubs serving the local wine as well.
Use the search box below to check out the accommodation options for your visit
Try this six pack from our wine merchant partner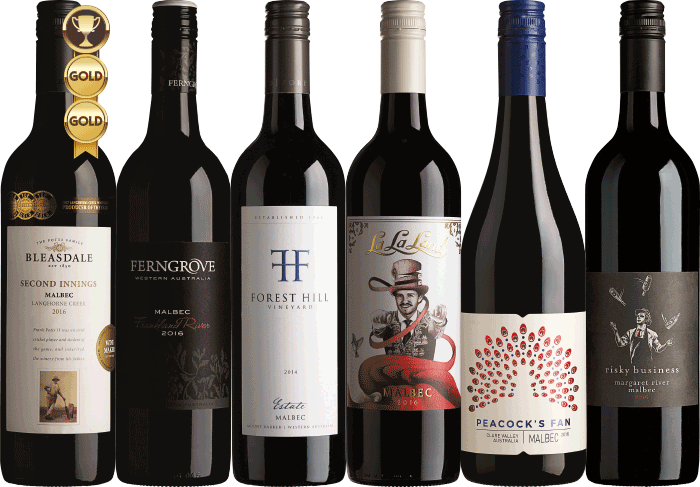 Six bottles of beautiful Malbec.
 Just over $17 per bottle from Vinodiversity's online wine partner.
Even cheaper if you order a dozen!
Was this info what you wanted?  

Use the search box below to find more.
Before you go
Please subscribe to my newsletter...

I promise not to abuse your inbox. You will receive no more than three emails per month, most often just one, and you can unsubscribe at any time.