Petit Manseng WHite Wine Variety
An up and coming white wine variety for Australia
Six varieties are contending for the most popular of the emerging white wine variety in Australia
The other contenders are Arneis, Gruner Veltliner, Fiano, Savagnin and Vermentino.
As at the end of the 2106 I reckon Fiano is ahead.  But it is a tight race.
Petit Manseng in France and elsewhere
In SW France it is the mainstay variety of the Jurancon and the Pacherenc du Vic-Bilh appellations.
Jurancon is to the south of the city of Pau. The region is at 300m altitude and moderately cool. Thirty km or so to the north is Pacherenc du Vic-Bilh, around Madiran, more famous for its Tannat based red wines. Petit manseng is also grown in the Basque regions of Spain.
Sweet, moelleux (semi-sweet) and dry wines are made from Petit Manseng in these appellations. The sweet wines are most often made by allowing the grapes to dry to a semi raisined state on the vine (passerillage) rather than by using Botrytis.
Petit manseng is grown for its floral fruity flavours along with high acidity and is increasing in popularity in the Languedoc and in California. It is also popular in Uruguay where it was introduced by Basque colonists along with Tannat.
Petit Manseng IN Australia
Peter Read, former owner of Symphonia wines in NE Victoria championed the variety in Australia in the 1980s and 1990s. The Symphonia vineyard is now owned by Sam Miranda. He has retained the Symphonia label for the alternative varieties produced at that vineyard.
I think that the variety has potential here. Like most aromatic whites care has to be taken to get enough fruit flavours into dry wines without overdoing it. Sweet and semi sweet wines (apart from a famous Crouchen Riesling) struggle to find a market in Australia.

The wineries in the list below all produce good dry white wines from the variety. While Petit Manseng is starting well behind the new fashionable niche white varieties of Fiano, Arneis and Vermentino I reckon there is a definite future for the variety in Australia.

919 Wines Riverland
Albert River Queensland Coastal
Bassham Riverland
Bochara Henty
Calico Town Rutherglen
Chrismont King Valley
Crittenden at Dromana Mornington Peninsula
Fighting Gully Road Beechworth
Gapsted Alpine Valleys
Gestalt Wines Adelaide Hills
Mansfield Wines Mudgee
Marq Margaret River
Oak Works Riverland
Ringer Reef Winery Alpine Valleys
Savina Lane Granite Belt
Symphonia King Valley
Symphony Hill Wines Granite Belt
Toppers Mountain New England
Whistling Kite Riverland
Word of Mouth Wines Orange
Learn More about Grape varieties
Get your copy of
De Long's Wine Grape Varietal Table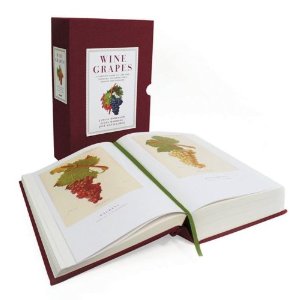 Wine Grapes by Jancis Robinson, Julia Harding and José Vouillamoz
Alex Russell Wines Riverland
Amato Vino Margaret River
Artwine Adelaide Hills
Ballandeen Estate Granite Belt
Banrock Station Riverland
Bassham Riverland
Beach Road Langhorne Creek
Bike and Barrel Alpine Valleys
Bilgavia Wines Hunter Valley
Billy Button Alpine Valleys
Blue Poles Vineyard Margaret River
Bremerton Langhorne Creek
Chalmers Heathcote
Chrismont King Valley
Cirami Estate Riverland
Collins and Co Wines Mount Benson
Comans and Co Hunter Valley
Coriole McLaren Vale
Dell'uva Wines  Barossa Valley
Drakesbrook Wines Peel
Dryridge Estate Central Ranges Zone
Flame Hill Queensland Zone
Foster e Rocco Heathcote
Fox Gordon Barossa Valley
Galli Estate Heathcote
Gapsted Alpine Valleys
Grand Casino Riverland
Green Door Wines Geographe
Hand Crafted by Geoff Hardy McLaren Vale
Hart and Hunter Hunter Valley
Heritage Estate Granite Belt
Higher Plane Margaret River
Jacobs Creek Barossa Valley
Jericho Adelaide hills
Jones Winery and Vineyard Rutherglen
Juniper Estate Margaret River
K1 by Geoff Hardy Adelaide Hills
Kangarilla Road McLaren Vale
Karanto Vineyards Langhorne Creek
Kirrihill Estates Clare Valley
L'Enologa Murray Darling
Larry Cherubino Margaret River
Lino Ramble McLaren Vale
Marq Margaret River
Montevecchio Heathcote
Morrisons of Glenrowan Glenrowan
Mount Eyre Vineyards Hunter Valley
Oak Valley Estate Murray Darling
Oatley Wines Mudgee
Olivers Taranga McLaren Vale
Out of Step Yarra Valley
Parish Hill Wines Adelaide Hills
Pikes Clare Valley
Redbank Victoria King Valley
Rutherglen Estates Rutherglen
Salena Estate Riverland
Saltram Barossa Valley
SAMU Riverland
Santa d'Sas King Valley
Sassafras Canberra
Savina Lane Granite Belt
Scott and La Prova Adelaide Hills
Seaview McLaren Vale
Section 45 Adelaide Hills
Serafino Wines McLaren Vale
Signor Vino Riverina
Stefano di Pieri Murray Darling
Stomp Hunter Valley
Summit Estate Granite Belt
Sutton Grange Winery Bendigo
Symphony Hill Wines Granite Belt
Taylors Clare Valley
Tellurian Heathcote
Travertine Estate Hunter Valley
Unico Zelo Adelaide Hills
Vigna Bottin McLaren Vale
Wise Wine Margaret River
Witches Falls Winery Granite Belt
Zerella McLaren Vale
Petit Manseng and Food
The aromatic nature of dry wines made from Petit Manseng could be paired with lightly spiced Asian dishes, say Thai style prawns with coriander, lemon grass and ginger, sliced fish and green curry.
More generally any food that you would pair with Riesling would be suitable.

Give yourself a treat in Springtime.

Steam some fresh asparagus and toss it with some butter and a splash of white wine vinegar.
Don't muck around with elaborate sauces for asparagus, allow the natural flavour to express itself.

Serve as an entree with some chilled Petit manseng.

If you find a bottle of moelleux style you can enjoy it chilled as an aperitif, or maybe with some foie gras.

Jenny Semmler of 919 wines has made some suggestions for pairing with 919 Wines Petit Manseng
mushroom pate
roast pork with quince
smoked duck breast
fragrant lamb curry
dishes based on pome fruits such as apples and pears (eg apple pie and custard)
Before you go
Please subscribe to my newsletter...

I promise not to abuse your inbox. You will receive no more than three emails per month, most often just one, and you can unsubscribe at any time.

Try this six-pack of alternative reds from our online wine retail partner. Six wines, six regions, six top producers. Just $99. Details here.
Hint: Even cheaper bottle price by the dozen