Fiano White Wine Variety
There is a small but growing number of producers of
Fiano
in Australia. This is likely to change over the next few years as more and more grapegrowers and wineries react to the problems of climate change by using Southern Italian grape varieties. It seems that South Australian winemakers are especially keen on the variety, taking the lead from Coriole who pioneered the Fiano in Australia.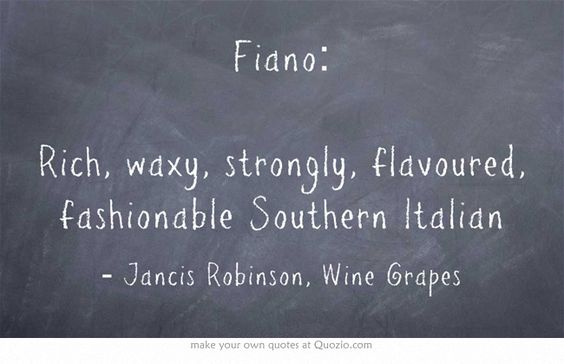 Fiano is a strongly flavoured white grape variety which is used to make the highly regarded Fiano di Avellino in Campania in Southern Italy. Avellino is a wine region in the hills inland from Naples. Fiano is also grown in other southern Italian regions such as Basilicata and the Salentine Peninsula in Puglia.
In the 2007 Vintage in Australia some wineries were picking a month earlier than usual. The trend has continued since then. The consequence is that the temperature is significantly higher during the last month of ripening, and this has an adverse effect on wine quality.
Some Australian vineyards and wineries are choosing later ripening varieties, such as Fiano, Aglianico, Nero d'Avola and Vermentino, as a response to this problem.
Wineries who use Fiano in Australia include
Artwine Clare Valley | Amadio Adelaide Hills | Angove Riverland | Artwine Clare Valley | Ballandeen Estate Granite Belt | Banrock Station Riverland | Bassham Riverland | Beach Road Langhorne Creek | Bilgavia Wines Hunter Valley | Billy Button Wines Alpine Valleys | Bremerton Langhorne Creek | Chalmers Heathcote | Cirami Estate Riverland | Coriole McLaren Vale | Dell'uva Wines Barossa Valley | Ducks in a Row McLaren Vale | Foster e Rocco Heathcote | Fox Gordon Barossa Valley | Galli Estate Sunbury | Gapsted Alpine Valleys | Hand Crafted by Geoff Hardy McLaren Vale | Higher Plane Margaret River | Jacobs Creek Barossa Valley | Jericho Wines Adelaide Hills | Jones Winery and Vineyard Rutherglen | K1 by Geoff Hardy Adelaide Hills | Kangarilla Road McLaren Vale | Karanto Vineyards Langhorne Creek | Kirrihill Adelaide Hills | Littore Family Wines Murray Darling | Marq Margaret River | Montevecchio Heathcote | Morrisons of Glenrowan Glenrowan | Mount Eyre Vineyards Hunter Valley | Oak Valley Estate Murray Darling | Occams Razor Heathcote | Olivers Taranga McLaren Vale | Parish Hill Wines Adelaide Hills | Parous Barossa Valley | Pikes Clare Valley | Rosemount McLaren Vale | Rutherglen Estates Rutherglen | Salena Estate Riverland | Saltram Barossa Valley | Scott Winemaking Adelaide Hills | Seaview McLaren Vale | Section 45 Adelaide Hills | Serafino Wines McLaren Vale | Seven Ochres Margaret River | Signor Vino Riverina | Stefano di Pieri Murray Darling | Sutton Grange Winery Bendigo | Witches Falls Winery Granite Belt
What does Fiano wine taste like?
De Long's Wine Grape Varietal Table
lists the variety as having the potential to produce light weight wines of moderate to high acidity.
The flavour profile is described as
Nutty, herbal, aromatic, with smoky spicy notes and hazelnuts
---
In her latest book
Vine Grapes
Jancis Robinson describes the variety as
Rich waxy, stringly flavoured fashionable...
---
What I like about the variety is its freshness and light body. It is a suitable alternative to Sauvignon blanc.
Fiano Wines and Food
These crisp dry white wines can be paired with a range of foods. Try them with seafood, pasta dishes or other Italian style cuisine.
Try Fiano with pan fried King George whiting and chips.
Brian St Pierre in this book suggests that Fiano is one white wine variety that goes well with dishes normally associated with red wines such as stuffed eggplant, or rolled veal birds.
Keep in touch with Vinodiversity
Just enter your details below and you will receive an occasional newsletter letting you know all about the alternative varietal wine scene in Australia and beyond.