New white wine varieties in Australia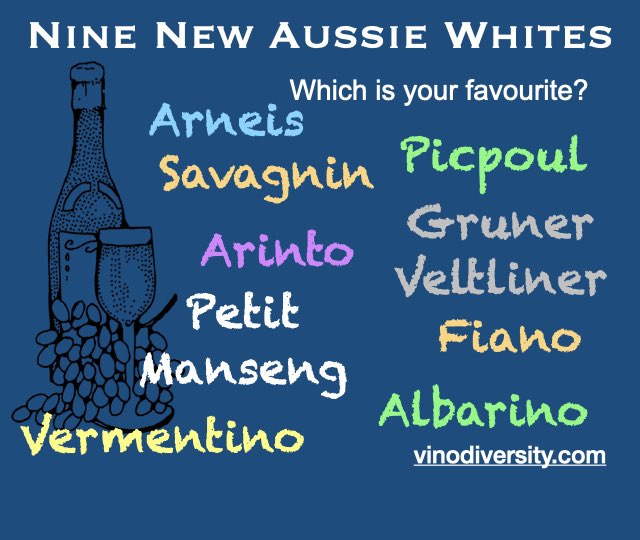 Described below are nine white wine varieties, relatively new to Australia.  All seem to have a future here but which will be the most successful?
Albarino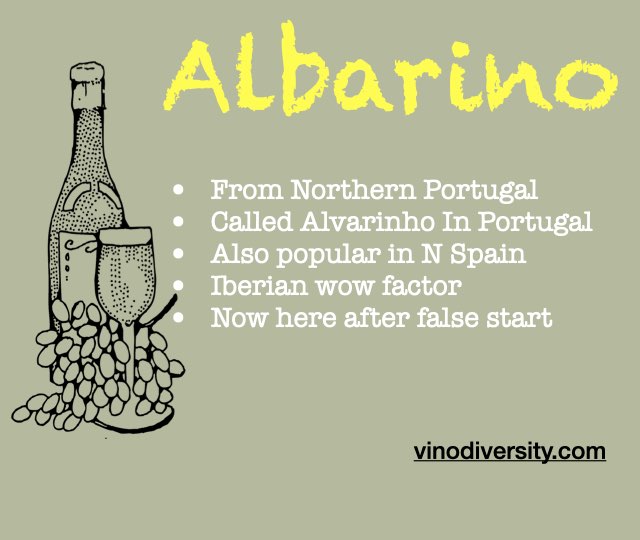 Origin:  Portugal
Distribution: In Portugal it is called Alvarinho and it is grown in northern Spain and elsewhere under the name Albarino.  From the turn of the twenty-first century, Albariño has become fashionable in other wine regions, for example in California, Oregon and Washington State, and in New Zealand.
Global rank: 103 Australian producers: 17
The first attempt to use this variety in Australia became a flop after it was discovered that all of the vines were in fact Savagnin (see below).
Over the past decade a number of wineries are now leading the charge with real Albarino.
Arinto
Origin: Portugal
Distribution: This white wine variety is grown throughout Portugal, and until recently, nowhere else.  It has recently taken off in Australia.
Global rank: 104 Australian producers: 17
It is a little surprising that this variety has stayed under the radar for so long.  Arinto makes excellent wine and it suits a variety of climates including the hot inland irrigated regions of Australia.
See Aussie producers in this list.
ARNEIS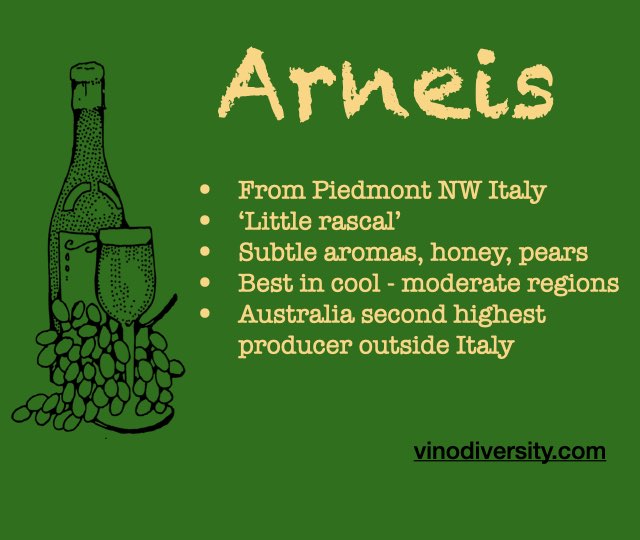 Origin: Italy
Distribution: Arneis is native to the Piedmont region of Northwest Italy. Very little is found outside that region apart from small amounts in Liguria and Sardinia.  Outside of Italy, Australia is the only country where Arneis has taken off.  It is used successfully in many cooler Australian regions. There are small amounts in California and Oregon.
Global rank: 236 Australian producers: 66
One of the earliest of the new white wine varieties to arrive when  alternative varieties started attracting attention in the 1990s. Arneis is now well established with a steadily increasing number of producers.
---
Fiano
Origin: Campania, Italy 
Distribution: This white wine variety is grown in the Campania Region and, to lesser extent, in other Central and Southern Italian regions, including Sicily. Its most famous expression is the Fiano di Avellino DOCG from the region near Naples.  Outside Italy it seems Australia is the only country with significant plantings. 
Global rank: 168 Australian producers: 150
This is the most successful of the new white wine varieties in Australia.  Very heat and drought tolerant but also produces well in more temperate climates. See Aussie producers.
Buy some from our online wine merchant partner
Gruner Veltliner
Origin: Austria
Distribution: This high-quality white wine variety makes up over a third of the vineyard area in Austria. It is also grown extensively in nearby countries of Central Europe.  
Global rank: 40 Australian producers: 56

Grüner Veltliner has rapidly gained popularity in South Australia's Adelaide Hills Region, thanks to the pioneering work of the Hahndorf Hill Winery that has persuaded and cajoled dozens of their neighbours to grow and vinify the variety. It is now grown in many other cooler Aussie regions.  Wines made from this variety have twice won the trophy for Best Wine in Show at the Australian Alternative Varieties Wine Show.
A versatile variety, Grüner Veltliner can make crisp dry whites for early consumption or, if picked a little later, it makes richer dry white styles with potential for ageing. Off-dry and medium-bodied wines are also made. It is most commonly used as a straight varietal.
Petit Manseng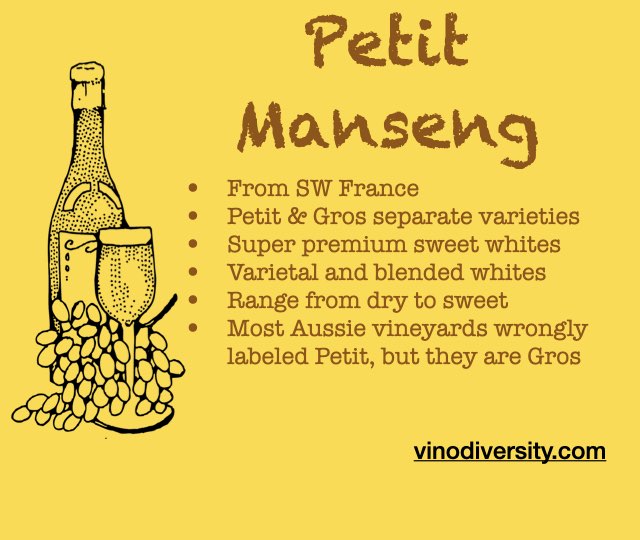 Origin: SW France
Distribution: Found mainly in its home region but with small plantings in Basque regions of Spain, Uruguay and the US. 
Global rank:  221 Australian producers: 25
Yet another varietal mix up has recently been uncovered. For a quarter of a century Aussie winemakers thought they had Petit Manseng when in fact it was Gros Manseng. Nonetheless, some very attractive wines have been made and will now have to be marketed under the correct varietal name, or just Manseng.
Picpoul
Origin: Southern France.
Distribution: Mainly in the Languedoc region of Mediterranean France.
Global rank: 205 Australian producers: 7
Picpoul's high acidity makes it an ideal variety to make crisp dry whites for consumption with seafood. There are some producers who make more floral wines.  It is also valued as a blender to add freshness and sharpness to otherwise flabby wines.
There are just a few Aussie producers, so it remains in the Rare Ozzies category for now.
Savagnin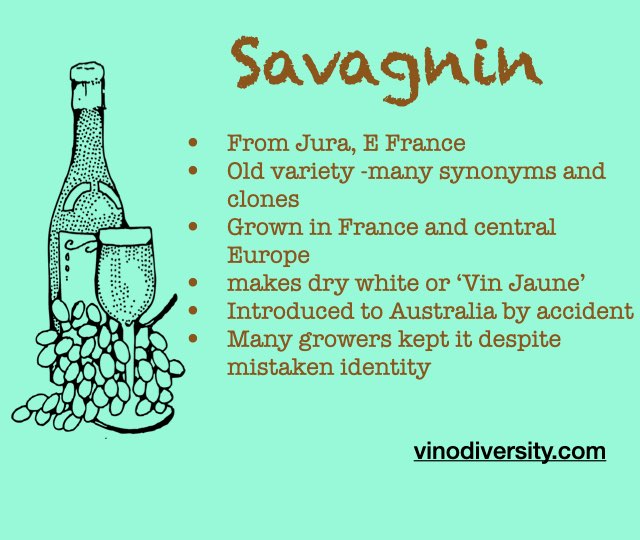 Origin: NE France
Distribution: It is still grown mainly in NE France especially in the Jura region.  It is also present in nearby central European counties.
Global rank:  166 Australian producers: 69
Most of the Australian producers initially thought they were using Albarino until the mistake was discovered in 2009. Some growers removed their false Albarino, but many others saw its potential for making quality dry white wines or else for making skin contact wines or vin jaune styles.
Vermentino
Origin: Probably on the Italian island of Sardinia or possibly on the French island of Corsica
Distribution: Grown widely on those Mediterranean islands and the adjacent land areas of France and Italy.
Global rank:  62 Australian producers: 146
This variety was one of the first in the transfer of attention by Aussie from Northern Italian varieties to southern Italian varieties around the turn of the century. 
The style of Australian Vermentino seem s to have evolved away for the steely dry wines to those with a little more body and more pronounced fruit flavours.
Buy some from our online wine merchant partner

An Offer from our online Wine Shop Partner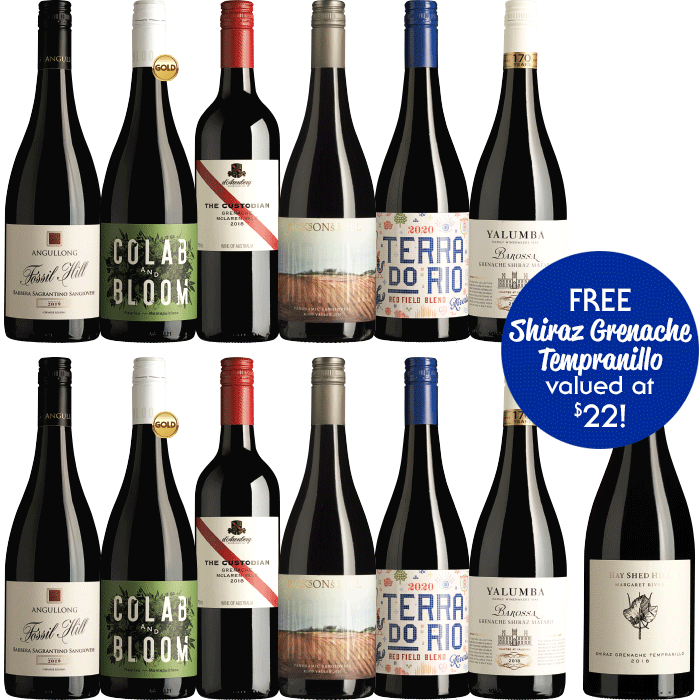 Med Red offer. Includes two bottles of each of six wines, different producers, different regions, different alternative varieties and blends. Plus a bonus bottle. All at an affordable price.
---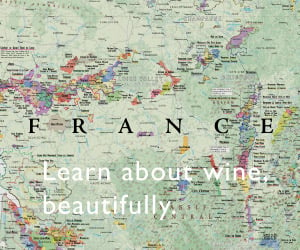 ---
Was this info what you wanted?  

Use the search box below to find more.