Wine Map of Italy
This stunning wine map of Italy will get you up to speed on the incredible number of wine areas in Italy.
It is educational, beautiful and incredibly detailed.
Save time and money by ordering here Now available for postage in Australia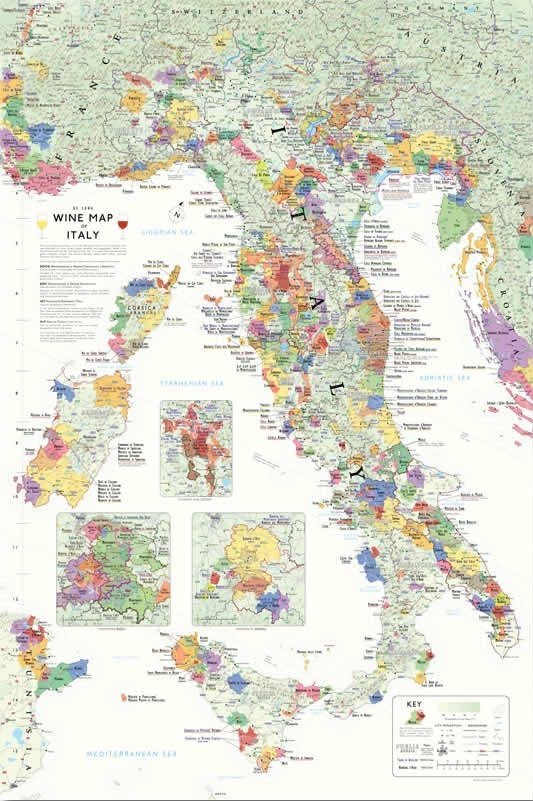 De Long's wine Map of Italy allows you to see at a glance the many Italian regions.
The wine geography of Italy's wine regions is very complex. There are 21 Regions, from Abruzzo to Veneto - these are the administrative regions of Italy as well. Within those regions there are over 350 DOCGs, and DOCs.
Check out the detail in the image below
Here's what you get
The map illustrated above.
350 different wine areas mapped.
Incredible detail and beautiful laayout.
Includes all of Italy and the islands of Sicily and Sardegna.
Adjacent regions in France, Switzerland, Slovenia and Croatia included.
Size is 24in X 36in. (That's about 600mm x 900mm)
Printed on quality paper, suitable for framing or laminating
An eight page booklet which serves as an index to the wine regions, DOCGs and DOC's on the map.
Included in the price is postage in Australia.
Order your Italian Wine Map Here
Price $33.00 - Including Postage to an Australian Address
BONUS:
I will be unable to ship any De Long maps, or the varietal table between Friday 5th May and Thursday 12th june. Please order soon if you require any before then.
Order a map or chart from this page and receive a voucher code for 12 months sub to my new digital Vinodiversity Magazine.
If you do not wish to pay online, or wish to order to a New Zealand address please
contact Darby Higgs
to arrange alternative payment options.