Wine Map of Sicily
After years with a reputation for ordinary and sweet wines Sicily is now producing quality wines from some interesting local varieties.
Like in mainland Italy the wine regions of Sicily are a complex tapestry of areas each with distinctive varieties and wines.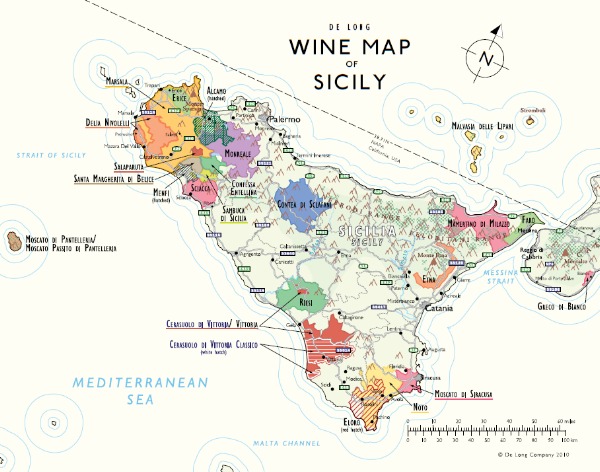 Over recent years more emphasis has been placed on producing quality wines. Many producers are using local varieites such as Cataratto, Grillo, Inzolia, Malvasia and Zibbibo (whites) and Nero d'Avola and Nerello Mascalese for reds.
The De Long Wine Info Series lets you see at a glance where you can find wine in Sicily.
The image above is from the
De Long Wine Map of Italy
. You can buy this stunning wine map along with and index of the 350 plus wine regions (DOCGs and DOCs)
If you wish to download the free PDF version of the Wine Map of Sicily you should visit De Long Wine Info and navigate to maps.
Keep in touch with Vinodiversity
Just enter your details below and you will receive an occasional newsletter letting you know all about the alternative varietal wine scene in Australia and beyond.