Peel Wine Region Western Australia
The Peel Wine Region South of Perth is centered round the rapidly growing City of Mandurah. It stretches from the Indian Ocean to the Darling Range and the Darling plateau beyond.
To the south is the Geographe Wine Region.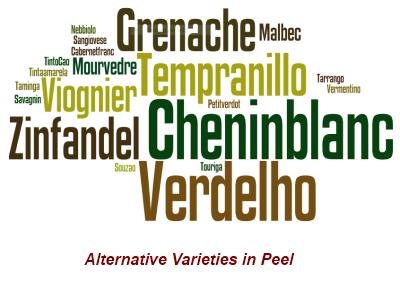 Vineyards were first established here in 1850s but by the end of the nineteenth century the wine industry had disappeared. The modern era began in the middle of the 1970s with the establishment of Peel Estate.
The climate is very warm, some relief being given by sea breezes near the coast, or altitude (up to 300m) inland along the range.
A considerable proportion of the wine in the region is white made from the Western Australian classic varieties Chenin blanc and Verdelho supplemented more recently with Chardonnay.
As is the case in most Australian wine regions Shiraz is the red variety of choice but a significant number of wineries are thinking outside the square. Will Nairn at Peel Estate has had success with Zinfandel, and a few wineries are now using Tempranillo - the rising star of Australian red wine varieties.
Wineries and alternative grape varieties in Peel Wine Region
Amarillo Wines Grenache | Cape Bouvard Chenin blanc, Grenache, Verdelho | Concotton Creek Chenin blanc, Zinfandel | Drakesbrook Wines Cabernet franc, Grenache, Malbec, Mourvedre, Petit verdot, Sangiovese, Savagnin, Tempranillo, Viognier | Emmetts Crossing Wines Malbec, Verdelho | Hotham Ridge Winery Chenin blanc, Tempranillo, Viognier, Zinfandel | Peel Estate Chenin blanc, Souzao, Tinto Cao, Touriga, Trincadeira, Verdelho, Zinfandel | Peel Ridge Nebbiolo, Tempranillo, Verdelho, Viognier | Raven Wines Tempranillo, Verdelho | Stakehill Estate Chenin blanc, Grenache, Taminga, Tarrango, Tempranillo | Tanglefoot Winery Vermentino , Zinfandel | The Ritual Grenache, Mourvedre, Viognier | Tuart Ridge Chenin blanc, Verdelho | Wandering Brook Estate Chenin blanc, Verdelho | Wandering Lane Zinfandel
Keep in touch with Vinodiversity
Just enter your details below and you will receive an occasional newsletter letting you know all about the alternative varietal wine scene in Australia and beyond.