Zinfandel Wine in Australia
This variety is known as
Zinfandel in California
and as
Primitivo in Puglia
in Southern Italy.
Debate and discussion about the origin of this variety has raged over the past few years, but early in the new millennium it was established that the Californian Zinfandel is genetically identical to the Italian variety Primitivo and also to the obscure Croatian variety Crljenak Kastelanski. The last named was believed to be the oldest provenance and thus the correct name.
In Jancis Robinson's latest book Wine Grapes it is revealed that the correct name for this variety is Tribidrag
How Zinfandel and Primitivo got to their current homes and names is still an open topic, but as Puglia is quite close to Croatia and has a history of trade across the Adriatic it is no surprise that the variety has turned up there.
About Zinfandel Wine
See this article What is so Special About Zinfandel?
Zinfandel has a reputation for being difficult to manage in the vineyard, and it is not user friendly in the winery either, so it seems that wine producers either love it or hate it.
It is prone to uneven ripening even within individual bunches, see the image at right, which presents dilemmas at vintage time. Some winemakers, such as Rick Glastonbury at Kabminye in the Barossa Valley see this as an advantage, allowing wine to be made with complex palate showing a range of ripe and ripening fruit flavours.
This variety is popular in California where it makes all manner of wines, perhaps the best is the rugged dry reds where finesse is not an issue. Most popular is 'white Zin' which is a sweetish pink style that gets short shrift from most serious wine critics.
Some enthusiastic Californian winemakers give it careful treatment including several picking passes and attentive work in the winery followed by oak aging to produce wines of some distinction.
In Australia, Cape Mentelle at Margaret River and Nepenthe in the Adelaide Hills were the first to establish a reputation for producing good Zinfandel wines, but they now have plenty of competitors. It is fair to say that wines from this variety in Australia are a work in progress, but most producers seem to be aiming at a robust red style rather than the sometimes insipid "White Zin" beverage.
Producers of Australian Zinfandel
You can find retailers of Zinfandel near you with this search engine.
Or you might like to find some Primitivo
Arimia Margaret River Margaret River | Baarrooka Strathbogie Ranges | Ballabourneen Wines Hunter Valley | Barrecas Geographe | Beach Road Langhorne Creek | Box Grove Vineyard Nagambie Lakes | Brown Brothers King Valley | Buckshot Vineyard Heathcote | Burge Family Winemakers Barossa Valley | By Jingo Adelaide Hills | Calais Estate Hunter Valley | Cape Horn Vineyard Goulburn Valley | Cape Mentelle Margaret River | Cargo Road Wines Orange | Ceravolo Premium Wines Adelaide Plains | Chapman Valley Wines Central Western Australian Zone | Chateau Tanunda Barossa Valley | Chittering Valley Winery Perth Hills | Coffee Hill Winery Orange | Concotton Creek Peel | De Bortoli Riverina | Donnybrook Estate Geographe | Elderton Barossa Valley | Fratelli Heathcote | Glaymond Wines Barossa Valley | Groom Barossa Valley | Grove Estate Wines Hilltops | Hand Crafted by Geoff Hardy McLaren Vale | Hanging Rock Winery Macedon Ranges | Head in the Clouds McLaren Vale | Hently Farm Wines Barossa Valley | Hotham Ridge Winery Peel | Inghams Skilly Ridge Wines Clare Valley | Inkwell McLaren Vale | Irvine Eden Valley | Jarrah Ridge Winery Perth Hills | jb Wines Barossa Valley | Kabminye Wines Barossa Valley | Kalleske Wines Barossa Valley | Kangarilla Road McLaren Vale | Karanto Vineyards Langhorne Creek | Kimbolton Langhorne Creek | Kingston Estate Riverland | La Curio McLaren Vale | Lambert Estate Barossa Valley | Lethbridge Wines Geelong | Lilac Hill Estate Swan Valley | Lion Mill Vineyards Perth Hills | Longview Vineyard Adelaide Hills | Lowe Family Wines Mudgee | Mandalay Road Geographe | Mansfield Wines Mudgee | Marschall Groom Cellars Barossa Valley | McHenry Hohnen Margaret River | Morrisons of Glenrowan Glenrowan | Murray Street Vineyard Barossa Valley | Nepenthe Adelaide Hills | O'Regan Creek Vineyard and Winery Queensland Coastal | Oak Works Riverland | Old Caves Granite Belt | Olssens of Watervale Clare Valley | Peel Estate Peel | Pepper Tree Wines Orange | Petersons Glenesk Estate Mudgee | Phillips Estate Pemberton | Piggs Peake Winery Hunter Valley | Rigel Wines Mornington Peninsula | Riverbank Estate Swan Valley | Robinvale Wines Murray Darling | Roenfeldt Hill Barossa Valley | Romavilla Roma | Rookery Wines Kangaroo Island | Rowsley Fault Vineyards Geelong | Rusden Wines Barossa Valley | Rusticana Langhorne Creek | Rutherglen Estates Rutherglen | Sanguine Estate Heathcote | Schulz Vignerons Barossa Valley | Serafino Wines McLaren Vale | Seraph's Crossing Clare Valley | Silkwood Wines Pemberton | Smallwater Estate Geographe | Smidge Wines Langhorne Creek | Stefano di Pieri Murray Darling | Stellar Ridge Margaret River | Stockman's Ridge Orange | Summit Estate Granite Belt | Tahbilk Nagambie Lakes | Talisman Wines Geographe | Tanglefoot Winery Peel | Tempus Two Hunter Valley | Terindah Estate Geelong | Tim Adams Clare Valley | Toomuc Ridge Yarra Valley | Tscharke Barossa Valley | Uleybury Wines Adelaide Zone | Vincognita McLaren Vale | Virage Margaret River | Wandering Lane Peel | Wandoo Farm Central Western Australian Zone | Warrabilla Wines Rutherglen | Watershed Wines Margaret River | Wilson Vineyard Clare Valley | Wise Wine Margaret River | Wood Park King Valley | Wordsworth Wines Geographe | Yokain Vineyard Estate Geographe | Zonte's Footstep Langhorne Creek
An Article about Australian Zinfandel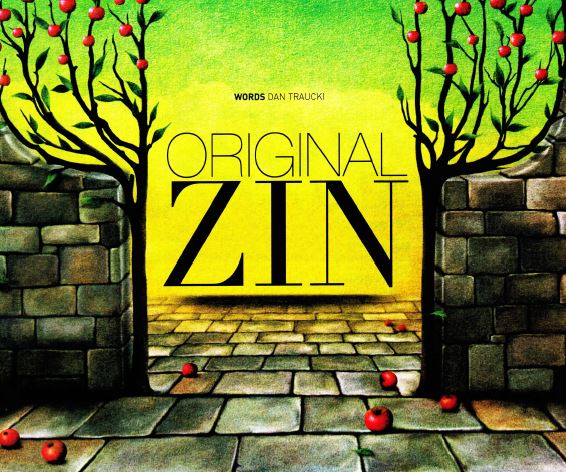 My friend Dan Trauki has written an article called the Original Zin about his experience with the variety over a number of years. He has his favourites as well as an interesting tale to tell. The article was published in Wine Business Monthly .
You can read the article in PDF format by visiting Dan's Wine Assist website and following the link to DAN'S PUBLISHED ARTICLES.
Food Pairing Ideas for Zinfandel
Readers have submitted some ideas at
Vinodiversity's Zinfandel and Food
page. Zinfandel red wines are often robust and have moderate to high alcohol. Thus they can be combined with all sorts of
barbecued meats
.
They will also stand up well with spicy Asian dishes, say steak with capsicums and black bean sauce.
You might even try Zinfandel with game meats, say wild boar, hare or grilled kangaroo fillets.
More food pairing ideas for Zinfandel. Read what others have suggested, or add your own favourite Zin and Food recipe.
Keep in touch with Vinodiversity
Just enter your details below and you will receive an occasional newsletter letting you know all about the alternative varietal wine scene in Australia and beyond.