Rutherglen Wine Region
The Rutherglen Wine Region in North East Victoria has achieved iconic status with its fortified wines. It has also been associated with big long-lived red wines, a style that has gone out of fashion.
Many wineries around in this wine region have been in the same family for several generations and are housed in historic gold era buildings that provide an appropriate setting to taste the venerable wines. The winery buildings at All Saints, Gehrig Estate, Mount Prior and Pfiefer are well worth visiting for their architectural interest, quite apart from the superb table and fortified wines.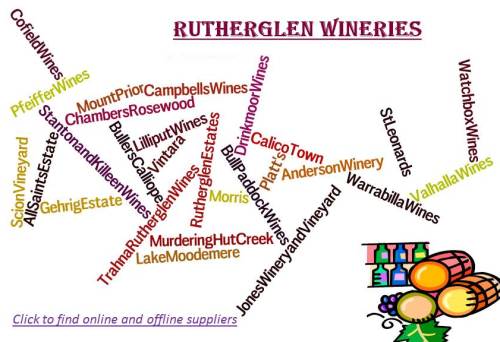 The region is centred around the town of Rutherglen and is bounded on the north by the Murray River. Other towns within the region include Wahgunyah and Chiltern, and immediately across the river in New South Wales is the substantial town of Corowa. See map of the region and wineries.
History of Wine in Rutherglen
The wine industry was established in the middle of the nineteenth century. Unlike many other Victorian wine regions, Rutherglen escaped the Phylloxera pest, and was able to survive the fall in popularity of table wines by developing a specialty in fortified wine.
These wines are undoubtedly of world class quality. The ports and sherries match it with all but the best of the Iberian wines of those styles. But the region's unique gifts to the world are the muscats and tokays which have no equal.
In mare recent years a range of new varieties and styles have been made, with considerable success.
As the big, robust and highly tannic red wines characteristic of Rutherglen have become less popular a few wineries have begun making sparkling red wines. This style has not attracted universal approval, but it certainly has its enthusiasts. Hungary
Rutherglen Wines Renamed
Names such as
Port
,
Sherry
and
Tokay
are no longer used for Australia as they infringe on international rules about not using words that imply a false geographic origin.
The 'Tokay' that winelovers have come to know and love over the decades is made from the Muscadelle grape. But the name Tokay is derived from a region in Hugary which makes a different style of wine called Tokaji. Australian Tokays will thus have been renamed to Topaque.
Sherry is a protected name in that it is derives from the Spanish town and wine region of Jerez. Wines in the sherry style made in Australia are now called Apera.
If you used to enjoy Rutherglen Port you will now have to look for wines labelled Fortified Shiraz, or Fortified Red Wine or something similar.
Rutherglen Muscat does not have to change its name. It is named after the Muscat grape variety (more correctly group of grape varieties) a practice which is permitted under international trade rules.
Grape varieties in Rutherglen
The warmish climate means that many of the mainstream wine grape varieties are commonly grown. Among alternative varieties Durif has long been popular in this region since its introduction in 1908. It is used for port style fortified wines, dry red table wines, and in recent years for sparkling reds.
Some Rutherglen Region wineries that are using alternative varieties include
All Saints Estate Cabernet franc, Chenin blanc, Durif, Marsanne, Muscadelle, Orange muscat, Roussanne, Ruby Cabernet, Sangiovese, Tempranillo | Anderson Winery Chenin blanc, Durif, Muscadelle, Petit verdot, Pinot gris, Sangiovese, Saperavi, Tempranillo, Viognier | Bull Paddock Wines Sangiovese | Bullers Calliope Durif, Marsanne, Mondeuse, Muscadelle, Tempranillo, Vermentino | Calico Town Trebbiano | Campbells Wines Durif, Malbec, Muscadelle, Pedro Ximenez, Roussanne, Ruby Cabernet, Trebbiano, Viognier | Chambers Rosewood Cinsaut, Gouais blanc, Mondeuse, Muscadelle, Palomino, Roussanne | Cofield Wines Cabernet franc, Chenin blanc, Durif, Gamay, Malbec, Marsanne, Muscadelle, Sangiovese | Drinkmoor Wines Durif, Chenin blanc, Petit verdot | Gehrig Estate Durif, Muscadelle | Jones Winery and Vineyard Marsanne, Pedro Ximenez, Roussanne | Lake Moodemere Biancone, Cinsaut, Durif | Lilliput Wines Petit verdot, Viognier | Morris Cinsaut, Durif, Muscadelle | Mount Prior Durif, Muscadelle | Murdering Hut Creek Vermentino | Pfeiffer Wines Gamay, Marsanne, Muscadelle, Tempranillo | Platt's Gewurztraminer | Rutherglen Estates Arneis, Durif, Fiano, Grenache, Marsanne, Mourvedre, Nebbiolo, Sangiovese, Savagnin, Tempranillo, Viognier, Zinfandel | Scion Vineyard Durif, Grenache, Orange muscat, Viognier | St Leonards Cabernet franc, Chenin blanc, Orange muscat, Viognier | Stanton and Killeen Wines Durif, Muscadelle, Souzao, Tempranillo, Tinto Cao, Touriga, Viognier | Trahna Rutherglen Wines Durif, Petit verdot, Tempranillo, Viognier | Valhalla Wines Durif, Grenache, Marsanne, Mourvedre, Viognier | Vintara Cinsaut, Dolcetto, Durif, Grenache, Mourvedre, Petit verdot, Sangiovese, Tempranillo, Viognier | Warrabilla Wines Durif, Marsanne, Moscato | Watchbox Wines Durif, Sangiovese, Tempranillo
Some Images of Rutherglen
I have gathered some images of Rutherglen and its wines onto my
Rutherglen Wine Region Pinterest board
. You might like to add some pictures of your own, or repin some of mine.
Where can I get some Rutherglen wine?
I like to use the Snooth Service to find where to buy wines. If you add in your location the service returns retailers with physical shops in your area, or online stores.
Snooth does not actually sell wine, but it can tell you where to find it. While you are there you can download Snooths Digital Wine Guide App.
So why not give Snooth a try?